Giovanna Fletcher and Nigel Clarke announced as presenting duo for new CBeebies series The Baby Club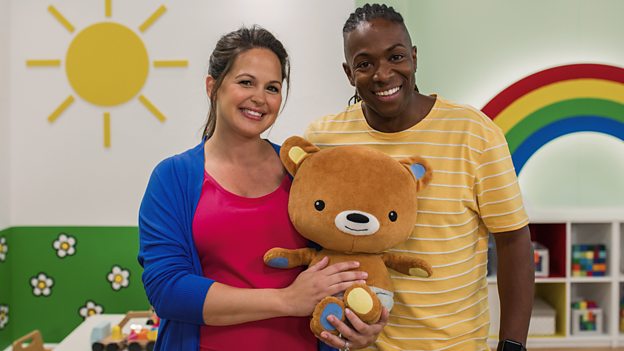 Presenting The Baby Club has been an absolute pleasure and I can't wait to share it with you all.

Giovanna Fletcher
Date: 16.01.2019
Last updated: 16.01.2019 at 10.00
Giovanna Fletcher and Nigel Clarke are set to present The Baby Club, a new series for BBC pre-school channel CBeebies, aiming to help families engage with and share precious time with their babies and toddlers as they explore everyday objects through discovery, play, song and story.
Made by Three Arrows Media, the series is a first of its kind for CBeebies as it is aimed at a dual audience of both adults and babies.
The Baby Club will appeal to families across the country, especially parents and carers of babies under 14 months old, stay at home and working mums and dads, parents who may not have access to baby groups locally or parents with older children who feel they don't have as much time to spend with their babies.
Giovanna Fletcher says: "Presenting The Baby Club has been an absolute pleasure and I can't wait to share it with you all. As a mother of three the importance of play-time and making special memories with babies and toddlers during those early stages is incredibly important to me. I'm sure it's going to appeal to such a wide variety of families across the country."
Nigel Clarke says: "The Baby Club was an absolute gem to make and be a part of. It's not often you find a programme that just warms your heart but this is definitely one. It speaks to all ages whether you are a parent, a child or a baby and I'm proud to be part of it."
Both Foundations Years Trust and the charity Peeple, which supports parents and learning, have been involved in both the development of the series and in ensuring The Baby Club accurately reflects best practice. Sheffield University's Professor Jackie Marsh and Professor Harding of Middlesex University have both contributed to the development process, together with a child psychologist and special practitioners in the child development field.
Professor Jackie Marsh says: "The Baby Club is an excellent programme that will support learning for both children and parents. Its design principles map well on to what we know from research about how babies and toddlers, and adults, learn from television. It offers a valuable model of interactive and positive parenting, and families will have fun - and learn new skills - when watching it together."
The Baby Club has been executive produced Michael Towner Commissioning Editor for CBeebies and is made by Three Arrows Media in association with Tiny House Productions and CMP Productions.
CB
Search the site
Can't find what you need? Search here