Tom Burke and Holliday Grainger return in Strike: Lethal White
Show based on J.K. Rowling's best-selling crime novels written under the pseudonym Robert Galbraith begins filming.
Published: 17 September 2019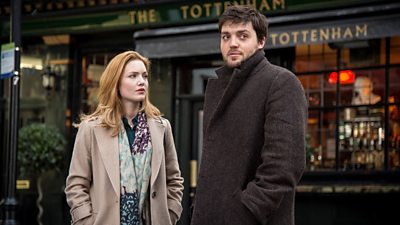 Tom Burke (Cormoran Strike) and Holliday Grainger (Robin Ellacott) are returning for Strike: Lethal White, the fourth story from the major new TV series for BBC One.
Strike: Lethal White (4x60') is the fourth instalment in the series and will air in 2020.
Burke (The Souvenir, War And Peace) and Grainger (Animals, The Capture) lead a cast of acclaimed British actors including Robert Glenister, who most recently starred in Curfew for Sky Atlantic, other credits include Paranoid, Journey's End and Live By Night as well as conman Ash "Three Socks" Morgan in the hit BBC One series Hustle. Glenister also read the audio-book versions of the Robert Galbraith books including Lethal White. Natasha O'Keeffe (Peaky Blinders, Sherlock) and Kerr Logan (Alias Grace, London Irish) also return as Strike's ex-girlfriend and Robin's fiancé respectively.
Sue Tully is directing all four episodes. Her credits include Line Of Duty, Tin Star, The A Word and The Musketeers.
In the grips of psychosis, a young man named Billy Knight (Joseph Quinn) arrives in private detective Cormoran Strike's (Tom Burke) office telling the story of a child he saw strangled many years ago. Strike is simultaneously hired by government minister Jasper Chiswell (Robert Glenister) to investigate Billy's brother, Jimmy Knight (Nick Blood), who is blackmailing him. As Strike and his partner Robin work to determine how the cases might be connected, Robin goes undercover in the House of Commons.
However, Robin's private life is unravelling as her relationship with Matthew (Kerr Logan) feels the full strain of her commitment to Strike and her work. At the same time, Strike has his own issues, a girlfriend who confesses she loves him and his complicated ex Charlotte (Natasha O'Keeffe) who is pregnant and back in the frame.
J.K. Rowling (Fantastic Beasts And Where To Find Them, Strike, The Casual Vacancy), Neil Blair (Fantastic Beasts And Where To Find Them, Mrs Wilson, Strike), Ruth Kenley-Letts (Mrs Wilson, Strike, The Casual Vacancy) and Tommy Bulfin (for the BBC) executive produce based on a script by Tom Edge (Judy, Lovesick) who also wrote The Silkworm and Career Of Evil. Jackie Larkin (Mrs Wilson, Stella Days) will produce.
Cinemax has US and Canadian rights to the show.
The Cuckoo's Calling was published to critical acclaim in 2013 and went on to be a global bestseller, followed in 2014 by The Silkworm and Career of Evil in 2015. All three books were number one Sunday Times bestsellers in both hardback and paperback and Little, Brown has sold in total over four million copies worldwide across all editions.
Cormoran Strike is one of the most memorable and distinctive detectives in crime fiction today and Robert Galbraith is among the genre's most celebrated writers, shortlisted for the prestigious CWA Gold Dagger in 2015 and the Theakston Old Peculier Crime Novel of the Year in 2016.
The Strike series (Career Of Evil, The Cuckoo's Calling, The Silkworm) all averaged more than 7 million viewers on BBC One.
KS
Related Media Centre Links