Rylan Clark-Neal to host all new Ready Steady Cook on BBC One
Cookery hit Ready Steady Cook is set to return to BBC One Daytime in 2020, with new host, Celebrity MasterChef finalist Rylan Clark-Neal. The new series will offer up fresh challenges to put the next generation of chefs through their culinary paces.
Published: 3 September 2019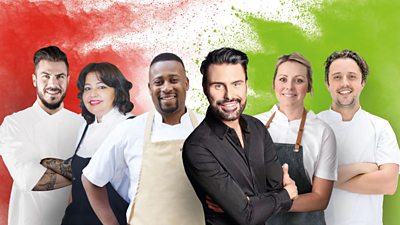 Ready Steady Cook, produced by Remarkable TV (part of EndemolShine UK), will feature a diverse range of exciting talent from the culinary world, offering the new line-up of chefs a platform to showcase their cookery prowess against the clock on BBC One. Chefs signed up for the series so far include Mike Reid, Romy Gill, Akis Petretzikis, Ellis Barrie and Anna Haugh.
The show will reflect contemporary food themes, from cooking on budget to eating healthily, managing food waste to feeding the whole family, mirroring the changes in food and British cooking over the past decade.
In every episode two contestants are each paired up with a chef, going head to head in the newly designed Ready Steady Cook kitchen. But in this new series, the chefs will now face two different taste tests and the clock is always ticking! In the first challenge, each contestant comes armed with their bag of ingredients, all bought within a £10 budget. They'll have just 20 minutes to create delicious, surprising and inspiring dishes ready to wow the discerning studio audience. And with further format twists along the way, from wildcard ingredients to chef timeouts, Rylan always has a surprise in store.
The revamped second challenge is even faster, as each pair has just 10 minutes to create yet more amazing dishes, this time based on audience ingredients cards. With unlikely combinations always a possibility, the pressure is on to create yet more flavour sensations. And, in true Ready Steady tradition, the casting vote on the show's winner will be left to the audience who'll have their say on the best dishes, by voting with the iconic red tomato and green pepper voting cards.
Rylan says: "I'm so excited that Ready Steady Cook is finally coming back to our screens. To be asked to host such an amazing show for the BBC is such a privilege. After making the finals of Celebrity MasterChef I know how tough cooking under pressure can be. I'm sure that the mix of new challenges, fantastic chefs and enthusiastic cooks will be a recipe for success, maybe with the odd disaster! I can't wait to get in the kitchen!"
Carla-Maria Lawson, Acting Head of BBC Daytime says: "Ready Steady Cook is a celebration of the much loved BBC One Daytime show, reimagined for contemporary Britain. The premise of healthy, aspirational food being prepared against the clock will be familiar to the audience, as will the iconic red tomatoes and green peppers! This will be a series for the modern day featuring a brigade of exciting new culinary talent and with Celebrity MasterChef finalist, Rylan at the helm, a teatime treat for a whole new generation of viewers."
Kitty Walshe, Joint Managing Director for Remarkable TV, says: "We're absolutely thrilled to be bringing back such an iconic favourite. Ready Steady Cook was a staple ingredient of TV viewing for so many years and our refresh will bring it right up to date, while keeping the essence of the much-loved format. Rylan is the perfect host to bring the series back and the show promises to be the perfect mix of culinary inspiration and fantastic entertainment."
Ready Steady Cook (20x45) was commissioned for BBC One by Carla-Maria Lawson, Acting Head of BBC Daytime and the Commissioning Editor for BBC Daytime is Lindsay Bradbury. Executive Producer for Remarkable TV is Cat Lawson.
The new series will be filmed and produced in Glasgow.
RM
Ellis got his big break in cooking aged just 15, at Fellini's in Liverpool. After developing his skills in restaurants across Liverpool and Australia, he eventually relocated to his family home in Anglesey, where with his brothers he turned an abandoned chicken shed on an old camp-site into one of the region's most talked-about restaurants, the Marram Grass. After realising how much pork is imported into Wales, he set up his own farm next to the restaurant, providing it with his own home grown vegetables and meat. On top of this, he can often be found foraging for wild garlic along the Anglesey coast. All of which means it's little surprise that The Marram Grass won Best Bistro/Brasserie of the Year at the Anglesey Tourism Awards, and Ellis personally was named one of the most promising names in hospitality under 30.
With a career spanning 20 years on both sides of the globe, Mike Reid brings a wealth of experience to the RSC kitchen. He first fell in love with cooking while at university, and after choosing to follow his passion full time, found himself under the tutelage of Michel Roux Jr, Gordon Ramsay, and even cooking alongside Heston Blumenthal. In 2014, he opened Jardin Tan in Melbourne before returning to the UK to open another restaurant the same year, M in London. Never one to shy away from hard work, he balances his time between his restaurants in Melbourne and the UK. His food is eclectic, drawing on influences and cuisines from across the globe.
Romy initially learned to cook from her mother while growing up in India. She moved to the UK for university and decided to make the UK her home. A trip to her local curry house left her longing for the authentic flavours of real Indian food and so she decided to open a restaurant, Romy's Kitchen in Bristol. In 2016 Romy received an MBE for services to hospitality, so she'll be unphased by anything the RSC kitchen can throw up! She is a master of both classic British cooking and authentic Indian cuisine, but loves to find new ways to combine both.
Akis discovered his true love was cooking whilst training to be an accountant. Within a year of finishing his degree he had gone on to become the first Greek winner of MasterChef, and later became Head Chef at Michel Roux's Avenue Bistro. Since then he has become a regular name on Greek TV, fronting several of his own cooking shows, and even hosting the Greek version of Ready Steady Cook. With his own line of cookbooks, food products and his own (bilingual) YouTube channel, this is not a chef who shies away from a challenge.
Anna grew up surrounded by a family who loved cooking and while her career has brought her through some of the top restaurants all over the UK and France, she has never lost touch with those Irish roots. After establishing herself at restaurants including London's Pied à Terre and Paris' Hotel Lotti, she helped launch Gordon Ramsay's London House restaurant, acting as its first head chef. It was always her dream, however, to launch her own restaurant, and in 2019 that became a reality with Myrtle in Chelsea. Anna has experienced all aspects of the restaurant industry over the last 20 years, and is ready to bring all that experience, plus a pinch of Irish know-how, to the RSC kitchen.