Interior Design Masters
This eight-part series will take ten talented up-and-coming designers all looking for their next big break, and throw them into the fast-paced world of commercial interior design where they will compete to win a life-changing contract for one of London's top hotels.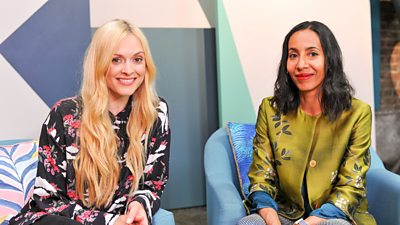 I love the way you can change the feel of a home. You can create warmth, space, or comfort by using colour and texture and can express how you feel when you use each room by styling it to suit your mood.
Presented by Fearne Cotton with design expert and former editor of Elle Decoration, Michelle Ogundehin, as the series judge.
Each week the designers will be set a new commercial interior design challenge, ranging from shops to show homes and restaurants to hair salons. On each task, they will be tested on a whole range of skills as they attempt to work their magic and show off their design prowess to the judges.
Each week Michelle will be accompanied by a different guest judge, who will be on hand to offer their expertise, including Mary Portas, Laurence Llewelyn-Bowen, Sophie Robinson, Matthew Williamson, Abigail Ahern, Naomi Cleaver, Thomasina Miers and Jade Jagger.
PD
What attracted you to take part in the show?
I am hugely passionate about art and design, and interiors have always been massively exciting to me. I hugely respect Michelle, our head judge, so I knew it would be a corker of a show!
Did you have a stand out room from throughout the series?
There were so many, but without giving too much away one of the finalists' apartments was stunning and I instantly started mentally taking note of ideas to recreate at home.
Are there any design ideas that you might incorporate at home? Items you wanted to keep?
Yes so many! On one of the episodes designer Sophie Robinson was helping Michelle judge, and she is known for her love of colour. Since meeting her I've painted our hallway, conservatory and my son's bedroom in vibrant colours!
What do you personally love about interior design?
The way you can change the feel of a home. You can create warmth, space, or comfort by using colour and texture and can express how you feel when you use each room by styling it to suit your mood. A blank box can switch up into a space where you feel relaxed and free and that's really quite magical.
What's your design style like?
Eclectic. I'm a neat freak but I'm not into modern or clean lines. Our house is old and rickety and has a ton of character, so it's all in keeping with that. I love colour and clashing prints and lots of texture and plants. It's a bit boho in places, but then bold and warm in others. I love finding furniture on eBay and upcycling or buying unusual accessories on Etsy.
Do you like to try new things or are you quite traditional?
I love to try new things. As long as it fits with my general taste I'm game for a change.
Where do you get your design inspiration from?
Pinterest is a big one for me. I could spend weeks just sat scrolling through beautiful photos of home decor!
What's the boldest design idea you've made at home?
Recently painting our hallway walls and ceiling lilac with dark blue skirting. I learned the ceiling trick on the show. I had never even thought about ceilings until I started filming this programme! It's the fifth wall don't you know!
Is there something you've done at home design wise that you've looked at when it's finished and thought, what on earth was I thinking?
Yes I have done this so many times over the years. We have very green painted shelving in our front room and the colour dried very differently to how I imagined. I don't hate but I may change it to a darker moss green in the future. In my first flat I did all sorts of weird stuff that didn't turn out well. Painting stars on the kitchen ceiling. Painting all the piping in the bathroom fluorescent pink! I mean, what was I thinking!
Pictured: Fearne Cotton with designer Trish Coggans
What was it about the concept of the show that attracted you to take part?
The excitement for me about Interior Design Masters was that it delved deep into what it really takes to be a great interior designer and that it's about a lot more than having a way with cushions and a thing for paint charts!
How would you describe your design style? Do you have a particular 'look' or do you like to try new things?
I don't have a 'look' so much as a very clear philosophy about the way I believe design should be approached. But if I had to pull one thing out, it'd be my love of texture. Why? Because, to me a home without texture is akin to a home without love. We're physical, sensory beings and I believe we have a primal need to surround ourselves with surfaces that thrill our fingertips or tempt our toes. It literally makes us happier and healthier when our sense of touch is triggered as our bodies produce oxytocin, the love hormone, which lowers cortisol levels, reducing anxiety and stress.
And for me, while many of us are familiar with the idea of our sofas as a cosy tactile cushion-strewn haven, many forget the extraordinary textural potential of our walls.
For me, walls are the biggest interior canvases on which to play, and the one most often overlooked. Here, you can add colour, intrigue and delight, but most of all, here you can add texture. Personally, I think of each wall in my home as a decorative plane bursting with potential, and I compose each one as a collage of windows or doors, artwork, colour, panelling and paper accordingly. It's about thinking of any space, but particularly the home, in terms of its ability to engage the senses, excite and stimulate, not just sit there as a passive backdrop.
What are your top design tips for people who are looking to revamp a space at home?
Start slowly, and spend as much time as possible really thinking about the way you use the space before you buy a single stick of furniture. Not how you think you'll use it, but how you actually do. There's a big difference here. Also, to understand that creating a sense of home is about a series of layers, and the most important is what I'd call the envelope. That is the physical bone structure of your home - the layout, the walls, the floor, the bits that surround you that are either hard to move, or can't be moved. And build it up from there.
A good tip too, is that before contemplating adding any colour or pattern, paint everything white. This enables you to really see its bones, to see where the light reaches, and where it does not. And you'll also discover which spots you're intuitively drawn towards and can determine furniture placement accordingly. Finally, understand that lighting and accessories are akin to jewellery, in other words, the last thing you should add, not the first. For while it's certainly possible to design an entire scheme around a chandelier, it'll be a lot harder than if you start with where you might want to sit.
And your design no-nos?
I can't bear any sort of theming, or overtly tricksy moments. I think you can have enormous fun with design without resorting to cliché. Also, non-natural fibres and things being chosen because they fit a perceived value rather than being things that personally spark joy. But beyond that, if a homeowner authentically loves something, and believes it speaks her story, then it's all good with me.
What do you think the designers took away from the series?
That design is hard! That the client is always king/queen. And that sometimes the best designs come from subjugating your own desires for the good of the whole. In short, that the point of good design is to give a client what they didn't know they wanted, not create personal paeans for your own enjoyment.
Was there a week that you found really hard to judge?
No one particular week but it definitely got harder as we progressed through the show because the standard of the work was so good. So evictions were never about the quality of the work, it was about execution, inspiration factor, ideas and enjoyment. What was vital was not to judge based on subjective likes and dislikes but really zoning in on the specific challenge we'd set the designers each week: did they listen to the client, did they incorporate everything requested in the brief, did they challenge the brief at times - and then always, did they go beyond and show me some magic. Not easy!
What designer qualities were you be looking for in the eventual winner? Without giving any spoilers away…
Unrelenting enthusiasm. Conviction in combination with the ability to be flexible and open to learn. But inevitably also x-factor, that sprinkle of fairy dust that just elevates the ordinary to the extraordinary. Impossible to quantify but you know it when you see it. And we definitely saw it at the end.