BBC Young Dancer 2019 Ballet Winner announced
Eighteen year-old Chloe Keneally, originally from Brisbane, Australia, has been announced as the winner of the Ballet Final of BBC Young Dancer 2019, and will go on to represent the category at the Grand Final later this month.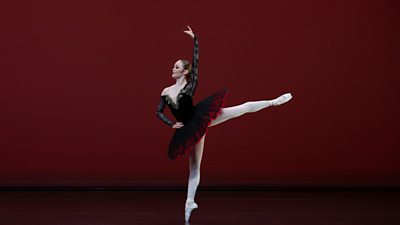 It feels incredibly humbling to have won the Ballet Category final, especially as the standard and level was so high.
Chloe will go on to represent the category at the Grand Final later this month.
She will perform a brand new work in the Grand Final choreographed especially for her by Kenneth Tindall, Artistic Director of Digital and Choreographer in Residence at Northern Ballet.
The Grand Final will be broadcast on BBC Two on Saturday 18 May
The Ballet finalists of BBC Young Dancer 2019 were Chloe Keneally (18), London, Hollie Smith (18), West Yorkshire, Louis Fukuhara (20), Glasgow, Danila Marzilli (19) Glasgow and Keiko Tsuchiya (17), London.
Highlights from the Ballet Final were broadcast on BBC Four on Friday 3 May and will be available to watch again on BBC iPlayer for 30 days.
All five of the category finalists performed in front of a judging panel comprised of leading experts from the dance sector. The Ballet Final was judged by Director of Birmingham Royal Ballet and former Artistic Director of the National Ballet of Japan David Bintley; former Royal Ballet Principal Zenaida Yanowsky; and Jonzi D - Artistic Director of Jonzi D Projects and Breakin' Convention, who is chair of the judging panel across all four category finals.
Chloe (pictured) will join South Asian Dance category winner Shree Savani, Contemporary category winner Matthew Rawcliffe and the winner of the upcoming Street Dance category in the Grand Final at Birmingham Hippodrome. The Grand Final will see each finalist perform three works; these include the premiere of a brand new solo created for each of them for the final by a leading choreographer, along with a solo from their repertoire and a duet. They will perform in front of a panel of judges made up of leading figures from the UK dance sector.
Further details on the Grand Final including the panel of judges will be announced following the Street Dance Final on the 10 May.
Chloe Keneally, Winner of the Ballet Final, says: "It feels incredibly humbling to have won the Ballet Category final, especially as the standard and level was so high! I had an amazing time dancing alongside such beautiful people and I am really excited to have the chance to perform again in the Grand Final."
Notes to Editors
Chloe, born in Brisbane, Australia, was inspired with a love of ballet from a very early age after watching performances by the Queensland and Australian Ballet companies. Starting on her own personal ballet journey at the age of four, Chloe moved to London at age 16 to join the English National Ballet school, where she enjoys many performance opportunities. Chloe's love for ballet continues to grow and her ultimate dream is to become part of a renowned ballet company and continue to perform on stage, sharing her love and passion for dance.
TV broadcast dates:
Friday 19 April, BBC Four - South Asian Category Final
Friday 26 April, BBC Four - Contemporary Category Final
Friday 3 May, BBC Four - Ballet Category Final
Friday 10 May, BBC Four - Street Dance Category Final
Saturday 18 May, BBC Two - Live Grand Final
Each of the four BBC Four programmes will focus on the individual Category Final, going behind the scenes as the young dancers prepare for their performances with the help of teachers and mentors. The programmes will also feature highlights of the dancers' performances and thoughts from some of Britain's foremost dance experts, providing an insight into what it takes to succeed in such a competitive and pressurised discipline with viewers given a unique opportunity to get under the skin of each dance style.
About BBC Young Dancer
Since its launch in 2015, BBC Young Dancer has established its place in the dance calendar as a highly valued talent search showcasing exceptional dancers in four categories: Ballet, Contemporary, South Asian Dance and Street Dance. BBC Young Dancer provides a platform for non-professional UK resident dancers aged 16-21 to demonstrate their dancing abilities through four competitive rounds designed to highlight their technical command, creative ability and expressive capability. Their competition journey, from the early stages through to preparing for the Grand Final, will be documented in four programmes (each focusing on one of the dance forms) to be shown on BBC Four in the weeks running up to the Grand Final, which will be broadcast live on BBC Two.
BBC Young Dancer entrants were required to submit a video of two solo pieces by 28 September 2018. Each genre was judged separately by judges with style-specific knowledge, who narrowed the video submissions down to a maximum of 80 successful entrants (20 from each category). The selected dancers were invited to perform in front of an audience and an expert panel of judges at the second round held at Sadler's Wells in December 2018. 20 were selected to compete in the category finals which were held at The Lowry, Salford in March 2019.
The BBC Young Dancer 2019 overall winner will receive a specially commissioned trophy and a £3,000 cash prize to help further their dance studies.
BBC Young Dancer is managed and produced by BBC Studios, Entertainment & Music Wales.
The series executive editor is Paul Bullock, the competition manager is Kerry Clark, the series was ordered by Emma Cahusac, BBC Commissioning Editor, Arts and Music Television. Dance Consultants are Sadler's Wells.
SRB
Related Media Centre Links