BBC Radio 3 launches Sound Of Gaming with Bafta award-winner Jessica Curry
This October, BBC Radio 3 will dive into one of the fastest growing musical movements today by exploring the exhilarating and immersive world of music for video games. BAFTA award-winning games composer, Jessica Curry, joins BBC Radio 3 for a recurring four-part series Sound Of Gaming from Saturday 26 October, 3pm - 4pm.
Published: 9 October 2019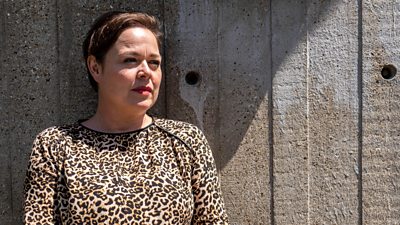 Sound Of Gaming will join Radio 3's suite of Sound Of… programmes which also cover cinema and dance. The video game sector has some of the most innovative and emotive music being made today. The new weekly show will capture the wide spectrum of music in the video game genre; from lush orchestral scores to electronica, intimate chamber music to jazz and funk, and with music written for both small boundary-pushing indie games and the biggest studio blockbusters.
Each week internationally acclaimed composer Jessica Curry will interview special guests from the games industry, starting with British composer Grant Kirkhope, who has scored some of the best loved video games characters from Banjo-Kazooie to Mario alongside a catalogue of hit games that have sold over 30 million. Other guests in the first run include award winning American composer Lena Raine, best known for her work on the hugely popular platformer Celeste, and Olivier Deriviere – described as game music's eclectic daredevil who'll be talking about pushing the boundaries of the orchestra in his scores.
The series will include exclusive first plays of new releases, a classic track from one of the great game scores and listener requests. Jessica will also be lifting the lid on how video game music is composed (from interactivity to how it enhances player experience), whilst also covering big calendar moments within the gaming world, including EGX, the UK's biggest Games event and the Bafta Games Awards. The programme aims to appeal to anyone with a curious mind, from committed gamers and aficionados to those who have never gamed or listened to a video game soundtrack before.
Alan Davey, Controller of BBC Radio 3, comments: "Though classical music remains at the heart of what we do, making sure we continue to showcase a broad range of musical genres and art forms is a top priority, as is consistently remaining on the front foot of what's happening in the experimental and contemporary music scenes both in the UK and abroad. With that in mind, some of the most cutting-edge, dynamic and expressive music being created today is being composed for video games. The programme will, in a sense, encapsulate the world of Radio 3 through the prism of gaming, aiming to explore a broader range of gaming music than any other show like it"
Jessica Curry comments: ''I'm utterly delighted to be joining BBC Radio 3 to present the Sound of Gaming this autumn. Curating and hosting a concert for the BBC Concert Orchestra earlier this year at Maida Vale was so exciting and I can't wait to start the new show. It's going to be a lovely mix of interviews with game composers, some classic tunes mixed with the up and coming names from the world of video games and a focus on some of the biggest events in the gaming calendar. There'll be music to delight the most ardent fans of games music as well as enticing those who may never have even played a video game, so roll on 26 October!''
JC5
Jessica Curry Biography
Jessica Curry is a BAFTA-winning composer of contemporary classical and video game music. Her music has had extensive exposure on radio and concert halls around the world and her work has been performed in diverse and high-profile venues such as The Barbican, Sydney Opera House, The Royal Albert Hall, Durham Cathedral and MOMI in New York. The Washington Post described her music as "stupendous" and The Guardian praised her "gorgeous orchestral score" for Everybody's Gone to the Rapture.
In late 2018 she was commissioned by The Royal Shakespeare Company and Magic Leap to work on The Seven Ages Of Man, a mind-bending, beautiful AR experience which was selected for Sundance Film Festival 2019 as part of their New Frontier programme. She was a composer in residence with London Oriana choir as part of the five15 project; the commissioning of 15 brand new choral works from five women over the next five years. She is currently working on a new game soundtrack - but can't tell you what it is yet.
Jessica is regularly interviewed on radio and television. She even dared to face Jeremy Paxman on Christmas University Challenge and was delighted to have survived the experience.
Tagged: