Sir David Attenborough to present landmark climate change film for BBC One
Sir David Attenborough is to present and narrate a new landmark film, Climate Change: The Facts for BBC One.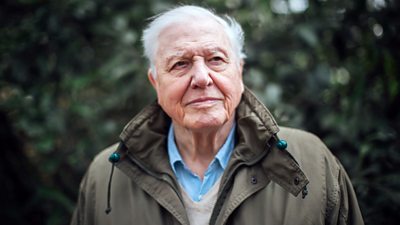 I believe that if we better understand the threat we face, the more likely it is that we can avoid such a catastrophic future.
The documentary will provide an urgent look at the science of climate change and the potential solutions to this global threat, combining footage that reveals the already devastating impact of climate change on our planet with interviews from some of the world's leading climate scientists.
After one of the hottest years on record, climatologists and meteorologists explain the effects of climate change on both the human population and the natural world. Scientists, including Dr James Hansen, Dr Michael Mann and Professor Catherine Mitchell will forensically unpack the science behind the extreme weather conditions of recent years, which have seen unprecedented storms and catastrophic wildfires; as well as detailing how the accelerating rate at which the world's ice is melting is causing sea level rises, and how deforestation is exacerbating the problem of global warming by adding to CO2 in the atmosphere.
The film will deliver an unflinching exploration of what dangerous levels of climate change could mean for human populations, what is likely to happen if global warming exceeds 1.5 degrees and if major reductions in CO2 emissions are not made in the next decade.
The documentary looks too at potential solutions, exploring the innovations, technology and actions the world's governments and industries are taking to prevent further warming and showcasing individuals who are creating change at grassroots levels.
In the film, Sir David Attenborough says: "In the 20 years since I first started talking about the impact of climate change on our world, conditions have changed far faster than I ever imagined. It may sound frightening but the scientific evidence is that if we have not taken dramatic action within the next decade we could face irreversible damage to the natural world and the collapse of our societies. We're running out of time but there's still hope… I believe that if we better understand the threat we face, the more likely it is that we can avoid such a catastrophic future."
Charlotte Moore, BBC Director of Content, says: "There is a real hunger from audiences to find out more about climate change and understand the facts. So it feels right to address the issue in peak on BBC One. We have a trusted guide in Sir David Attenborough, who will be speaking to the challenging issues that it raises, and presenting an engaging and informative look at one of the biggest issues of our time."
Tom McDonald, Head of Commissioning, Natural History and Specialist Factual says: "This is an urgent, important and timely film which lays out in detail the impact that climate change is having on our planet. This documentary continues our commitment to telling the most significant environmental stories and reflecting the speed at which our world is changing."
Climate Change: The Facts is a 1x60' film for BBC One. The Executive Producer is Sacha Baveystock and the Producer/Director is Serena Davies for BBC Studios Science Unit. University College London Professor of Climate Science Chris Rapley CBE is the scientific adviser. The film was commissioned by Charlotte Moore, BBC Director of Content and Tom McDonald, Head of Commissioning, Natural History and Specialist Factual. It will air this spring.
All our programming which explores the environment and the challenges facing our planet will sit under the Our Planet Matters banner.
This will be an ongoing commitment rather than a single season, and the content will explore a wide variety of issues to help inform audiences over the years ahead.
It will begin with BBC One's Blue Planet Live, presented by Chris Packham, Liz Bonnin and Steve Backshall, exploring the health of our oceans and marine life in three locations across the globe; and Blue Planet UK, presented by Gillian Burke and Steve Brown, which will air on BBC One Daytime.
There will be future programmes exploring subjects including the use of plastics with Hugh Fearnley-Whittingstall and Anita Rani; over-population with Chris Packham; meat production with Liz Bonnin; and Gordon Buchanan will be giving the planet a health check from the air.
Television programming will be complimented by additional digital offerings, including Fashion Conscious, fronted by vlogger Grace Mandeville and Plastic Not Fantastic, presented by Hayley Pearce.
MF2
Related Web Links