The BBC announces results of 50:50 Project
The proportion of female contributors appearing in BBC programmes has radically increased thanks to a grassroots initiative challenging teams to aim for 50:50 representation.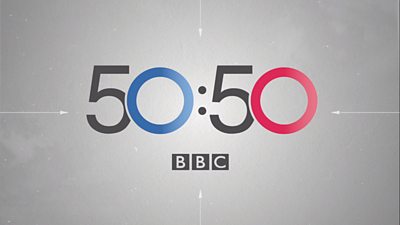 I want the BBC to lead the way on equality and fairness, and this project demonstrates what can be achieved.
74% of teams monitoring their output for 12 months or more reached 50% of female contributors on air in April 2019
Over 500 teams across the BBC are now signed up to the project
Over 20 external media partners have signed up to replicate the idea themselves
The BBC 50:50 Project has challenged teams across the organisation to achieve 50% female contributors in English language news, current affairs and topical programmes. Results published today show the transformation that has taken place over the past year, ensuring a more diverse range of views and opinions.
When the challenge was set last year by the BBC's Director General, Tony Hall, 74 English language outlets and 10 World Service language teams were already signed up to the initiative. At the time, 27% of them recorded having at least 50% female contributors - but that had increased three-fold to 74% by this April.
Over the course of the year, hundreds more programmes from across the BBC - from news to entertainment to music, including flagship BBC One programmes such as Songs Of Praise and All Together Now - have joined the project.
Across all the shows now taking part, only 26 per cent hit 50:50 in their first month of recording data, but this had more than doubled to 57% by April - even though some have only been involved in the project for a handful of months.
Some of the programmes who hit the 50:50 target this April included The Andrew Marr Programme, BBC Breakfast, The One Show, Politics Live, Radio 4's Saturday Live and Outside Source - whose presenter Ros Atkins started the 50:50 Project.
There has also been real progress from teams such as BBC Sport News. Sportsday, shown on BBC News Channel, started with 20% female voices and in April reached 43% - doubling their female representation, with ambitions to reach 50:50 soon.
The project has been so successful that the BBC has shared the methodology with other media organisations and is working with more than 20 external partners who are now signed up to replicate the project. These include The Financial Times, ABC News, STV and Fortune.
Audiences have also noticed a difference, with more than a third of those taking part in a nationally representative survey saying they had noticed an increase in the number of women in BBC programmes compared to a year ago. A fifth of women said improving female representation had increased their enjoyment. Across the media, the respondents felt there has been an overall increase in female representation and younger audiences are most likely to welcome this.
BBC Director-General, Tony Hall, says: "It's amazing to see such a remarkable change in just a year - you can see and hear it right across our programming. I want the BBC to lead the way on equality and fairness, and this project demonstrates what can be achieved. Better representation is something the whole media industry needs to address so I'm really pleased others are now following us and adopting this project for their own organisation."
BBC Director of News, Fran Unsworth, says: "We want to ensure the BBC reflects its audiences better - and that's at the heart of the 50:50 Project. It's extremely encouraging to see the progression made by so many teams to ensure we have more female voices represented across our news and current affairs output and it can only add to the quality of the programming we offer our audiences."
BBC Live Political Programmes' Assistant Editor, Miranda Holt, says: "Politics can be a male dominated environment but our team's success in the 50:50 Project has given us the satisfaction of seeing new voices - politicians, journalists and commentators - on all our live political programmes. We have shared these contacts via the 50:50 hub across BBC News and they have subsequently appeared on other outlets. We've had all female panels on the Politics Live programme a couple of times and had great responses from viewers on social media. Overall, we've had a positive response from political parties who accept that this is how BBC News operates and have been more imaginative in which spokespeople they put up for interview."
BBC News at Six and Ten Editor, Paul Royall, says: "Since taking part in the 50:50 Project we've had an almost 10% increase of female voices across the News At Ten and our April figures for both the Six and Ten were at 49% representation. We're really keen to progress and the team have been making concerted efforts to ensure we continue to hear from a range of different voices on our output."
The BBC's 50:50 Project contributes towards the BBC's commitment to reach 50% women on-screen, on-air and in lead roles across all genres from drama to news by 2020.
Contributors refer to all BBC reporters, commentators, spokespeople, analysts, academics, case studies featured across BBC content
KR
BBC programmes that have been monitoring data from 12-months or more achieving 50% women representation in April 2019:
5 Live Investigates
A Point of View
Asia Business Report
Breakfast
Click
CrowdScience
Curious Cases Of Rutherford And Fry
From Our Home Correspondent
From Our Own Correspondent (Radio 4)
From Our Own Correspondent (World Service)
GMT
GNS
Global
Health Check
Impact
In Business
Inside Health/All In The Mind
Inside Science
Loose Ends
The Marr Programme
Money Box
Money Box Live
More or Less (Radio 4)
News Channel Business
News Online (UK)
News Online (World)
Index Pictures
Newsday (World Service)
Newsday (World News)
Newsround
OS (World Service)
Outside Source
Politics Live
Reporting Scotland
Saturday Live
Science in Action
Start the Week
The Big Debate (Asian Network)
The Briefing Room
The Inquiry
The Life Scientific
The Media Show
The One Show
The Real Story (World Service)
The Why Factor
This Week
Westminster Hour
World Business
BBC programmes that have been monitoring data for 12-months or more achieving 45-49% women representation in April 2019:
BBC Spotlight
More Or Less (World Service)
News At Six
News At Ten
PM (Radio 4)
Today (Radio 4)
World At One (Radio 4)
World Tonight (Radio 4)
World This Weekend (Radio 4)
50:50 Project Partners:
7digital
ABC News
BFBS
Edelman PR
Falmouth University
Financial Times
Fortune
Lansons
Lithuanian National Radio and Television
National Film and Television School
RFA
Somethin' Else
STV
VOA
VRT
Whistledown
WNYC
YFM
YLE
Related Downloads
Related Media Centre Links
Tagged: