The Zoe Ball Breakfast Show launches BBC Radio 2's 500 Words competition
I encourage all of our younger listeners to delve deep into their imaginations, and perhaps it could be you heading to the live final at one of the world's most iconic buildings, Windsor Castle, in June!

Zoe Ball
Date: 29.01.2019
Last updated: 29.01.2019 at 09.24
The Zoe Ball Breakfast Show today launched BBC Radio 2's 500 Words 2019, the short-story writing competition for children aged between 5-13 years of age. Zoe revealed that this year's live final will take place in the spectacular surroundings of Windsor Castle on Friday 14 June.
Her Royal Highness The Duchess of Cornwall returns as an Honorary Judge and, to mark today's launch, features in a specially-created animation. The competition is now open and the closing date for entries is 7pm on Thursday 8 March. Full details are at bbc.co.uk/500words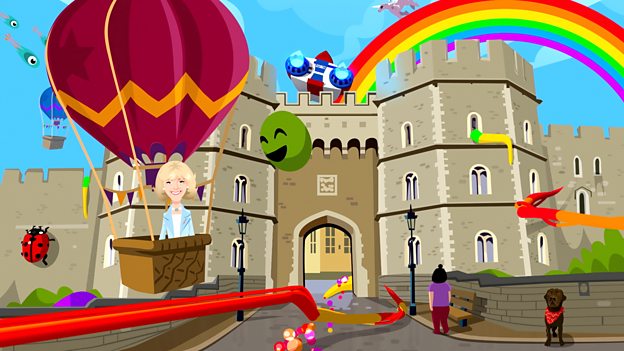 Zoe Ball says: "I'm so proud and excited to be launching 500 Words 2019. It is incredible what Chris Evans has achieved since he first created it back in 2011. I encourage all of our younger listeners to delve deep into their imaginations, and perhaps it could be you heading to the live final at one of the world's most iconic buildings, Windsor Castle, in June!"
During today's live launch on the Radio 2 Breakfast Show with Zoe Ball, Hunter's Bar Infant School in England, Gilnahirk Primary School in Northern Ireland, Whitchurch High School in Wales and St Vincent's Primary School in Scotland have taken over the playlist from 7-9am. The pupils also shared their favourite authors and ideas for their 500 Words stories. Wogan House, where Zoe's show is broadcast from, also played host to a Breakfast Club with students from Foulds School in England taking part in a brainstorming session with judges Frank Cottrell-Boyce and Charlie Higson to top up their writing skills, ready to write their 500 Words stories. Zoe has been checking in on their progress during the show.
Lewis Carnie, Head of BBC Radio 2, says: "Now into its ninth year, 500 Words is a phenomenon - last year there were a record 134,790 entries! Thanks to Chris, we're able to continue with 500 Words and we thank him for his passion and commitment to the initiative. We look forward to a new look 500 Words with Zoe."
Her Royal Highness The Duchess of Cornwall first supported 500 Words in 2015. She has been an Honorary Judge since 2016 alongside the panel of esteemed judges - Malorie Blackman, Francesca Simon, Charlie Higson and Frank Cottrell-Boyce - with Chris Evans remaining as Chair of the Panel.
There will be six winners - Bronze, Silver and Gold in each of the two age categories (5-9 and 10-13 years). And for 2019, there is an exciting new prize. Six well-known illustrators - Helen Oxenbury, Tony Ross, Susan Varley, Jarvis, David Roberts and Briony May Smith - will each be given one of the winning stories to illustrate. The winners will receive these at the live final at Windsor Castle where their stories will be announced and read out live on-air by some superstar narrators. The Gold winners receive Chris Evans' height in books and will be invited to a set visit/tour of a CBBC production, and each of their schools will be sent 500 books for their library. The Silver winners receive HRH The Duchess of Cornwall's height in books, and the Bronze winners receive their own height in books. The winners and writers of the top 50 short-listed stories will attend a reception in the castle's historic state rooms which have played host to state occasions, wedding receptions and other official events for centuries. Additionally, a limited number of entrants will also be selected at random to come to the final.
The 2018 winning stories were read out by celebrity narrators including Dara O'Briain, Amanda Abbington, Jason Isaacs, Shobna Gulati, Jim Broadbent and David Walliams, with live music from John Newman, Alexandra Burke and Bastille.
Windsor Castle is one of the oldest and largest inhabited castles in the world. In 2018 it hosted the Royal Weddings of both the Duke and Duchess of Sussex and Princess Eugenie and Jack Brooksbank. A historic venue, it is sure to capture the imaginations of children entering this year's 500 Words competition. In previous years, HRH The Duchess of Cornwall has presented the Gold winners with their prizes at the finals which were broadcast live from Hampton Court Palace (2018), The Tower of London (2017), Shakespeare's Globe (2016) and St James's Palace (2015).
Supporting 500 Words, on Thursday 7 February at 11am, BBC Learning is holding a BBC Teach Live Lesson. It is free and available to all schools as a live, interactive webcast at bbc.com/livelessons Designed to help inspire children to write their very own stories, it will feature 500 Words judges and authors Charlie Higson and Frank Cottrell-Boyce. They will be sharing tips, answering questions and attempting to write a whole 500 Words story in the space of a single lesson!
BBC Teach Executive Producer Andrew Tomlinson, says: "We're delighted to be able to invite teachers and their classes to take part in this brilliant Live Lesson for 500 Words. It's a great way to get young people excited about creative writing and to help them improve their literacy skills".
Following on from last year's 500 Words podcast, Bedtime Stories hosted by Dick and Dom is back again for 2019. Featuring stories entered by children into last year's competition, it will make for perfect bedtime listening for kids. Each weekly episode will have a different theme, with the BBC Radio Drama Company bringing the stories to life. The podcast will be available on the BBC Sounds app.
Once again, 500 Words will be run in association with Oxford University Press (OUP) to increase reach into schools and provide further support to teachers. Since 2012 OUP's language experts have been analysing the stories that are entered for the competition. Each one is added to the Oxford Children's Corpus (which is made up of over 400 million words and 800,000 stories), allowing OUP to capture children's fascinating and evolving use of language, and pick out key trends and themes. Each year OUP reveals the Children's Word of the Year, with plastic (2018) trump (2017), refugee (2016), hashtag (2015), minion (2014) and mum (2013) being selected in previous years.
Helen Freeman, Director of Publishing Operations and Home Sector at OUP, says: "Every year we are blown away by the creative ways children use language to tell their stories and we can't wait to see what they will surprise us with in 2019. Our language experts analyse the stories to make fascinating discoveries about children's language and we use these findings to create resources that help children from all backgrounds develop the language skills they need to succeed in their learning and in life."
500 Words was created by Chris Evans in 2011 and is now in its ninth year. In that time over 800 000 children have taken part by getting creative and submitting their stories. The competition asks children in the UK aged between 5 and 13 years of age to compose an original work of fiction using no more than 500 words. Entries are in two categories: 5-9 years and 10-13 years. Budding young writers have until 7pm on Friday 8 March 2019 to submit their stories. More details and terms and conditions are at bbc.co.uk/500words Also on the website children will find an array of tools to inspire and help them.
KA
The Illustrators
5-9 year old category
Helen Oxenbury - An extraordinary body of work including classic We're Going on a Bear Hunt, Farmer Duck, So Much and Alice's Adventures in Wonderland.
Susan Varley - The multi award-winning artist best known for Badger's Parting Gifts about losing a loved one, which has become a children's literary phenomenon.
Jarvis - Best known for his visually fun Mrs Mole, I'm Home! and his award winning Alan's Big, Scary Teeth.
10-13 year old category
Tony Ross - Best known for his much-loved Little Princess series and his collaboration on David Walliams' best-selling children's books and Francesca Simon's Horrid Henry series
David Roberts - Has collaborated with some of Britain's much-loved children's authors, including Jacqueline Wilson, Julia Donaldson and Julian Clary.
Briony May Smith - The author-illustrator of Imelda and the Goblin King and illustrator of Michael Morpurgo's The Giant's Necklace, she is inspired by folklore and the farm she lives on in Devon.