Beyoncé, Taylor Swift and Vanessa Reed top the fifth Woman's Hour Power List on BBC Music Day
Woman's Hour has revealed their fifth Power List, profiling the 40 most powerful women currently working in the music industry. The list was revealed live in a special programme hosted by Jenni Murray and broadcast from the BBC's Maida Vale studios on BBC Music Day.
Published: 28 September 2018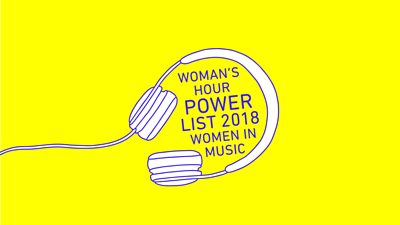 I am delighted to celebrate and champion these 40 remarkable women. Their inclusion… acknowledges their role in paving the way for other women to have opportunity, profile and power in this exciting industry
2018's Woman's Hour Power List celebrates women who are demonstrating power in the music industry - innovators and groundbreakers supporting and championing the work of other women or changing the industry from within, making it more equal, diverse and creative.
The top five women on the 40-women list are:
Beyoncé
Taylor Swift
Vanessa Reed, CEO of the PRS Foundation
Adele
Stacey Tang, Managing Director of RCA UK
This year's judging panel is chaired by BBC journalist and presenter Tina Daheley. Joining her on the panel are music TV producer and columnist Jasmine Dotiwala, classical music writer and novelist Jessica Duchen, UK producer of the year 2018 Catherine Marks, and Brit Award-winning singer, songwriter and musician Kate Nash.
Karen Dalziel, Editor of Woman's Hour, says: "I am delighted to celebrate and champion the 40 remarkable women on the Woman's Hour Power list 2018. All are experts in their chosen field and each individual has demonstrated the leadership and perseverance to change the music industry from the inside. Their passion and commitment is truly inspiring and inclusion on this prestigious list acknowledges their role in paving the way for other women to have opportunity, profile and power in this exciting industry."
Tina Daheley says: "The last few decades have seen the evolution of Beyoncé from Destiny's Child singer to one of the greatest artists of our generation. History-making along the way with 63 Grammy Award nominations, a headline Glastonbury set, a politically charged Super Bowl performance and this year becoming the first black woman to headline Coachella. 'Queen Bey' continues to reinvent herself, unapologetically using her position, platform and music to bring black politics, civil rights activism and feminism into the mainstream."
Jasmine Dotiwala says: "Taylor Swift is one of the biggest female artists on the planet, as well as an advocate for her fellow artists, unafraid to take on big brands and call out injustice. Her $1 law suit and her influence on young people demonstrate how much she's in control of herself, taking control of her music with her ability to switch from country to pop and still win nearly every award going. When I see young girls and how she empowers them to be strong women I see how much she's influenced them and her impact on these girls who will be the activists of the future."
Jessica Duchen said: "She's had a huge impact across the board, and the Keychange initiative which involved getting so many international festivals to sign up to a pledge to gender parity is a stunning development in the music world as a whole."
The full list as revealed on today's programme is:
1. Beyoncé (musician)
2. Taylor Swift (musician)
3. Vanessa Reed (Chief Executive of the PRS Foundation)
4. Adele (musician)
5. Stacey Tang (Managing Director of RCA UK)
6. Gillian Moore (Director of Music at Southbank Centre)
7. Rebecca Allen (President of Decca Records)
8. Marin Alsop (conductor)
9. Chi-chi Nwanoku (musician, founder of Chineke! orchestra)
10. Maggie Crowe (Director of Events and Charities at BPI, Administrator of the BRIT Trust)
11. Olga Fitzroy (Recording and mix engineer)
12. Annie Mac (DJ)
13. Desiree Perez (Chief Operating Officer, Roc Nation)
14. Cardi B (musician)
15. Sia (songwriter, musician)
16. Ellie Rowsell (musician)
17. Sarah Stennett (CEO at First Access Entertainment)
18. Nicola Benedetti (musician)
19. Hattie Collins (journalist)
20. Dua Lipa (musician)
21. Kathryn McDowell (Managing Director of the London Symphony Orchestra)
22. Julie Pilat (Global Head of Operations for Beats1)
23. Alice Farnham (conductor and co-founder of Women Conductors)
24. Fiona Stewart (Director of Green Man Festival)
25. Taponeswa Mavunga (Head of Publicity at Columbia Records)
26. Emma Banks (Co-head at Creative Artists Agency)
27. Edwina Wolstencroft (Editor at BBC Radio 3)
28. Linda Perry (songwriter, musician)
29. Vick Bain (CEO of British Academy of Songwriters, Composers & Authors)
30. Jasmine Sandlas (musician)
31. Anna Meredith (composer)
32. Amber Davis (A&R Director at Warner/Chappell Music)
33. Deborah Annetts (Chief Executive at Incorporated Society of Musicians)
34. Sas Metcalfe (Chief Creative Officer, Kobalt)
35. Fiona Dalgetty (Chief Executive of Feis Rois)
36. Grace Ladoja (founder of Metallic Inc and artist manager)
37. Mandy Parnell (mastering engineer and founder of Black Saloon Studios)
38. Issie Barratt (composer)
39. Nadine Shah (musician)
40. Sara Sesardic (Music Editor at Spotify UK)
The Woman's Hour Power List launched in 2013 and featured the 100 most powerful women in the UK, covering women working in traditional power structures - politics, the law, big business - and was headed by the Queen. In 2014 the list focused on ten Game Changers, with Baroness Doreen Lawrence in first place. In 2015 the theme was The Power To Influence, with Scotland's First Minister Nicola Sturgeon heading the list. The fourth Power List in 2016 celebrated the seven women who had made the biggest impact on women's lives over the past seven decades, as part of Woman's Hour 70th anniversary celebrations, with Margaret Thatcher topping the list.
Now in its fourth year, BBC Music Day, on Friday 28 September, is an annual celebration of the power of music to change lives. This pan-BBC initiative features live music events and performances across the UK involving famous musicians, choirs and local community music groups.
This year there will be many more celebrity and choir Transport Takeovers, a focus on Women In Music and huge TV and radio support - as well as Gareth Malone's All Star Music Quiz and the Pulp versus Happy Mondays Bargain Hunt, there's a Pointless Celebrities BBC Music Day Special, an episode of Trust Me, I'm a Doctor looking at how music can benefit our mental health, plus programming on BBC Four, coverage on The One Show and BBC Breakfast and much more. There will be tailored content across BBC network and local radio, including a 6 Music Freshers' Week Tour visiting art schools around the UK.
Notes to Editors
Woman's Hour broadcasts on BBC Radio 4 at 10am Monday to Friday and on Saturdays at 4pm. The daily podcast can be downloaded from the BBC Radio iPlayer app
IP
Tagged: