Two million BBC micro:bits distributed globally
To celebrate its second birthday, the Micro:bit Educational Foundation has today announced the manufacture and distribution of the two millionth BBC micro:bit.
Published: 26 October 2018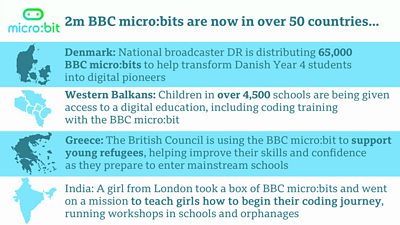 This is a fantastic milestone, but it is only the beginning as we continue to grow the micro:bit's reach globally to inspire the next generation of tech talent
The Foundation has now taken the BBC micro:bit global, with the device now available in over 50 countries and large national projects in Canada, Croatia, Denmark, Hong Kong, Iceland, Uruguay and Singapore under way.
The BBC micro:bit is a pocket-sized codeable computer that allows young people to get creative with technology, whatever their level of experience. It was launched by BBC Learning in 2016 as part of the BBC's Make it Digital initiative. It aimed to help develop a new generation of digital pioneers and it made a positive impact - with up to one million BBC micro:bits delivered for free to every year 7 student in England and Wales, year 8 student in Northern Ireland and S1 student in Scotland.
The BBC micro:bit was inspired by the BBC Micro, of which only 1.5 million were produced, and its impact on home and school computing in the early 1980s. The BBC Micro was a UK-focussed initiative but, through the Foundation, the BBC micro:bit is now available internationally with a range of projects helping youngsters get creative with technology. These include:
The Foreign and Commonwealth Office announced announced £10m in funding for the British Council to provide children in the Western Balkans region - over 4,500 schools in all - with access to a digital education. It will help foster the next generation of digital innovators by providing micro:bit-based coding training
The Danish national broadcaster DR is distributing 65,000 micro:bits as part of a three year programme, using them in classrooms to help transform Danish Year 4 students from passive technology consumers to digital pioneers
The British Council has been using the micro:bit to support young refugees, helping improve their skills and confidence as they prepare to enter mainstream schools in Greece. The British Council, in partnership with UNICEF, ran an education programme at the camp to provide quality English language and Life Skills lessons for children ages 12 to 17
Nishka, a young girl from London went on a mission to teach girls in India how to begin their coding journey, taking a box of micro:bits donated by Premier Farnell and running a raft of workshops in schools and orphanages
Katerina Tsikalaki, who has been using the BBC micro:bit to teach young refugees in Greece, says: "The children can really be creative with the micro:bit. Its sensors make it easy for them to use for experimentation across many subject areas - they can code fun maths games with it, but they can also use it to measure acceleration from their bicycles and skateboards! The growth in children's confidence whilst learning with micro:bit is immediately apparent."
"The Foundation has made a lot of exciting progress since it was launched in 2016," said Stephen Pattison, Micro:bit Educational Foundation chair and also vice president of public affairs at Arm. "This is a fantastic milestone, but it is only the beginning as we continue to grow the micro:bit's reach globally to inspire the next generation of tech talent."
The Micro:bit Educational Foundation is a not for profit formed in October 2016 by the BBC, Arm, IET and Nominet. Other founding partners are Microsoft, Samsung, Lancaster University, Amazon Web Services and the British Council. Its mission is to 'Inspire every child to create their best digital future' and it does this by working with educators around the world to roll out micro:bit programmes, provide free teaching resources and project ideas as well as donate free micro:bits to worthy projects.
DT