BBC takes 'fake news' battle global as interactive game launched in UK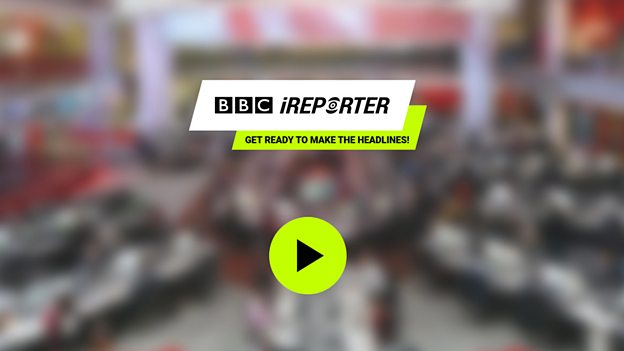 Broadcasters and the rest of the news industry have a responsibility to tackle fake news, and I want to use the BBC's global reach to lead the way.

Fran Unsworth, Director, News and Current Affairs
Date: 15.03.2018
Last updated: 15.03.2018 at 16.47
In a drive to combat fake news the BBC has launched BBC iReporter, an online interactive game to help young people in the UK identify 'fake news'.
The game, launched on BBC School Report News Day and developed by Academy Award-winning studios Aardman, allows players to experience being a BBC journalist in the heart of the newsroom. BBC iReporter has a 'choose-your-own-adventure' style which gives the player first-hand experience of working in a newsroom facing the fast-paced pressures behind covering a breaking news story, whilst maintaining impeccable accuracy, impact and speed and navigating the various pitfalls thrown up by potential fake news elements. The game is designed for 11-18 year olds for use on mobile, tablet and desktop.
This is part of the broader BBC School Report national programme to help 11-18 year olds to identify fake and false stories by developing their critical thinking and media literacy skills. Resources will be available for young people and teachers across the UK via the School Report website. In addition, more than 100 BBC journalists, including Huw Edwards, Tina Daheley, Nikki Fox, Kamal Ahmed and Amol Rajan, will deliver workshops in schools and a roadshow of events will take place across the country.
Taking the fight global
Building on this work, the BBC also sets out today its ambition to be a global leader in the fight against fake news, which is creating a huge decline in global audiences' trust in news overall.
The BBC's World Service Group will spearhead this, putting a major focus on global media literacy, and culminating in a live global broadcast bringing together young people from around the world to discuss how trust in media can be restored. Plans include:
Building on the work that has already been done by School Report in the UK, and BBC Hindi, through the year we will also be developing materials that can be rolled out globally to help young people combat fake and false news and information.
Extending the BBC's Reality Check service to more parts of the world.
Organising a global full-day media literacy event where teenagers from around the world will be brought together in a live broadcast to talk about the challenges they face in their home countries in assessing news, sharing ideas about solutions for the future. This will include broadcasts from Beirut, Nairobi and Mumbai or Delhi.
A global survey on media trust issues, and a clickable map of fake news stories allowing audiences to see a heat map of disinformation around the world.
Fran Unsworth, Director, News and Current Affairs, says: "The BBC has already been doing a lot to tackle the scourge of fake news - whether through Reality Check fact-checking claims and coming to a judgment, our journalists going into schools to educate youngsters or this brilliant game we're launching in the UK today.
"But this is a global problem. It's vital people have access to news they can trust - and know how to distinguish between fact and fiction. Broadcasters and the rest of the news industry have a responsibility to tackle fake news, and I want to use the BBC's global reach to lead the way."
How the BBC iReporter game works
Set in the BBC newsroom on your first day as a trusted BBC journalist, the backbone of the game is a strong storyline placing the player in the midst of a breaking news story. The player needs to navigate through the story making choices as they go with each choice affecting three metrics - accuracy, impact and speed. Which sources should they trust? How will they react? When is it time to be cautious and when is it time to be forthright? With deadlines looming, the player will need rigorous judgement to ensure they identify the right stories and back them up with credible facts - or else their editor won't be happy!
BBC School Report News Day - what's happening on the day?
London
More than 100 young people will take part in workshops at Broadcasting House looking at how to filter out fake and false information
There will be Q&A sessions with BBC journalists including Catrin Nye, Ashley-John Baptiste, Ros Atkins and Jane Hill
All pupils will have the chance to discover how BBC Television and Radio broadcasts are made with a series of show and tell events from BBC newsgathering and operations staff with the chance to get hands on experience using TV cameras, radio cars and satellite trucks
Salford
Schools across the north of England will join BBC teams at Media City UK taking part in a series of workshops and tours to enhance their digital and journalistic skills. These Salford teams include: Sport; 5 live; BBC Tours; Newsround; BBC Homepage; North West Tonight; You & Yours; and Children in Need
The Blue Room, a media technology demonstration team, will open their doors to host pupils, showing them how to use cameras, sound and lighting
Northern Ireland
Studio 1 will be the main hub for the NI event, where pupils will take part in a range of activities including presenting the weather; sports commentary and streaming live hourly news bulletins
There will be journalism workshops happening throughout the day
Wales
Pupils from Pencoed Comp and Ysgol Llanhari will be coming to Cardiff for workshops which will cover: fake news, digital profile, weather workshops, and seeing behind the scenes the process for getting TV programmes on air
Notes to Editors
BBC School Report is a partnership between BBC News, BBC Academy, BBC Sport and BBC Children's. The project gives 60,000 young people each year the opportunity to research and produce their own reports with the help of BBC staff mentors. There is an annual BBC School Report News Day when the BBC promotes their stories across platforms and on http://www.bbc.co.uk/schoolreport
The project is funded from across the BBC as it helps to deliver our public purposes including sustaining citizenship and civil society, Promoting education and learning. Schools can sign up to be part of the pilot
Reality Check is the BBC's principal fact-checking service which runs on TV, radio, on the website and via social media. This service tackles fake news stories and challenges statements from public figures and institutions which may be false or misleading, and presents the verifiable facts instead.
In accordance with the BBC's editorial guidelines BBC News is committed to achieving the highest standards of accuracy and impartiality and to being rigorous in establishing the truth of the story.
According to Ofcom eight in ten older children (12-15s) now have their own smartphone.
A National Literacy Trust report found that one child in five believes that everything they read online is true. It says in order to identify fake news and be able to take full advantage of the unique learning opportunities the internet and digital technologies have to offer, children and young people need strong critical literacy skills.
Salford University, in collaboration with BBC Newsround, has carried out a year-long study of 9-14 year-olds' awareness of fake news. The majority of their interaction with news and fake news comes online - even though they are aware it's not always reliable. The findings reveal children talk a good game, but they actually struggle to recognise false information when confronted with stories that contain it. Senior Lecturer Beth Hewitt says children as young as 10 should be taught in school how to recognise fake news. To find out more go to BBC Newsround
The BBC defines fake news as false information distributed deliberately, usually for political or commercial reasons.
Search the site
Can't find what you need? Search here
Related Media Centre Links