BBC One announces Jack the Ripper Documentary
One hundred and thirty years ago the most infamous serial killer of all time began his reign of terror in the East End of London.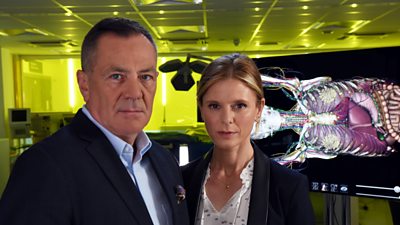 It is remarkable to think that today's scientific techniques can be used to help try and tackle unanswered questions which are more than a century old
Between August and November 1888, five horrifically violent murders took place in Whitechapel. The victims were all poor, working-class women. A huge manhunt ensued involving hundreds of officers, but Jack the Ripper was never caught.
Now, in a new BBC One science documentary, the latest police cold case techniques will be applied to these gruesome murders. Using original crime scene photographs and a virtual reality dissection table, actor Emilia Fox and Professor David Wilson, Emeritus Professor of Criminology, will be joined by some of the country's top forensic and crime experts to re-analyse the murders. Using 21st century technology, they hope to get closer than anyone has before to answer some vital questions, including who was Jack the Ripper, what motivated his crimes, how did he escape justice, and could he have been responsible for even more brutal murders?
Emilia says: "Having worked on crime drama for many years this project has been a truly fascinating insight into how current real police procedure, forensics and technology can be applied to the most famous of unsolved historical crimes - the Jack the Ripper murders. Working alongside Professor David Wilson, a leading expert in the psychology of criminals, we have approached it as a cold case might be investigated now, and with the help of other leading experts, have taken another look at the mind and actions of this brutal murderer. This documentary appealed to me hugely because of my interest in crime, forensics and pathology and also because it looks at the victims - the women Jack the Ripper chose and what left them so vulnerable to his brutality. It's been an immense privilege to get this behind-the-scenes insight into real crime-solving on such a fascinating case."
Craig Hunter, BBC Commissioning Editor, says: "Jack the Ripper is synonymous with murder and intrigue - even if you don't know all the details, you will have heard of the case. It is remarkable to think that today's scientific techniques can be used to help try and tackle unanswered questions which are more than a century old."
Jack The Ripper (w/t), a 1x60' programme for BBC One, is made by BBC Studios. The Executive Producer is Steve Crabtree and it was commissioned by Charlotte Moore, Director, Content and Tom McDonald, Head of Commissioning, Natural History and Specialist Factual. The Commissioning Editor is Craig Hunter. It will tx later this year.
Notes to Editors
David Wilson is Emeritus Professor of Criminology and founding Director of the Centre For Applied Criminology at Birmingham City University - one of the university's 'research centres of excellence'. He is the former Editor of the prestigious Howard Journal of Criminal Justice, which is produced five times per year. Prior to taking up his academic appointment in September 1997, David was Senior Policy Advisor to the Prison Reform Trust, and between October 1983-April 1997 he worked as a Prison Governor.
TD