Radio 4 reaches the outer edges of Europe in Reading Europe 2018
Over the past three years BBC Radio 4 has taken listeners on a journey across Europe, exploring the best in contemporary literature from across the continent. Starting in 2015 in France and Spain, the series has travelled the length and breadth of Europe to bring audiences the very best in contemporary literature in translation.
Published: 3 January 2018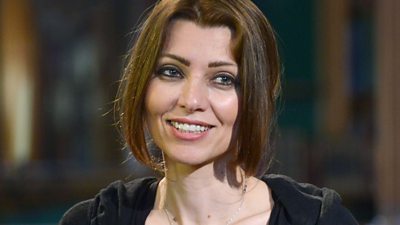 Not only are we profiling four brilliant novels from Russia and Turkey, but on this occasion Reading Europe explores how difficult it can be to be a writer
In 2018 Reading Europe reaches the eastern edges of Europe, with works from both Turkey and Russia exploring regions where freedom of speech has been threatened.
Jeremy Howe, Commissioning Editor for Drama & Fiction at Radio 4, says: "It can be easy to take freedom of speech for granted. If you write a book in the UK which says unpalatable things about government and society it may or may not sell many copies, but it is extremely unlikely that you will end up in trouble. The same cannot be said to be true across the world, and in this latest series of Reading Europe we explore the writing of two countries where writing and publishing is not straightforward.
"In 2009 Alisa Ganieva originally published her first novel under a male pseudonym, because she didn't think as a woman people would take her seriously as a writer. The Bastard Of Istanbul landed its writer Elif Shafak (pictured) in court in Turkey for its depiction of recent Turkish history. Not only are we profiling four brilliant novels from Russia and Turkey, but on this occasion Reading Europe explores how difficult it can be to be a writer."
This series of Reading Europe starts on Sunday 21 January with a two-part dramatisation of The Bastard Of Istanbul by Elif Shafak, the bestselling novel that almost got its author imprisoned for "insulting Turkishness". Dramatised by Hattie Naylor, the novel tells the story of two families - one Turkish, the other Armenian-American - bound by the same horrific past. The drama stars Lara Sawalha as Asya and the cast also includes Raad Rawi, Laurel Lefkow, Philip Arditti and Anna Savva.
From 22 January the Book Of The Week is Geert Mak's In Europe. In 1999 Dutch journalist Mak spent the year travelling through Europe at the close of the 20th century, reflecting on the history of the last 100 years in the continent and assessing its legacy. Read by Nicholas Farrell, this serialisation includes a specially-written addition by Mak updating his reflections 20 years on.
Nobel Prize-winning novelist Orhan Pamuk is the author of the Book At Bedtime: The Red-Haired Woman, which starts on 22 January. His 10th novel explores the complex layers of father-son relationships through the story of a young man apprenticed to a well-digger on the outskirts of Istanbul. Pamuk too was once the subject of charges for "insulting Turkishness" after comments he made about the Armenian genocide.
Moving across to Russia, from 4 February is a two-part dramatisation of Bride And Groom by Alisa Ganieva. Runner-up for the 2015 Russian equivalent to the Booker Prize, Ganieva is one of the most exciting voices in modern Russian literature and Bride and Groom is a tragi-comic novel about family expectations, religious and cultural tensions, and power struggles in rural Dagestan. It is also a love story. It stars Aimee Ffion Edwards and Jacob Ifans as Patya and Marat.
Ending this run of Reading Europe is The Big Green Tent by Ludmila Ulitskaya, a panoramic survey of dissident life in the post-Stalin years of the Soviet Union, told through the story of three school friends. Ulitskaya is one of Russia's most prominent writers and has been an outspoken critic of the current Russian government.
TX details
Reading Europe - Turkey: The Bastard Of Istanbul
TX: 21 & 28 January, 3pm-4pm
Produced by Nicolas Jackson for Afonica
Reading Europe: In Europe
TX: 22-26 January 2018, 9.45am-10am
Read by Nicholas Farrell
Abridged by Rowan Routh
Produced by Elizabeth Allard for BBC Radio 4
Reading Europe - Turkey: The Red-Haired Woman
TX: 22 January - 2 February, 10.45pm-11pm
Translated by Ekin Oklap
Read by Paul Hilton and Frances Barber
Abridged by Jill Waters and Isobel Creed
Produced by Jill Waters for The Waters Company
Reading Europe - Russia: Bride And Groom
TX: 4 & 11 February, 3pm-4pm
Adapted by Bethan Roberts from the translation by Dr Carol Apollonio
Produced by Helen Perry for BBC Radio 4
Reading Europe - Russia: The Big Green Tent
TX: 5-16 February, 10.45pm-11pm
Produced by Mair Bosworth for BBC Radio 4
IP
Related BBC Links
Tagged: