BBC Radio 2 announces schedule changes for Spring 2018
BBC Radio 2 presents a range of schedule changes, with new programmes and series, as well as a refresh of its specialist music programming.
Published: 10 January 2018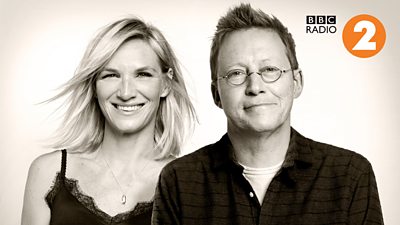 Simon and Jo are two of the network's most popular presenters, and I'm delighted that they will unite in this exciting partnership to present a new show.
New 5pm-8pm programme with Simon Mayo and Jo Whiley
New 10pm-midnight show with Sara Cox (Sounds Of The 80s to be hosted by Gary Davies)
New Blues show hosted by Cerys Matthews
New weekday overnight show hosted by OJ Borg
BBC Radio 2 today (10 January) presents a range of schedule changes, with new programmes and series, as well as a refresh of its specialist music programming.
Simon Mayo and Jo Whiley are joining forces in a new partnership, bringing both their unique broadcasting talents and skills, for an exciting early evening show which will kick off on Monday 14 May from 5pm-8pm.
Simon says: "Although we've known each other for over 20 years, we've never presented a show together. And given that Jo is quite brilliant, it's high-time we put that right."
Jo says: "What a thrill to be working with Simon on this exciting new show. It's going to be great fun and listeners can look forward to some incredible music and chat, as well as being introduced to some fantastic new talent along the way. Cannot wait!"
Friday's programme will remain as All Request Friday from 5pm-7pm, and Tony Blackburn's The Golden Hour remains from 7pm-8pm.
Sara Cox will front a brand new live show from 10pm to midnight from Monday 14 May. Every Monday to Thursday night Sara's show will feature an upbeat playlist, with the great and the good from the world of theatre, music and film popping in.
Sara says: "I'm beyond excited to be hosting a brand new show for Radio 2. It'll be the best place for listeners to meet at the end of the day for a good chinwag and to have a laugh. Like any party, my favourite people will be swinging by to join in the fun in the studio but the listeners at home are the real guests of honour and I'll be playing them the most brilliant music and doing my best to entertain them.
"I'd also like to wish actual legend 'OOH' Gary Davies the very best of luck as he takes over the Sounds Of The 80s hot seat."
Sounds Of The 80s will remain on Friday nights (10pm to midnight) and from Friday 18 May, the show will be hosted by Gary Davies. The programme will continue to feature the very best music from the 1980s: hits, classics, album tracks, 12" singles and rarities, plus interviews with stars from music, film and television from the 80s. The monthly BBC Red Button specials will continue, featuring the decade's most entertaining videos and new, star interviews.
Gary says: "I hugely enjoyed my guest appearance on Simon Mayo's show during Sara Cox's Danceathon last year, which led to me covering for Sara On Sounds of the 80s. It was so much fun and reminded me how much I had missed being on the radio. I am absolutely thrilled to be the new host of the show and can't wait to share my love of 80s music with the Radio 2 listeners."
Lewis Carnie, Head of Radio 2, says: "These changes herald another stage of the evolution of Radio 2. Simon and Jo are two of the network's most popular presenters, and I'm delighted that they will unite in this exciting partnership to present a new show. Sara's new evening show will provide the network, for the first time in many years, with a truly interactive show to end the day."
From 14 May, Radio 2 will launch a new live overnight show with OJ Borg to be broadcast from Salford each Monday to Friday, 12am-3am.
OJ says: "Over-excited to be starting on Radio 2 full time, as of all the jobs I've done in my ridiculously varied career, this radio station is the one that makes me feel like I'm broadcasting from my armchair at home. And getting to know the people who are up at that time at night is the main thrust of that excitement. Whether they are hard at work, indulging in some insomnia or tiptoeing in after a night out, it is going to be a riot."
The network's specialist music offer will be refreshed with range of changes.
The weekly Blues, Jazz, Folk and Country specialist music shows will move one hour later to 8pm-9pm, every Monday to Thursday.
Cerys Matthews will join Radio 2 as the host of a new live blues show each Monday. Musician, author and broadcaster Cerys, whose BBC Radio 6 Music Sunday morning show (10am-1pm) has the highest single show listenership on the network - and who also hosts a monthly programme, BBC Music On The World Service With Cerys Matthews - takes over from Paul Jones, who will be leaving the network.
Paul Jones says: "I have loved playing tracks from the world of Rhythm & Blues on Radio 2 over the last 30-plus years. I'm very grateful to all my listeners (not least for their influence on the content of programmes) but it's time for me to hand over the baton - and I hope and believe Cerys will derive as much joy from the new show as I have until now."
Cerys wants to thank Paul and adds: "To be able to play the music that inspires me on Radio 2 is a dream come true. I look forward to playing tracks by blues legends like Memphis Minnie, John Lee Hooker, Lightnin' Hopkins, Jo Ann Kelly and Peter Green, and bands like the Rolling Stones, the Groundhogs, White Stripes and Black Keys. Each week we'll dive into the vast archive of the BBC unearthing long lost gems and interviews, and we'll also play some of the best new releases and emerging artists steeped in this genre, the cradle of jazz and rock 'n roll."
A new 26-part rock series hosted by Johnnie Walker will be broadcast on Monday nights from 9pm-10pm, drawing on the Radio 2 audience's deep love of Rock music in its many and varied forms, and Johnnie Walker's experience at the helm of the scene for decades.
Johnnie says: "As a huge lover of rock music, I'm very much looking forward to playing some of my favourite tracks from across the decades. Monday nights will never be the same again!"
Johnnie will share the 9pm Monday night slot with Jools Holland, whose show moves up from 11pm.
Huey Morgan's Saturday morning show will now be extended from 4am-6am.
Ana Matronic's Disco Devotion, broadcast each Sunday morning from 12am to 2am will now spread its wings to become Ana Matronic's Dance Devotion, and will encompass all forms of dance music.
Early Sunday mornings will have a new sound with Angela Scanlon on Sunday from 4am-6am. Join Angela as she picks and plays the ultimate soundtrack to get you through those early hours.
Angela says: "Joining the Radio 2 team is a dream come true, lazy Sunday morning radio is my favourite. Now all I have to do is stay awake!"
The Organist Entertains (Tuesday 11pm-11.30pm), presented by Nigel Ogden; Listen To The Band (Tuesday 11.30-midnight) the weekly 30 minute programme featuring brass and military band music presented by Frank Renton; and the Radio 2 Arts Show (Thursday 10pm-midnight) will all be rested.
The yearly Young Brass Award will remain as a Friday Night Is Music Night special in April; whilst brass and organ music will be included in Friday Night is Music Night weekly programmes throughout the year. Brass will continue to be heavily featured on a weekly basis in Clare Teal's Sunday night show, which celebrates big band music.
Arts programming, including interviews with authors, composers, actors, artists and playwrights, will continue to be featured across the Radio 2 daytime and weekend schedule in regular programming including Chris Evans, Ken Bruce, Steve Wright and Graham Norton. Sara Cox's new evening show will also feature a variety of guests from the arts world. Radio 2 will continue to feature one-off arts projects and series such as the recent Mark Kermode's Celluloid Jukebox six part series, the 500 Words children's story writing initiative within the Radio 2 Breakfast Show, Paint It Black with Anneka Rice and Ronnie Wood and Ed Balls on Musical Theatre.
Nigel says: "I'd like to thank my ever loyal audience for their support and messages during the 38 years I've hosted The Organist Entertains. I've loved hearing from them and send them my very best wishes for the future. I'd also like to thank Radio 2 for giving me the opportunity to play the music I love each week - it has been a huge privilege."
Frank says: "My 23 years presenting Listen To The Band have been hugely enjoyable, especially playing so much of the music that I love. It has also been an absolute pleasure being part of the Radio 2 family, and I want to thank all those who have listened or contributed to the programme over the years. Of course the next thing on the agenda is the continued celebration of the talent of young British brass players when Ken Bruce and I present the final of the BBC Radio 2 Young Brass Award in April."
Lewis Carnie, Head of Radio 2, says: "I'd like to thank Frank, Nigel and Paul for entertaining their listeners for many years, and on behalf of the listeners, and everyone at Radio 2, wish them the best of luck for the future."
There will be another chance to hear Trevor Nelson's Rhythm Nation, Claudia Winkleman's weekend show, Sounds Of The 60s, Sounds Of The 70s, Sounds Of The 80s, Pick Of The Pops with Paul Gambaccini, and Craig Charles' House Party, Monday to Friday, between 3am - 5am, and Saturday & Sunday between 2am-4am.
The station will be inviting both in-house BBC production teams and independent radio production companies to help shape some of the new shows, and will ask for proposals for Sara Cox and OJ Borg's new shows, Sounds Of The 80s, Ana Matronic's Dance Devotion and Johnnie Walker's new Rock Show, in a special commissioning round which will open at 5pm this Friday (12 January).
The following Radio 2 specialist music shows will now be broadcast from 8pm-9pm:
Mondays - Blues with Cerys Matthews
Tuesdays - Jazz with Jamie Cullum
Weds - Folk with Mark Radcliffe
Thursday - Country with Bob Harris
KW2 / SH
Related Media Centre Links
Tagged: