Radio 4 announces a host of new commissions reflecting life across the United Kingdom
Controller of Radio 4, Gwyneth Williams, has today announced a range of forthcoming programmes which explore the experiences of people and communities across the United Kingdom.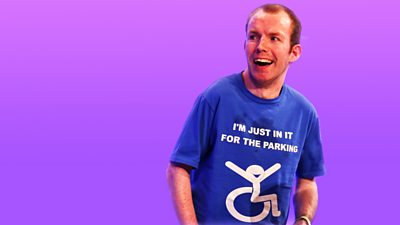 This selection of programmes, broadcast over the next few months, will delve into the experiences of people across Britain, through documentaries, comedy, arts and drama.
These include:
A three-part series exploring dialect poetry in three areas of the UK
A two-part documentary looking at how transport divides the nation
Still Here: A Polish Odyssey explores the story of the least-known influx of Polish people to Britain after WWII
Ability, the new sitcom starring Lost Voice Guy (Lee Ridley), about Lee's experience of coping with his cerebral palsy
Orthodox Jewish comedian, Ashley Blaker, gives an insider's view of his religion
IP
Documentaries
The Remittance
4 May 2018, 11-11.30am
In May Nihal Arthanayake presents The Remittance. Every year as much as £16bn is sent around the world by migrant workers in the UK, more than our overseas aid budget. But with around 10% wiped off Sterling's value following the Brexit vote these remittances are under pressure. Still, as this programme finds out, it's not only driven by economics. Nihal meets some of the families sending money and hears their uplifting and heartbreaking stories.
Produced by Harry Kretchmer for BBC Radio 4
An earlier version of the release incorrectly stated that more than £20bn is sent every year around the world by migrant workers in the UK. 
Mind The Gap - Britain's Transport Divide
2 and 9 July 2018, 8-8.30pm
Mind The Gap - Britain's Transport Divide in July is a two-part examination of the Britain's public transport divide. Over these programmes - one on buses the other on trains - the journalist, academic and broadcaster Lynsey Hanley (a non-driver) goes on a public transport trip around Britain and discovers a two speed nation.
From buses in Skelmersdale and Leeds to trains in Wales and Yorkshire, Lynsey looks at users' experiences of public transport outside London and whether it has become a drag on the ability of the whole of the nation to make the best of itself.
Produced by Kevin Mousley for BBC Radio 4
Black Girls Don't Cry
20 July 2018, 11-11.30am
Also in July, Black Girls Don't Cry explores why research suggests that African-Caribbean people living in the UK are more likely to be diagnosed with severe mental illness than any other ethnic group. Birmingham based journalist and broadcaster Marverine Cole, who has herself suffered from severe depression, follows two women as they try and tackle the challenges they face day to day. She spends time with them as they seek support and treatment and try out different coping therapies. As part of the journey, Marverine tries to work out why it is that she and other black women are so susceptible to mental health problems.
A Made in Manchester programme for BBC Radio 4
Still Here: A Polish Odyssey
6 August 2018, 8-8.30pm
In August is Still Here: A Polish Odyssey. Polish people are the largest foreign-born group in the UK and in light of this the writer and film maker Jane Rogoyska, granddaughter of a member of the Polish government in exile, tells the story of the largest but least-known influx of Polish people to Britain - the quarter of a million who were deported to Siberia by the Communists in WW2. 120,000 of them would eventually settle here permanently to form the bedrock of the Polish community in Britain.
In this programme, people who were children on that journey describe the memories they live with. And the next generation describes living in the shadow of their parents' experience.
Presenter: Jane Rogoyska
Produced by Frances Byrnes
A Pennine Productions programme for BBC Radio 4
My Doorstep Daughter
17 September 2018, 11-11.30am
Later this year My Doorstep Daughter explores what happened and the bonds that formed when a Muslim family took in the baby of a young Christian couple in their street and helped raise her for several years in the south east England of the 1990s. This programme explores culture, faith and community through the eyes of the family members involved.
Produced by Sally Chesworth for BBC Radio 4
Drama
#Blessed
16 July 2018, 2.15-3pm
In July, Holby City actress Olivia Poulet writes and stars in the first of three afternoon dramas. #Blessed is based on direct experience of undergoing IVF treatment in the NHS. Lying in a hospital bed, a woman wrestles with the weight of expectation and fear following an egg collection procedure. At the same time, her husband carries a priceless suitcase across London, potentially containing one egg - perhaps their one chance of having a baby.
Written by Olivia Poulet and Laurence Dobiesz
Directed by Susannah Tresilian
Produced by Sparklab Productions for BBC Radio 4
Tiger Girls
17 July 2018, 2.15-3pm
Tiger Girls, written by Amy Ng, recently named on the 2017 BBC New Talent Hotlist. Tiger Girls explores gambling, addiction, and what it might take to walk away from family and culture, and takes the listeners into the heart of the British-Chinese community in London and Derby.
Written by Amy Ng
Directed by Shan Ng
Produced by Sparklab Productions for BBC Radio 4
Indigo Children
18 July 2018, 2.15-3pm
Jude Kelly, artistic director of the Southbank Centre and founder of Women of the World Festival makes her radio directing debut with Indigo Children. Written by Hanna Silva the drama centres on Ros, a teenager who is embracing her recent diagnosis of autism and her mother Lydia. Ros persuades Lydia to revisit a phase in her childhood when they were swept up in a movement that promised children like Ros were truly special. Termed 'indigo children' it was suggested they inhabited a higher level of consciousness and enjoyed telepathic powers.
Written by Hannah Silva
Directed by Jude Kelly
Produced by Sparklab Productions for BBC Radio 4
Arts
Tongue And Talk: The Dialect Poets
13, 20 and 27 May 2018, 4.30-5pm
Over three programmes from 13 May Radio 4 explores dialect poetry in Lancashire, Nottinghamshire and Northumberland in Tongue and Talk: The Dialect Poets. In the first programme, actor and writer Catherine Harvey returns to her roots in the North West of England to see if the dialect poetry of the cotton mills of the 19th century is alive today. The Lancashire dialect poets were once household names. Their writings articulate the voices of cotton weavers and mill workers in Victorian industrial Lancashire with a mixture of humour and pathos.
In episode two, writer James Walker unearths the dialect poetry of the miners who penned their verse underground. Through the humour of the poems, James explores a language used almost exclusively by miners and finds retired pitmen still reciting their dialect poetry in venues across Nottinghamshire.
The final episode in the series offers a snapshot of dialect poetry in Northumberland today. When children's writer Kirsty McKay returned home recently she was struck by the erosion of dialect and culture by the encroachment of urbanisation and influx of people moving into the area. Kirsty rediscovers the dialect poetry through listening to old tapes recorded by her late father.
A Made in Manchester programme for BBC Radio 4
The Great Exhibition Of The North
12, 19, 26 July and 2 August 2018, 11.30am-midday
In July, Radio 4 will celebrate the power of northern music, film, design and visual arts with a new four-part series, The Great Exhibition of the North, to accompany the exhibition taking place in Newcastle and Gateshead this summer. Each episode will be presented by a different great northern woman.
The series will explore how the region is represented on the big screen and how a new generation of northern musicians are cutting their own paths in the modern musical world, as well as looking at how the connection between the north's industrial past and the beauty of its design continues to be imagined afresh in our digital world and how visual artists in the north are bringing a modern perspective to their work.
Edited by Nicola Swords for BBC Radio 4
Comedy
Ability
2, 9, 16 and 23 May 2018, 11.30am-midday
From the 2 May Radio 4 presents a new sitcom starring BBC New Comedy Award winner Lost Voice Guy (real name Lee Ridley - pictured), Ability. What happens when someone with cerebral palsy moves out from his parent's home and into his best friend's flat? Lost Voice Guy has cerebral palsy and can only speak via a computer. Ability uses Lee's experiences of coping with this disability and weaves them into a sitcom.
Matt is leaving home for the first time to move in with Jess, his best friend from school. Matt's parents are worried; they have always done everything for him. But Matt is determined to find his independence – though his new carer Bob isn't quite what he expected.
Produced by Jane Berthoud
Written by Lee Ridley and Katherine Jakeways
A Funny Bones production for BBC Radio 4
Ashley Blaker's Goyish Guide To Judaism
27 May 2018, 7.15-7.45pm
In Ashley Blaker's Goyish Guide To Judaism on 27 May, Blaker presents an insider's view of his religion, specially created for BBC Radio 4. Ashley is already a well-known name in the Jewish community and the only strictly Orthodox Jewish comedian in the UK. He has been described as 'the haredi Michael McIntyre'.
Produced by Steve Doherty
A Giddy Goat production for BBC Radio 4