First look Les Misérables images released
The first look of Les Misérables will premiere as part of a BBC drama trailer on BBC One around the World Cup final this Sunday.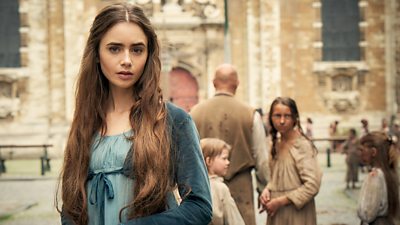 Ahead of this, the BBC is releasing three first-look images of Dominic West as Jean Valjean, David Oyelowo as Javert and Lily Collins as Fantine in BBC One's Les Misérables.
Andrew Davies' six-part drama adaptation of Victor Hugo's 19th century classic will delve deep into the many layers of Hugo's story, revelling in Jean Valjean and Javert's cat-and-mouse relationship, against the epic backdrop of France at a time of civil unrest. With striking intensity and contemporary resonance, Hugo's novel explores the struggles and triumphs of the underclass and the quest for a better life.
The six part television adaptation of the renowned book will vividly and faithfully bring to life the vibrant and engaging characters, the spectacular and authentic imagery and, above all, the incredible yet accessible story that was Hugo's lifework.
Dominic West (The Affair, Tomb Raider, Appropriate Adult) stars as Jean Valjean, David Oyelowo (Selma, Gringo, Spooks) as Javert and Lily Collins (Rules Don't Apply, Tolkien, Love, Rosie) as Fantine.
The distinguished British cast also includes Adeel Akhtar (The Night Manager, Murdered By My Father, Utopia) and Olivia Colman (Murder On The Orient Express, The Night Manager, Broadchurch) as Monsieur and Madame Thénardier, Ellie Bamber (Nocturnal Animals, Pride And Prejudice And Zombies, The Nutcracker And The Four Realms) as Cosette, Josh O'Connor (The Durrells, God's Own Country, Ripper Street) as Marius and Erin Kellyman (Raised By Wolves, Uncle, The Coopers Vs The Rest) as Éponine.
Les Misérables (6x60') is a Lookout Point/BBC Studios production for BBC One, co-produced with Masterpiece. Executive Producers will be Andrew Davies, Faith Penhale for Lookout Point, Bethan Jones for BBC Studios, Mona Qureshi for BBC One, Rebecca Eaton for Masterpiece, Dominic West and David Oyelowo. The 6x60' series will be produced by Chris Carey and directed by Tom Shankland. The drama was commissioned by Charlotte Moore, Director of BBC Content. Delegate producer for Czar Film and TV is Eurydice Gysel. It will be globally distributed outside the US by BBC Studios. Filming took place in Belgium and Northern France.
The series will air next year on BBC One.
KM
Related Media Centre Links
Related Web Links
Tagged: