BBC Three announces cast for factual drama Killed By My Debt
This one hour factual drama for BBC Three tells the true story of Jerome Rogers, a 19-year-old motorbike courier from Croydon, who sees two unpaid £65 traffic fines escalating to more than a thousand pounds. Unravelling under the pressure of his mounting debt and with his only source of income - his bike - clamped, Jerome took his own life.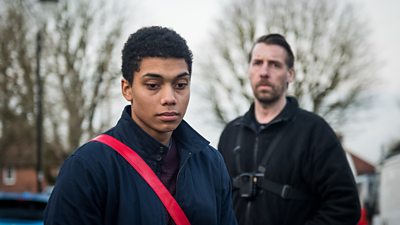 This drama is an incredibly important British story and a devastating examination of the damage wrought on one family by low income, unstable jobs and debt.
At the heart of Killed By My Debt is a breakout performance from talented newcomer Chance Perdomo as Jerome Rogers. Craig Parkinson (Line Of Duty) stars as The Bailiff and Juliet Cowan (Friday Night Dinner, Fresh Meat) as Jerome's mum Tracey Rogers. Tom Walker, whose alter ego is the YouTube sensation Jonathan Pie, plays Jerome's CitySprint controller.
Due to air later in the month, this hard hitting film depicts the dangerous drawbacks of the gig economy and insecure jobs, the impact of traffic fines and the destructive power of debt. Killed By My Debt is directed by the multi award winning Joseph Bullman (Secret History Of Our Streets, Seven Sins Of England) and produced by BBC Studios Documentary Unit. This film continues in the tradition of fact based BAFTA and RTS award winning dramas for BBC Three such as Don't Take My Baby, Murdered By My Father and Murdered For Being Different.
The film documents Jerome's personal journey as his happy and hopeful nature gives in to suicidal despair. The production team worked closely with Jerome's family - and with the testimony and evidence given to the inquest into Jerome's death, which included 'bodycam' recordings of Jerome's confrontations with the bailiffs. The team worked with evidence from young people working inside the gig economy and from those among them gripped by debt. The result is a minutely researched story of a national personal debt crisis.
Calvin Demba (Kingsman, Youngers, National Theatre's Red Lion) plays Jerome's brother, and Steve Toussaint plays Bentley Duncan, Tracey's partner.
Damian Kavanagh, Controller, BBC Three, says: "This drama is an incredibly important British story and a devastating examination of the damage wrought on one family by low income, unstable jobs and debt. It is an issue that affects many in the country, mainly young people, and I'm proud that BBC Three continues to bring thought-provoking, powerful storytelling to younger audiences."
Aysha Rafaele, Executive Producer, says: "BBC Three is unrivalled in its commitment to bringing the most urgent social issues to its young audience and with the support of Jerome's family we are honoured to be able to help raise awareness of the devastating consequences of debt on young people's lives."
In addition to this hour long factual drama, separate short-form content from BBC Three will include a short interview with Jerome's mum and sister, and a Confessions Of A Bailiff film in which a working bailiff talks about the stresses of life as a gig economy bailiff struggling to earn a living.
Killed By My Debt is a 1x60' factual drama which will be available online from late-May 2018. It was commissioned by Damian Kavanagh and Clare Sillery for BBC Three. The director is Joseph Bullman, the writer is Tahsin Guner, the documentary producer is Laura McCutcheon, the producer is Chris Clough and executive producer is Aysha Rafaele. It is made by BBC Studios' Documentary Unit for BBC Three.
FS
Jerome Rogers' story
Jerome's story identifies disturbing patterns in the lives of ultra-low paid, insecure or 'precarious' workers. Millions of Britons now lead lives based around highly insecure work, and a large number of them are young. Latest figures show 4.5 million people* in the UK are in insecure work, more than half of zero hours jobs are done by young people (16-34 year olds) **and 3.3 million people are in 'severe problem debt'.***
In January 2015 Jerome Rogers from New Addington, Croydon, then 19 year old, got his first real job as a self-employed courier for CitySprint. His weekly earnings could vary - in the early months he could clear around £350, but as time went on his earnings plummeted. Some weeks he was taking home £39, others around £89, and some weeks as little as £18 or even nothing at all.
When he picked up two traffic fines totaling £130 whilst at work, he couldn't pay. As the unpaid traffic fines escalated to more than a thousand pounds Jerome had no realistic prospect of clearing the debt. Jerome's stepdad, Bentley, paid off £507 for the first ticket - but then Jerome told Bentley and his mum that he had sorted the second ticket. Telling no one how much trouble he was in, Jerome applied for 15 payday loans. But every week Jerome had to pay for his bike, his CitySprint tracker and jacket, insurance and petrol - and he couldn't find the money to pay off the bailiffs.
Eventually, in March 2016, a bailiff clamped his bike, essential to his work. Shortly after Jerome went to the woods where he'd played as a kid, and took his life. He was found by his brother, Nat.
* Source: Citizens Advice 2016
** Source: Resolution Foundation
*** Source: StepChange Debt Charity
Related Web Links