Groundbreakers: Dufferin - Adventures in High Latitudes
Adventurer Leon McCarron dreamed about going to the Arctic since he was a child. Now he has the chance to retrace the epic 1856 voyage of one of his great heroes, and international celebrity, Lord Dufferin.
Published: 19 November 2018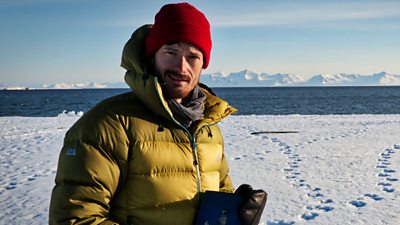 In June 1856, The 1st Marquess of Dufferin and Ava, Frederick Hamilton-Temple-Blackwood, left his home in Bangor on an incredible 6000 mile journey to the Arctic in a small sailing schooner, the Foam. His account became a best-selling book.
More than a century-and-a-half later, in a new BBC Two Northern Ireland film, Leon, a best-selling travel writer and film-maker recreates some of Dufferin's extraordinary journey. In Groundbreakers: Dufferin-Adventures in High Latitudes, on Sunday, November 25 at 10pm,
Leon, from Articlave in County Londonderry, follows the journey as told by Dufferin that took him from Bangor to the high Arctic via Scotland, Iceland and Norway.
Without the same freedom of time as the Lord, Leon has to make do with some modern day transport but stops off at the key points along the journey. While Dufferin had the 80ft Foam, Leon sets sail on board the 45ft Aleiga from Longyearbyen in Svalbard to Dufferin's most northerly destination, English Bay - or Engelsbukta.
In the programme, Leon explores Dufferin's background and motivation for taking on such a hazardous journey. At a young age, Dufferin inherited one of the biggest estates in Ulster after his father's death which brought with it the demands of managing it. With his Ulster-Scots roots he had a passion for Scotland and its epic scenery and we hear how this has shaped the landscape of North Down to this day.
During his own voyage, Leon brings Dufferin's writings to life including his encounters with polar bears, the ever present danger of ice and storms at sea and what life was like aboard the Foam. To round off his adventure, Leon finally walks in his footsteps at English Bay recreating the scene witnessed by his hero more than 160 years earlier.
The 1st Marquess of Dufferin and Ava, Frederick Hamilton-Temple-Blackwood would make it back to Clandeboye in late September 1856 and his book helped him become a celebrity. He would go on to serve Queen Victoria as an ambassador all over the world including as Viceroy of India. His statue stands in the grounds of Belfast City hall.
Groundbreakers: Dufferin - Adventures in High Latitudes is an NPE production for BBC Northern Ireland with support from Northern Ireland Screen's Ulster-Scots Broadcast Fund.
KM2