BBC celebrates the UK's thriving dance scene with season of programming on BBC Four
Previously unseen footage of the legendary choreographer and former Artistic Director of The Royal Ballet Sir Kenneth MacMillan will be revealed for the first time as part of an upcoming documentary Ballet's Dark Knight - Sir Kenneth MacMillan, a new film exploring the life and work of the celebrated yet controversial choreographer.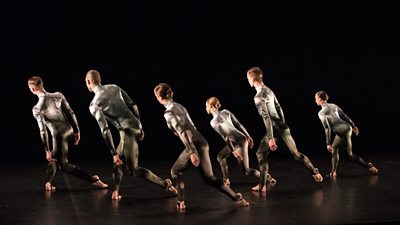 Dance has the power to bring together different communities and generations in a shared love of creative expression. You only have to look at the extraordinary diversity of dance talent and audiences right across the UK to realise how successfully it fulfils this promise.
The film forms part of the upcoming BBC Four Dance Season airing in May, which will lift the curtain on today's thriving dance scene, showcasing the broad range of styles and talent working and creating dance today.
In addition to shining a light on the enduring legacy of dance-makers such as MacMillan, the season will feature insight into some of today's most acclaimed choreographers; Michael Clark and Shobana Jeyasingh, for example, will be placed alongside rising stars such as former street dance champion Dickson Mbi and Carlos Pons Guerra.
The season will also include contributions from former Royal Ballet principal dancers Dame Darcey Bussell and Zenaida Yanowsky and feature insights from well-known dance lovers including actor Clarke Peters, who will reveal the fascinating history of tap dancing in a new documentary Tap America: How A Nation Found Its Feet.
Jonty Claypole, Director of BBC Arts says: "Dance has the power to bring together different communities and generations in a shared love of creative expression. You only have to look at the extraordinary diversity of dance talent and audiences right across the UK to realise how successfully it fulfils this promise. The BBC can both reflect this and contribute to it as a creative organisation - and we relish the opportunity to share stories and productions more widely through broadcast. We are delighted to be working with our partners in the dance world to launch BBC Four's dance season in May - as well as productions throughout the rest of the year."
BBC Four Dance Season highlights
Previously unseen footage of Sir Kenneth MacMillan will feature in a new documentary on the life and work of the choreographer, Sir Kenneth MacMillan: Ballet's Dark Knight.
Audiences will be offered a behind-the-scenes glimpse into the dance world with DanceWorks; four short films commissioned in partnership with Sadler's Wells which place the spotlight on some of today's most exciting dance artists:
The Dying Swan will follow former Royal Ballet principal Zenaida Yanowsky as she overcomes knee surgery and fights her body back to fitness to prepare for one of her final public performances following an acclaimed career.
The artistic process behind Shobana Jeyasingh's new work, Contagion, an evocation of the 1918 flu epidemic, is revealed in Choreographing History.
Young dancer and choreographer Dickson Mbi is followed as he transitions from his street dance roots to the contemporary dance limelight under the guidance of his mentor Akram Khan.
Prejudice And Passion will follow Carlos Pons Guerra as he begins choreographing a new children's production, the true story of two male penguins raising a baby penguin.
Actor Clarke Peters (The Wire) will embark on a personal journey to discover the origins, development and contemporary significance of tap dancing in a new documentary Tap America: How A Nation Found Its Feet.
Michael Clark's critically acclaimed and Olivier-award nominated work to a simple, rock 'n' roll . . . song. will receive its broadcast premiere.
The role of the female in ballet is explored in a new short film Duet, featuring young Royal Ballet stars Yasmine Naghdi and Beatriz Stix-Brunell.
In a press conference at Sadler's Wells this morning, BBC Arts showcased their commitment to world-class dance on BBC television and announced the launch of BBC Young Dancer 2019, with entries opening later this month for aspiring young dancers to apply for the competition, returning for its third year. The grand final will be held for the first time at the Birmingham Hippodrome. Further upcoming highlights on the BBC include Wayne McGregor's Atomos which will receive its broadcast debut on BBC Four later this year.
The BBC Four Dance Season begins on Sunday 6 May.
Emma Cahusac, Commissioning Editor for BBC Arts, says: "The BBC Four Dance Season will lift the lid on today's thriving dance scene through a special season of programming, curated to showcase a broad range of styles and talent.
"Creating a dance season of this scale demonstrates the BBC's ongoing commitment to the genre, but also highlights just how important collaboration with the dance industry (and beyond) has been to help make this happen - whether it be Sadler's Wells with their four extraordinary short observational films about dancers and dance-makers at different stages of their careers, the Royal Ballet, or the Barbican who helped bring Michael Clark to this season. I should also take this opportunity to thank each and every dance organisation, production team and artist who made these films possible, and of course BBC Four.
"It's thrilling to be able to announce the BBC Four Dance Season today, but our dedication to bringing the very best of dance to BBC television doesn't end here - there's so much more to look forward to this year. In addition to our usual seasonal performances which will be announced in due course, we will also be broadcasting Atomos by Studio Wayne McGregor and of course the eagerly anticipated return of BBC Young Dancer next year. Judging by the phenomenal talent we saw in the 2017 competition, I'm sure we'll be in for a treat once again.
"I hope you enjoy them all!"
MC4/SRB
In Atomos, bodies, movement, film, sound and light are atomised into miniature shards of intense sensation. Taking creative points of departure from atomised film, music and biometric data, Wayne McGregor's choreography is woven into an intense 70 minute film, performed by the incredible dancers of Company Wayne McGregor in his distinctive style - sculptural, rigorous, jarring and hauntingly beautiful.
Known for his unique, tenacious questioning across the interface of art and science and through the body and mind, multi award-winning choreographer and director Wayne McGregor has remained at the forefront of contemporary arts for the past 25 years.
Following a highly successful national and international tour of the original stage production, McGregor has extended and translated his acclaimed work Atomos into a unique film experience, directed by McGregor and long-time collaborator Ravi Deepres. Atomos features a soaring score by musical duo A Winged Victory for the Sullen, lighting by Lucy Carter, original footage by Ravi Deepres, and costumes by wearable technology specialists Studio XO.
Directed by Wayne McGregor and Ravi Deepres
Executive Producer for The Space: Helen Spencer
Commissioning Editor: Emma Cahusac for BBC Arts
Since it was first staged in 2015, BBC Young Dancer has provided an unrivalled platform for non-professional UK resident dancers aged 16-21.
The biennial talent search returns in 2019 and invites young dancers to submit entries in four categories: Ballet, Contemporary, South Asian Dance and Street Dance. BBC Young Dancer 2019 will feature four competitive rounds designed to highlight the dancers' technical command, creative ability and expressive capability.
Previous winners, Connor Scott (BBC Young Dancer 2015) and Nafisah Baba (BBC Young Dancer 2017) have gone on to successful dance careers.
The dancers' competition journeys will be documented on BBC Four with the Category Finals staged at The Lowry in Salford. Five dancers will progress through to the Grand Final (the four category winners and a judges' wild card) which will be held for the first time at the Birmingham Hippodrome. The Grand Final will be broadcast on BBC Two, and entries for the 2019 competition will open later this month.
BBC Young Dancer is managed and produced by BBC Studios: Entertainment and Music, Wales. The Series Executive Editor is Paul Bullock, the Competition Manager is Kerry Clark, the series was ordered by Emma Cahusac Commissioning Editor, BBC Arts.
Related BBC Links
Related Programme Information
Related Media Centre Links
Related Web Links