BBC Four experiment uses smart phone technology to investigate the spread of a fatal flu pandemic across the UK
Tonight, Contagion! The BBC Four Pandemic will broadcast findings from the largest citizen science experiment of its kind: a nationwide experiment that uses a smart phone app to investigate the potential spread of a Pandemic flu outbreak.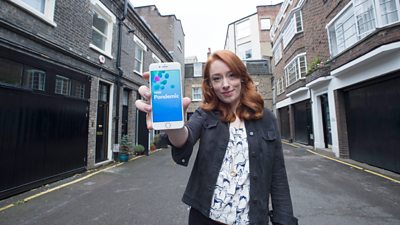 While these preliminary results are eye-opening there's a lot more this data can be used for. Scientists around the country will be using it for years to come.
Using a specially designed app Dr Hannah Fry sets out to recruit 10,000 volunteers to take part in the UK's biggest ever citizen science experiment for pandemic research
If successful the data collected will set a new gold standard in pandemic research information and be made publicly available to researchers to help combat future contagions
The new data collected by the team was used to model the consequences of a pandemic flu outbreak today and calculates that in the worst worst case scenario as many as 43 million people in the UK could be infected with a potential death toll of 886,000 (see notes below)
Viewers watching the programme will also be invited to take part in the BBC Pandemic
The experiment is being conducted to gather vital information that will help pandemic researchers prepare for a global outbreak. There are several flu viruses already circulating in the bird population with the potential to spread to humans. Experts around the world agree that it's a question of when not if the next deadly pandemic will strike, making it number one on the government civilian risk register in the UK.
When it happens it will be impossible to prevent the outbreak reaching the UK and the government will be faced with a series of life-saving decisions. Should they close schools or public transport? Who should be given priority when the first doses of vaccine become available? How many body bags do we need? Having the right answers to these and many other crucial pandemic response questions depends on mathematical models. But current prediction models rely on very small samples of the UK population and do not yet include any large scale tracking data revealing how we move about, vital information in understanding how a virus will actually spread from person to person and place to place.
To dramatically improve the available data before the next pandemic strikes the BBC teamed up with the University of Cambridge and the London School of Hygiene and Tropical Medicine to create a smart phone app. The BBC Pandemic app anonymously tracks movements and records contacts of volunteers who download it and become 'infected' with its harmless virus, creating the biggest dataset for UK pandemic research ever collected. Going forward it will be made freely available to disease researchers; enabling more accurate prediction of spread and infection - and ways to slow or prevent pandemics.
Julia Gog, Professor of Mathematical Biology at the University of Cambridge, says: "The BBC Pandemic experiment is awesome and a big step forward in understanding how people are connected to each other and how infectious disease spreads. We don't know of any studies that join up the movement and survey data so comprehensively. And this experiment is just huge already, an order of magnitude bigger than anything even similar. The BBC Pandemic experiment sets a new benchmark for other future studies around the world."
Mathematician Dr Hannah Fry, who co-presents the BBC Four documentary with Ebola physician Dr Javid Abdelmoneim, needed to secure 10,000 downloads of the purpose-built app but the response by the public was extraordinary: nearly 30,000 volunteers nationwide took part in the experiment. But it's not too late - the app will be available until the end of 2018, and the programme invites more viewers to download the app and contribute their data.
Dr Hannah Fry says: "While these preliminary results are eye-opening there's a lot more this data can be used for. Scientists around the country will be using it for years to come. It's a unique dataset - if we only had uni level resources we would have really struggled to get the numbers. It couldn't have been done without this collaboration with the BBC."
The BBC Pandemic app was launched in September 2017. Once downloaded, app users enter some basic anonymous demographic information about themselves such as age and gender, and then are asked to be tracked via the GPS on their phone once an hour for 24 hours. The app also records the people they come into close contact with. This is the first time tracking, demographic and contact data have been combined, making it an unrivalled tool for pandemic research.
The data has been made anonymous to protect app users' privacy and will be published and made freely available to pandemic researchers and healthcare professionals going forward.
Cassian Harrison, Channel Editor, BBC Four, says: "It's shocking how little we know about what will happen if a pandemic strikes, and I'm tremendously proud that BBC4 and the Pandemic team have been able to add more to our knowledge. This is science television at its very best - packed with genuine revelation and discovery."
Diene Petterle, Commissioning Editor, Natural History and Specialist Factual, says: "It's really exciting that so many people were willing to get involved in this BBC Four experiment. Each download is a step closer to being more prepared for when the next pandemic does strike. The app will be live and gathering data until December so it's not too late to make a difference."
CL
Notes to Editors
The illustrative modeling on the BBC Four show is consistent with the 'reasonable worst case' pandemic scenario in the October 2016 UK Scientific Pandemic Influenza Advisory Committee summary. This assumed up to 50% of the population ill (with up to 80-85% infected), and a case fatality of 2.5%. The predicted death toll of 886,000 is based on the worst worst case assumption that 100% of the 43 million people infected will fall sick from the virus. A paper in Epidemics journal details the calculations involved in the programme models and will be available online tomorrow.
Contagion! The BBC Four Pandemic airs on BBC Four on 22 March 2018 at 9pm
The BBC Pandemic app was developed by Big Motive and 360 Production
More information on the BBC Pandemic app and how to download it can be found here: www.bbc.co.uk/pandemic
The results are based on a population of over 63,000,000. The fatality rate in the model was set at 2% in accordance with the best estimate for the deadliest flu outbreak in the last hundred years, the 1918 Spanish flu pandemic. The predicted death toll of 886,000 is based on the assumption that 100% of the 43 million people infected will fall sick from the virus
Related Media Centre Links
Related BBC Links
Related Web Links
Tagged: