BBC Children's in-house productions announce new commissions
BBC Children's in-house productions has today announced a range of new multi-platform commissions for TV, BBC iPlayer and other platforms, that bring together inspiring new formats, thrilling dramas, laugh out loud comedies, top talent and the welcome return of popular brands across all age groups.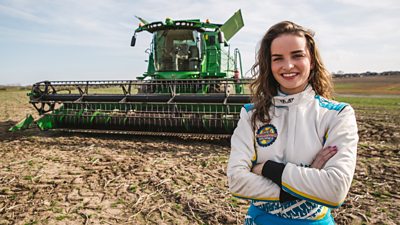 The content will build new relationships with partners and talent whilst also nurturing existing ones. The new shows bring more scripted and unscripted titles to audiences featuring some familiar favourites such as Justin Fletcher and Sam and Mark, as well as new hit drama and comedy drama titles.
These include; The School Bus, written by Dominic and John Reynolds, a situation comedy that takes place entirely on a school bus, Catie's Amazing Machines which sees professional rally driver Catie Munnings bringing exciting machines and technology to a pre-school audience and YolanDa's Band Jam where award winning musician YolanDa Brown explores tempo, rhythm and other musical disciplines in a show for CBeebies that's full of tuneful surprises and amazing guests.

Helen Bullough, Head of Children's In-House Production says:"The slate of the in-house team has never been stronger and I'm proud to be able to deliver such new and exciting content to our audience.
"Catie and YolanDa are amazing role models for our youngest audiences and these new commissions have given us the opportunity to combine their passions and expertise with fresh formats for CBeebies developed in-house.
"It's a real pleasure to welcome Dominic and John to the talented family of UK writers with whom we work, School Bus is such an inventive sitcom and instantly accessible to anyone who's ever joined in the fray for the sought after back seats!"
GS
CBeebies
Twenty year old Catie Munnings has an amazing job. She's a professional rally driver, so knows a thing or two about amazing machines! In this brand new series from BBC Children's in-house productions for CBeebies, Catie introduces the pre-school audience to some of her favourite machines and then "buckles up" to take them all for a test drive! Over 20x15' episodes, Catie comes face to face with every kind of machine imaginable, from forklifts to lorries, ships to planes and trains to monster trucks. Each episode sees Catie look at three different machines that share something in common and then pick her favourite.
The series also has a rocking theme tune and soundtrack, courtesy of iconic UK rock band The Darkness.
CBBC
School Bus, by Dominic and John Reynolds, is a brand new comedy that takes place entirely in one location - yes, a school bus, as it journeys back and forth with pupils every day.
The central character is twelve year old Noah Beckett and the narrative focuses around the time he spends with his peers, catching up and telling each other stories from the day's events. The bus is divided into three sections - the popular kids at the back, 'the inbetweeners' in the middle, and the well behaved kids at the front - and Noah is very much the boy in the centre. Effortlessly popular but not part of the cool crowd, in every episode he crosses the divide into each camp, with hilarious consequences.
YolanDa's Band Jam
CBeebies
Multiple MOBO award-winning YolanDa Brown hosts a dynamic new 20x15' music show for the CBeebies audience. Filmed at Chetham's School of Music in Manchester, YolanDa guides a studio of 5-7 year olds through tempo, rhythm and other musical disciplines in an inspirational show full of surprises and amazing guests. YolanDa and composer Andrew Kingslow (Rastamouse, Apple Tree House) are joined by a range of special guests including top singer/guitarist Newton Faulkner and hit country duo The Shires to excite young children about the possibilities of music.
It's About Time
CBeebies
Time is a concept that is tricky to explain to a young child. It's About Time aims, through animated storytelling and live action contributors, to help the CBeebies audience understand the concept of 'tomorrow', 'next week', 'yesterday' etc in language and stories that will make sense to them. A mixture of live-action and animation. The animated characters are based on Jo Jo and Gran Gran created by writer Laura Henry with illustrations by Amy Bradley
Match Of The Day: Can You Kick It?
CBBC
Match Of The Day: Can You Kick It? is a new formatted talent search which showcases the fancy footwork of some of the UK's best young male and female freestyle footballers. Over 10x30' episodes, talented 10-14 year old players are pitched against each other in a variety of bespoke, football-skill/technique based challenges; created and developed with insight from top UK experts to test their overall game.
The series is co-hosted by award winning CBBC favourites Sam Nixon and Mark Rhodes, ably assisted by world champion freestyler, John Farnworth, as well as other special expert guests.
GiggleQuiz
CBeebies
As an extension to the Bafta award-winning series, Gigglebiz, GiggleQuiz sees talented award-winning performer Justin Fletcher adopt the guise of quiz show host as he guides a range of his familiar and well-loved Gigglebiz characters through a series of hilarious quiz rounds. Using archive footage, viewers at home will be able to play along with their favourite characters with 'what happened next?' and 'spot the difference' as Nana Knickerbocker, Arthur Sleep, Dina Lady and a host of others compete for points.
Molly and Mack
CBeebies
Molly and Mack is a brand new 20x15' pre-school drama featuring eight year Molly and her 18 year old brother Mack. During the Summer holidays Molly is being looked after by a reluctant Mack who runs a vintage toy and record stall in the Big Hub, an indoor community market. The series follows Molly's fun adventures with Mack, her friends and the eccentric but loving group of people who run the various stalls. Shot in Scotland with an entirely Scottish cast this warm family comedy highlights the efforts of a small community to improve their lives by hard work and through the love of home and family.
Boggled
BBC iPlayer, YouTube and CBBC Buzz
Magician Chris Cox presents a brand new digital first title, Boggled, for BBC iPlayer and digital platforms including YouTube and CBBC Buzz. His tricks involve characters from well-loved CBBC brands such as The Dumping Ground, Jamie Johnson and So Awkward.
CBeebies Live Performances
The in-house team and CBeebies have pioneered arts event specials for the pre-school audience, and are continuing the successful partnerships with leading arts providers to bring a new season of specials to the BBC's youngest viewers and their families and friends.
Following on from the successful Snow Queen last year the CBeebies Christmas Show 2018 will be Thumbelina. For CBeebies Proms 2018, Justin Fletcher and his Something Special friends will attend a relaxed performance at the Royal Albert Hall and continuing the successful collaboration with Northern Ballet, CBeebies will present their Puss In Boots in 2019.
Games
Following on from the hugely successful Danger Mouse Ultimate game, the mouse will now take to the streets in Danger Mouse Full Speed Extreme Turbo! Join Danger Mouse and Penfold in this high octane action game featuring the iconic MARK IV Danger Car.
Launching in July is new game The Worst Witch - Magical Mystery. Fans can make friends, cast spells and solve the mystery of the missing Founding stone in this mystical new adventure game.
A brand new game for Beyond Bionic is also in production where Andy Torbet goes faster, flies higher and swims deeper than the animal kingdom using the latest state of the art technology.
Returning series
Alongside the new commissions, a host of familiar faces and much loved brands will be returning to screens. These include:
Series 5 of popular period drama, Hetty Feather (10x30'), adapted from the book by Dame Jacqueline Wilson.
Series 3 of The Worst Witch (13x30'), a co-production with ZDFE and based on the Jill Murphy books.
Spooky anthology series Creeped Out, a co-production with DHX Media and created and written by Bede Blake and Rob Butler, is back for a second series in 2019.
School based comedy drama 40CC (series 8) is commissioned for 2019.
Hit brand The Dumping Ground will return in 2019 and 2020 (series 7a and 7b) alongside the launch of a spin-off series on Instagram this year for older fans.
Pre-school series Biggleton will continue to delight the audience in 2019 (series 2)
Also on CBeebies, Gigglebiz returns to our screens for Justin Fletcher fans in 2019 (series 5) and Something Special (series 12) will also film in 2019.
Vet Tales is currently filming with series 2 and Swashbuckle returns to CBeebies with series 6 in 2019
Popular CBBC brand The Dengineers is currently in production and will return in 2019 as well (series 5).