BBC to help improve young people's online wellbeing with new Own It app
Children getting their first smartphone will be able to receive help staying safe online with a new 'Own It' app to be launched by the BBC.
Published: 15 November 2018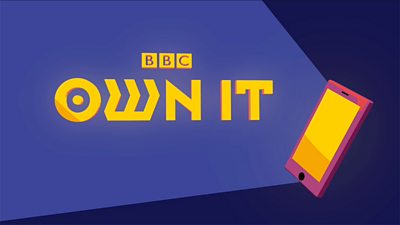 Ensuring children have a happy and healthy relationship with the internet is an increasingly important issue of our time. The internet is a powerful force for good - but the truth is it wasn't set up for children.
The wellbeing app is part of the BBC's commitment to supporting young people in today's changing media environment. It will provide a helping hand to youngsters taking their first steps online and on social media, to ensure they have a healthy experience in the digital world.
Available in early 2019, the app, which was announced at an event with the Duke and Duchess of Cambridge today, will combine state of the art machine-learning technology with kids self-reporting their own online activity and moods. In response, the app will provide nudges, a helping hand and advice when their behaviour strays outside the norm. Youngsters can access the app when they're looking for help but it will always be on-hand to give them instant, on-screen advice and support the moment they need it.
This will include:
How messages and the use of certain words could be perceived by others, before they hit send
Tracking their mood over time - and guidance on how to improve the situation if it's needed
Whether they should share their mobile number on social media before they do so, and why they might want to think twice
Snack-able info on topics like using phones late at night, and how it affects their wellbeing
In addition, the app will feature specially commissioned content and more from BBC Own It and from across the BBC. This will provide a range of useful material and resources to help young people get the most of their time online, and build healthy online behaviours and habits. The app will help young people and their parents have more constructive conversations about their experiences online, but won't provide reports or feedback to parents and no data will leave their device.
Tony Hall, BBC Director-General, says: "Ensuring children have a happy and healthy relationship with the internet is an increasingly important issue of our time. The internet is a powerful force for good - but the truth is it wasn't set up for children. Everyone understands the problem. It's now time to act on a solution. The time for debate is over - we must act for the wellbeing of children - to reduce cyberbullying that can destroy lives - to give children the skills to thrive safely in the online world."
The Duke of Cambridge, says: "I want to thank the BBC for their amazing work so far in developing the Own It app. They are creating a practical, powerful tool to help children use their smartphones and social media with confidence and safety. I am so proud that this has sprung out of the Cyberbullying Taskforce work. I'd also like to thank all of our partners on the Taskforce - the tech companies, the ISPs, the charities, and the academic experts. The expanded Stop, Speak, Support campaign which is now rolling out to schools across the country is just one of the things that we should be celebrating. I believe our attempt to work collaboratively has been instructive for the rest of the world."
The BBC has been part of The Duke of Cambridge's Cyberbullying Taskforce and the app is being developed with input and support from many of the organisations and individuals involved. This includes the following who all recognise the challenge young people face and the need to find a practical solution:
Anti-Bullying Alliance
Apple
Barnardo's
BT
Childnet
Children's Commissioner for England, Anne Longfield OBE
Diana Award
Google
Internet Matters
Mental Health Foundation
NSPCC
O2
Parent Zone
Sky
TalkTalk
Three
Virgin Media
Vodafone
5Rights
Martha Evans, Director for the Anti-Bullying Alliance, says: "We welcome the addition of the Own It app to help children learn and reflect on their online activity and think it will provide a great tool in the armoury to change behaviour online and equip children with the skills they need to be good digital citizens."
Barnardo's Chief Executive, Javed Khan, says: "We welcome the development of an app that encourages children to think carefully about what they do online, and how long they spend doing it. Social media plays a huge part in children's lives and while it can be valuable and fun, it is important that children do other activities and communicate offline too. Children are navigating multiple risks online including cyber-bullying, gaming addiction and grooming. Our specialist services see first-hand the harm this can cause - from sexual abuse and exploitation, to mental health problems. Technology companies need to do much more to protect children online, and both schools and parents play a vital role in helping children stay safe."
Will Gardner, CEO of Childnet and Director of the UK Safer Internet Centre, says: "Since their launch last year, BBC Own It has already created helpful, engaging and supportive content for children on how they can use the internet in a fun, creative and safe way. For children getting their first smartphone, there are many opportunities but also potential risks that come alongside it. Our work across the country talking to children, parents and teachers show that they need practical and easy-to-use strategies to help make sure that their online life is one of opportunity, creativity and learning. We welcome this new app from a trusted source such as the BBC to help children manage their online lives and support them when they may need help."
Children's Commissioner for England, Anne Longfield OBE, says: "I greatly welcome this new app, a genuinely thoughtful and clever attempt to build emotional resilience and children's wellbeing in the digital world. I particularly like that is uses tools and techniques that are familiar to our children but at the same time doesn't encourage them into the very behaviours we are all trying to teach children to avoid. Only the BBC would have the scale and the trust to do this, and I'm really looking forward to eventually hearing from children about what effects using this app has had in improving their happiness and wellbeing."
Tessy Ojo, CEO of The Diana Award, says: "We wholeheartedly welcome this new app. At The Diana Award we place children and young people at the centre of our preventative work. We know that early intervention is critical in the prevention of bullying behaviour. This new app will empower young people navigating the online world for the first time - giving them the skills to become safe and digitally resilient".
Carolyn Bunting, CEO of Internet Matters, says: "The point a child gets their first smartphone is an important time in their life, where they are getting their first taste of independence. And while they become experts very quickly at working the latest technology, they can often lack the emotional intelligence of knowing how to act online or how best to handle tricky situations. The app will be a welcomed new tool to help parents in teaching children the importance of digital wellbeing, being a good online citizen, and building their digital resilience and we look forward to being able to recommend it to parents."
Mark Rowland, CEO of the Mental Health Foundation, says: "We hugely welcome this new app. The BBC now has the opportunity to reach a very wide audience and we believe it can play a significant role in ensuring the internet is a mentally healthy environment for young people to interact with. We are particularly impressed by the app's focus on empowering young people to take more control themselves over their digital use instead of being controlled by it. The tailored advice that the app delivers will also be important in encouraging young people to develop self-protective thinking skills. The app's ability to track mood over time may also play an important role in encouraging young people's ability to be self-reflective and develop their self-care skills."
Peter Wanless, CEO of the NSPCC, says: "This new app has the potential to really help children understand how the online world can affect them and the people around them. Supporting young people as they take their first steps online is vital and incredibly timely given the dangerous daily risks we know they can face. We look forward to seeing how this app can help to support their wellbeing, as part of making the internet a safer place for children."
Vicki Shotbolt, CEO of Parentzone, says: "We're very pleased that the BBC is engaging with children's Digital Wellbeing. There are amazing opportunities for children online, but plenty of challenges too, and children need collaborative, non-prescriptive support to navigate the digital world happily. Parents also need help to practice the kind of authoritative parenting that has a positive impact on children's wellbeing, so we're looking forward to hearing how the app helps families negotiate online challenges, practice self-care, and build a better digital environment for everyone."
The BBC is part of the The Duke of Cambridge's Cyberbullying Taskforce. The Taskforce has done important work to raise awareness and offer practical support for children and young people suffering cyberbullying - including the Stop, Speak, Support campaign, piloting enhanced emotional support on several social media platforms and crucially bringing together industry in a way that hasn't been achieved before.
DT
Related Media Centre Links