BBC Music and BBC One announce U2 At The BBC
BBC Music today announces a world exclusive hour-long music entertainment show, U2 At The BBC, for BBC One to be broadcast in December and presented by Cat Deeley.
Published: 13 November 2017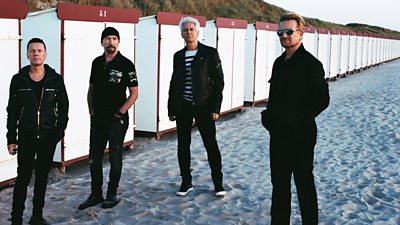 U2: Biggest band in the world. Stadium Rock Gods... and all round good eggs!
To be recorded at the legendary Abbey Road Studios and produced by BBC Studios, two-time Golden Globe and 22-time Grammy Award-winning U2 will perform some of their biggest hits, alongside brand new tracks from their forthcoming album, Songs of Experience, as well as chatting about their lives to date.
In exclusive behind the scenes footage, the band allowed TV cameras special access backstage and gave Cat an AAA backstage tour as they prepared to perform at the Morumbi stadium in Sao Paulo, Brazil last month. The venue is where they ended their recent The Joshua Tree Tour 2017 which saw the band play to over 2.7 million people in just 51 shows across Europe and North and South America.
U2 At The BBC is the fifth in the At The BBC series, and will follow Harry Styles At The BBC, presented by Nick Grimshaw, which aired on 2 November, and Sam Smith At The BBC, presented by Fearne Cotton, which aired on 9 November.
From the beginning, U2 were marked out by their drive and ambition, forming as a band "… before they could play". Bono, The Edge, Larry Mullen and Adam Clayton met at Mount Temple School, Dublin and formed U2 in 1978. Acknowledged as one of the best live acts in the world, U2 have released 13 studio albums and have sales in excess of 157 million. They have won numerous awards; including 22 Grammys (the record for most wins by a rock act), two Golden Globes, an Oscar nomination and the Amnesty International Ambassador of Conscience. And in 2005, U2 were inducted into the Rock and Roll Hall of Fame in their first year of eligibility.
Cat says: "U2: Biggest band in the world. Stadium Rock Gods... and all round good eggs! I had the privilege of joining them on tour in Sao Paulo and now they're coming back to the UK for an intimate show at Abbey Road Studios. I'll be catching up with the band and there will be performances of brand new tracks and U2 classics. It's a once in a lifetime opportunity and I can't wait!"
The series kicked off in 2015 with Adele At The BBC, presented by Graham Norton, and was nominated for Best Entertainment Programme at the Bafta Awards. A sketch within the programme, which saw Adele impersonate herself, broke the BBC YouTube channel record by gaining over 61 million views. Michael Bublé At The BBC, fronted by Claudia Winkleman, was broadcast in 2016.
Jan Younghusband, Head of Commissioning, Music Television says: "We're delighted to welcome U2 to the historic Abbey Road Studios, where they have previously recorded tracks. BBC Music is currently broadcasting a huge array of music on television, and the addition of U2 At The BBC to this stable of programming is a coup, as we continue to put musicians centre stage on BBC television."
Guy Freeman, Editor, Special Events and Formats, BBC Studios says: "I'm delighted that U2 have agreed not only to give us such an exclusively intimate performance, but also to share with Cat and viewers some of the more fun aspects of being part of the world's biggest rock band."
U2 At The BBC is a BBC Studios production. The programme editor is Guy Freeman and the executive producer is Anouk Fontaine. The programme was commissioned by Jan Younghusband, Head of Commissioning, Music Television and Charlotte Moore, Head of Content, BBC Television.
KA
Related BBC Links
Related Web Links