Through The Lens Of Larkin gives unprecedented insight into Philip Larkin's love of photography
BBC Yorkshire documentary, Through The Lens Of Larkin, gives viewers a glimpse into the life and loves of the late poet Philip Larkin, as seen through his photographs.
Published: 25 August 2017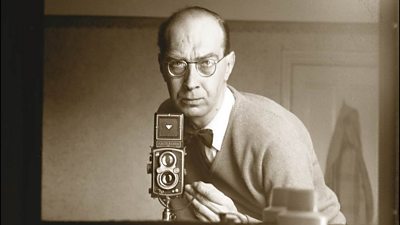 Exploring Larkin's photographs is a rare treat which allows us a deeper understanding of both his poetry and also his complex personal and working life.
A new 1 x 30 minute documentary on BBC Four will explore the relationship of one of the 20th century's greatest poets, Philip Larkin with Hull, his work, his family and his lovers - all through the thousands of photographs he took, including the many "selfies" in his collection.
Presented by poet and academic John Wedgwood Clarke (The Books That Made Britain), Through the Lens of Larkin studies some of the pictures he took of his loved ones, his adopted city, and of himself - charting his life from childhood to death.
A lifelong keen amateur photographer, Larkin lavished on his pictures the same kind of care and attention and eye for detail he brought to his verse. The thousands of photographs held in Hull's History Centre give an insight into the unlikely pioneer of the selfie, a man who documented his complicated love life through photography as well as his poetry.
John takes a journey through Hull and the East Riding - an area that Larkin grew to love - and meets some of the people who knew him best. He visits the poet's office and home, meeting his secretary and lover Betty Mackereth, who was the subject of one of his most beautiful and ambiguous love poems, Morning At Last: There In The Snow.
John also speaks with the poet's biographer James Booth, and Richard Bradford, author of a book about Larkin's photography, as well as former curator at the Victoria and Albert Museum, Mark Haworth-Booth, and John Osborne, a founder of the Philip Larkin Society.
John Wedgwood Clarke says: "It's hard to think of another writer of Larkin's quality who's left behind such a rich visual archive of their daily life. And while we wouldn't be looking at his photos if he weren't such a great poet, we can find in them the same eye for detail, intense gaze and sense of fun."
Executive producer, Nicola Addyman, says: "Exploring Larkin's photographs is a rare treat which allows us a deeper understanding of both his poetry and also his complex personal and working life. His love of posing for the 'selfie' also reveals a man who had an eye to the history books."
Born in Coventry, Philip Larkin arrived in Hull as Head Librarian at the University of Hull in 1955, a time when the city was still shaped by post war austerity and bomb damage. Monica Jones, Maeve Brennan and Betty Mackereth, shared the love of the poet before he died in 1985, aged 63. These romantic affairs are well documented in his collection of photographs and poems.
Through the Lens of Larkin was commissioned by Mark Bell, Head of Arts Commissioning. The executive producer was Nicola Addyman and the programme was produced and directed by Richard Taylor, both from BBC Yorkshire.
The programme was a joint commission to celebrate Hull's year as UK City of Culture 2017, and is part of the corporation's TV strand, Contains Strong Language. It will air nationally in late September.
BC
Contains Strong Language
From National Poetry Day on 28 September to 1 October, Contains Strong Language is the biggest poetry and spoken word festival in the UK devoted to new work. Taking place in Hull, as part of its UK City of Culture celebrations, the new festival will bring together spoken word and page poets. It will be accompanied by a season of programmes across BBC TV, Radio and Online which will celebrate poetry past and present, in all its forms.
Produced by BBC Radio in partnership with Hull UK City of Culture 2017, Hull City Council, Humber Mouth, The British Council, BBC Learning, Wrecking Ball Press and a number of poetry organisations, Contains Strong Language celebrates both new and existing work, with over 50 events across eight venues in Hull - including world premieres, concerts, workshops and outreach activity.
More information on Contains Strong Language is available at: www.bbc.co.uk/containsstronglanguage
Tickets for events taking place during the festival are available from: www.hull2017.co.uk/containsstronglanguage
Related BBC Links
Related Web Links