Sir Ray Davies to headline BBC Proms In The Park 2017
Leading England's celebrations of the world-famous Last Night Of The Proms, BBC Proms In The Park returns to London's Hyde Park on Saturday 9 September with a host of the world's leading artists.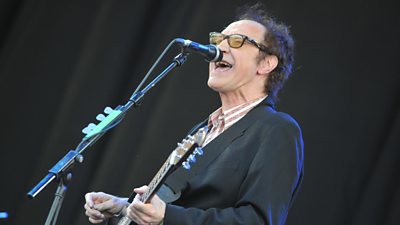 I am so looking forward to being reunited with the fabulous Proms In The Park audience and performing for them once again - a truly special honour!
As announced this morning on BBC Radio 2's Ken Bruce show, legendary singer-songwriter and The Kinks frontman, Sir Ray Davies will headline this year's event. Sir Ray is joined by leading soloists including bass-baritone Sir Bryn Terfel, singer and actress Elaine Paige and 1970s sensation Gilbert O'Sullivan, as well as two of the UK's most iconic pop groups; Steps and Texas, who provide early evening entertainment alongside a performance from the cast of Five Guys Named Moe.
Broadcast live on BBC Radio 2, Proms In The Park is Britain's largest outdoor classical music event and part of the annual spectacular culmination of two months of music-making at the BBC Proms, as the world-famous Last Night celebrations spill out from London's Royal Albert Hall and thousands of people come together at venues across the UK to be part of the magic of the Last Night.
Following his debut appearance at last year's event, presenter Michael Ball returns to the Hyde Park stage to lead the evening's festivities as he continues the annual presenting legacy begun by the late Sir Terry Wogan. Tony Blackburn gets this year's party under way, introducing Steps, Texas and Five Guys Named Mo from 5-7pm, and the evening is underpinned by the forces of the BBC Concert Orchestra under conductor Richard Balcombe.
Sir Ray Davies comes to the Hyde Park stage to headline a concert which celebrates the musical contribution of a number of key British groups whose successes have spanned the decades. 50 years since the release of Waterloo Sunset, and having recently released a new solo album, Americana, his first for a decade, Sir Ray remains a true icon of British song-writing - his appearance following his knighthood in the 2017 New Year Honours for services to the arts.
Presenting a set of his greatest hits, Sir Ray's appearance at this year's Proms in the Park promises to be a true reflection of his contribution to music throughout the years. Sir Ray will lead a full orchestra and chorus in renditions of Sunny Afternoon, Lola, Days, You Really Got Me and smash-hit Waterloo Sunset which remains one of the best known songs of the 1960s, ranked number 42 in Rolling Stone's 500 Greatest Songs of All Time.
Joining Sir Ray in the celebrations is pop band Steps. Formed in 1997, the band dominated the latter part of the decade, rising to fame with hits including Tragedy and One For Sorrow. Their appearance this year coincides with their 20th anniversary reunion tour and the release of their new album.
Steps singer, Claire Richards, says: "We couldn't be more excited to perform at this year's BBC Proms In The Park. We have such incredible memories of playing in Hyde Park from the start of our career and it'll be such a buzz being back there. Huge thanks to Radio 2 and the BBC Proms for all their support and for inviting us to be part of such a great line-up!"
Continuing the celebration of British groups, pop-rock band, Texas joins the line-up - the Scottish resonances of lead singer, Sharleen Spiteri bringing the heart of our fellow neighbours to the Hyde Park stage. Texas take time out of their European tour this summer to perform at the 2017 Proms In The Park as they travel to venues from Berlin to Plymouth with their new album Jump On Board.
Special guest and Welsh bass-baritone opera and concert singer, Sir Bryn Terfel performs at Proms In The Park for the third time in his career, following two performances in Hyde Park and one in Swansea. Commenting on the announcement, Sir Bryn Terfel says: "It seems like just yesterday that I last performed at Hyde Park. 14 years may have passed but my excitement at appearing at this iconic event certainly has not: I am so looking forward to being reunited with the fabulous Proms In The Park audience and performing for them once again - a truly special honour!"
1970's singer-songwriter Gilbert O'Sullivan graces the Proms in the Park stage as he gets set to release his 18th studio album, this time in collaboration with acclaimed producer Ethan Jones. O'Sullivan charted sixteen Top 40 records, including six number one songs and brings a selection of these popular classics to the Proms In The Park crowd on the evening of the 9 September. The Hyde Park audience can expect to hear hits including Alone Again Naturally, Claire, Matrimony and Get Down. He says: "I'm so looking forward to Proms In The Park, not least performing again with the BBC Concert Orchestra. It promises to be a very special event."
In a year where the musical-theatre world has transgressed popular culture spheres, the music of stage and show is represented in this year's Proms in the Park line-up as BBC Radio 2 presenter and singer and actress Elaine Paige dazzles in her evening set. "I'm delighted to be performing at this year's BBC Proms in the Park", Paige says. "It's always such an exciting event to attend as an audience member, but as a performer, singing in front of that huge crowd in Hyde Park, is thrilling! I can't wait!"
The celebration of musical theatre continues with a performance of jazz legend Louis Jordan's irresistible hits from cast members of Clarke Peters' Oliver and Tony award-winning musical, Five Guys Named Moe. In a brand new production, 27 years after it was first seen, Underbelly Productions brings this smash-hit West End and Broadway musical to the Hyde Park stage for renditions of songs from the show.
Proms In The Park celebrations spill out of London into all four corners of the UK on Saturday 9 September, as audiences come together to experience the magic of the Last Night at Proms In The Park events in Northern Ireland, Wales and Scotland, with further details to be announced shortly.
Proms In The Park fans across the UK can tune in to the concert live on BBC Radio 2 and highlights of the Proms in the Park celebrations around the UK will be included as part of the coverage on BBC One, BBC Two and BBC Radio 3. On the night, audiences to the BBC Red Button can see a curated offering of highlights from all four Proms in the Park venues, available for 30 days thereafter on BBC iPlayer. A special Proms in the Park highlights programme will be broadcast at a later date on BBC Four.
For full details of the 2017 BBC Proms season please visit: bbc.co.uk/proms.
Tickets now on sale via the Royal Albert Hall and See Tickets.
AH2
Full line-up
Sir Ray Davies
Sir Bryn Terfel
Elaine Paige
Gilbert O'Sullivan
Steps Texas
Five Guys Named Moe
BBC Concert Orchestra
Richard Balcombe (conductor)
Presented by Michael Ball
Broadcast live on BBC Radio 2
Related Media Centre Links