BBC iPlayer delivers stocking full of box-sets this Christmas
Charlotte Moore, Director of Content, announces plans to bring a host of box-sets and classic programmes back to BBC iPlayer to watch over the holiday period.
Published: 28 November 2017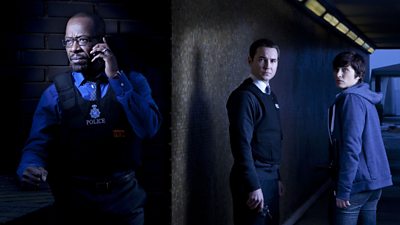 With so much content to fit in during the festive season it's fantastic to give audiences a special gift on iPlayer to complement our schedules
In the lead up to Christmas, fans will be able to tuck into a huge number of BBC drama and comedy series, as well as some of its best-loved family and natural history programmes. This, along with a bumper sack of new festive treats across the BBC, will ensure that viewers can enjoy even more great programmes from the BBC this holiday season.
A huge slate of drama programming will be returning to BBC iPlayer. The first three series of Peaky Blinders will join the new series, which is currently being shown on BBC Two. Other box-sets include hit series Taboo, starring Tom Hardy; Golden Globe-winning Thomas Cromwell drama Wolf Hall, starring Mark Rylance, Claire Foy and Damian Lewis; all four series of acclaimed crime-thriller Line Of Duty and both series of Sally Wainwright's Bafta-winning Happy Valley, starring Sarah Lancashire.
Sherlock fans will also be able to relive past adventures too - with series three and four as well as 2016's special, The Abominable Bride available on BBC iPlayer. And those that missed BBC Three's critically acclaimed drama Thirteen will be able to catch it on BBC iPlayer.
Drama lovers are also in for a further treat, as Ryan Murphy's brand-new eight-part series, Feud: Bette And Joan about the legendary rivalry between Hollywood icons Bette Davis and Joan Crawford will be available as a box-set.
Nature fans who have been dipping beneath the waves with Blue Planet II will be able to return to the ocean with the full original series of The Blue Planet, first broadcast in 2001. Other landmark series being made available for Christmas will include 2006's Planet Earth and last year's smash hit Planet Earth II, as well as 2011's Frozen Planet.
Comedy fans looking for a laugh this Christmas have even more choice too, with the entire series of Miranda and Inside Number 9 available on BBC iPlayer. This will join BBC Three's award-winning Fleabag and This Country as well as classic episodes of much-loved comedies Gavin & Stacey, Bad Education, Josh, Murder In Successville and Him & Her.
There will also be more content for families, with the return of David Walliams films Gangsta Granny, The Boy In The Dress, Billionaire Boy and Mr Stink, and Julia Donaldson & Axel Scheffler films Room On The Broom, The Gruffalo, The Gruffalo's Child and Stick Man.
And finally, Christmas classics from the BBC archive will also be there to delight viewers. Five EastEnders Christmas specials - including Den and Angie's divorce papers episode in 1986 and Tiffany's death in 1998 - will help viewers relive Christmas on Albert Square from years gone by. And, in time for Peter Capadi's last appearance as The Doctor, fans can enjoy every regeneration episode of Doctor Who from 2005 onwards - including the 50th anniversary episode.
Charlotte Moore, Director of Content at the BBC, says: "There is no need to go anywhere else this Christmas because we have an even richer offer across the BBC than ever before. We are always home to the very best British programmes during the festive season but with so much content to fit in, it's fantastic to give audiences a special gift on iPlayer to complement our schedules; with boxsets of some of this year's biggest shows and a selection of more recent hits to binge on with family and friends together this Christmas.
"Sit back and indulge, as we curate some of the most loved shows you may have missed first time round or favourites you want to watch again."
IW
The following programmes will be available on BBC iPlayer from 16 December:
Full series:
Taboo
Line of Duty
Three Girls
Undercover
Happy Valley
Wolf Hall
Peaky Blinders
Feud: Bette and Joan
Clique
Thirteen
Plus:
Sherlock - Series 3, 4 and The Abominable Bride
Doctor Who - every regeneration episode from 2005 onwards (inc. 50th anniversary)
Planet Earth I and II
Blue Planet I and II
Frozen Planet
Fleabag (Full series box-set)
Inside Number 9 (Full series box-set)
Miranda (Full series box-set)
Josh - Series 2 & 3
Murder in Successville - Series 3
People Just Do Nothing - Series 4
Gavin & Stacey - Series 1 and Christmas Special
Cuckoo - Series 1, 2, 3 and Christmas Special
This Country - Series 1
Bad Education - Series 2 and Christmas Special
Him and Her - Series 3 and Christmas Special
Bluestone 42 - Series 1 and Christmas Special
Uncle - Series 3
The Mighty Boosh - Series 1
Room on the Broom
The Gruffalo
The Gruffalo's Child
Stick Man
Gangsta Granny
The Boy in the Dress
Billionaire Boy
Mr Stink
Den and Angie's divorce papers - 1986
Tiffany's death - 1998
Kat and Alfie's wedding - 2003
Max and Stacey's affair - 2007
Archie's murder - 2009