Filming starts on new BBC Wales and S4C crime series
Filming has begun in Snowdonia on the latest Wales-based crime series - Hidden/Craith - to be shown next year by BBC Wales and S4C.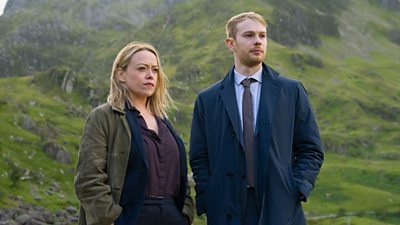 This is an award-winning team who I know will deliver another slice of extraordinary drama.
With the backing of the two Welsh broadcasters and all3media international, the eight-part crime serial, now filming in north Wales, will premiere in the Welsh language on S4C in early 2018 as Craith. A bilingual version - Hidden - will follow on BBC One Wales.
Filmed back-to-back in Welsh and English, the series tells the story of detective DI Cadi John who returns to north Wales to care for her ailing father. However, when the body of a young woman is found in a local river, Cadi's world - and the world around her - is changed forever.
A Severn Screen production, the project brings together series creators Mark Andrew and Ed Talfan and director, Gareth Bryn, all of whom worked on the award-winning drama series Y Gwyll/Hinterland. The producer on the series is Hannah Thomas.
Writers on the series include co-creator Mark Andrew, award-winning Welsh novelist Caryl Lewis and BAFTA Cymru-winning writer Jeff Murphy.
Cast members on the series include Sian Reese-William (35 Diwrnod, Y Gwyll/Hinterland, Requiem), Rhodri Meilir (Byw Celwydd, Pride), Gwyneth Keyworth (Wasted) and Sion Alun Davies (Endeavour, Y Gwyll/Hinterland).
Severn Screen Creative Director Ed Talfan said, "We are thrilled to be filming in North Wales. I know from the experience of shooting Y Gwyll/Hinterland in mid-Wales how important the landscape can be in helping to define a series. I fully expect the breath-taking landscape in and around Snowdonia to stamp itself on this series in the same way."
Nick Andrews, Head of Commissioning at BBC Wales said: "This is an award-winning team who I know will deliver another slice of extraordinary drama. Hand in hand with Requiem and Keeping Faith, there's a remarkable slate of Welsh drama coming to BBC Wales next year."
Gethin Scourfield, S4C Drama Content Commissioner said: "With a highly celebrated writing and production team and the dramatic Snowdonia scenery as a backdrop, Hidden/Craith is a series that will set your pulse racing. Combining a star cast and highly celebrated writing and production team, this story will thrill, intrigue and enthral."
Maartje Horchner, EVP Content at all3media international added: "We are delighted to support S4C and BBC Wales on this show. We are confident that the success of Hinterland has paved the way for high quality Welsh crime drama to travel well beyond its national borders."
MCR
Tagged: