BBC journalists return to school to tackle 'fake news'
The BBC is to launch a new programme supporting young people to identify real news and filter out fake or false information.
Published: 6 December 2017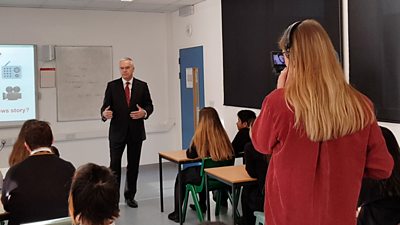 Never has it been so important for young people to develop their critical thinking, to be news literate and have the skills to filter out fakery from the truth
The project, announced today (6 December) by Director of BBC News James Harding at the Children's Global Media Summit in Manchester, is targeted at secondary schools and sixth forms across the UK.
From March up to 1,000 schools will be offered mentoring - in class, online, or at events - from the likes of BBC journalists such as Huw Edwards, Tina Daheley, Nikki Fox, Kamal Ahmed and Amol Rajan.
All schools will have access to free online materials classroom activities, video tutorials, and an interactive game developed by the world-famous Aardman studio, where the player experiences being a BBC journalist in the heart of the newsroom.
A 'Reality Check Roadshow' will tour the country and local schools will be able to nominate their own Reality Checker pupils to attend one of a dozen regional events. Some will be invited to present their own Reality Check reports on BBC School Report News Day in March 2018.
The initiative will be delivered by the BBC's media literacy project School Report - a collaboration between BBC Academy and BBC News.
James Harding, Director of BBC News and Current Affairs, says: "Never has it been so important for young people to develop their critical thinking and to be news literate, and have the skills to filter out fakery from the truth, especially on their busy social media feeds.
"BBC News, as the most trusted news provider and home of Reality Check, is ideally placed to bring this project to schools and young people around the country."
Neil Pymer, Interactive Creative Director, Aardman says: "Navigating through the murky waters of what's real or fake news can be a difficult challenge in an age where it's become such a prolific part of the media landscape.
"We're proud to be working with the BBC to create a game that promotes news literacy and simulates the fast-paced world of news production. At Aardman, we believe passionately that games can bring about understanding in ways traditional media can't. By immersing players in the heady world of journalism, we hope we can inspire and inform young people."
Notes to Editors
The BBC defines fake news as false information distributed deliberately, usually for political or commercial
BBC School Report is a partnership between BBC News, BBC Academy, BBC Sport and BBC Children's and already existing schools networks. The project gives 60,000 young people each year the opportunity to research and produce their own reports with the help of BBC staff mentors. There is an annual BBC School Report News Day when the BBC promotes their stories across platforms and on www.bbc.co.uk/schoolreport
The project will be funded from across the BBC as it helps to deliver our public purposes including sustaining citizenship and civil society, Promoting education and learning. Schools can sign up to be part of the pilot here
Reality Check is the BBC's principal fact-checking service which runs on TV, radio, on the website and via social media. This service tackles fake news stories and challenges statements from public figures and institutions which may be false or misleading, and presents the verifiable facts instead.
In accordance with the BBC's editorial guidelines BBC News is committed to achieving the highest standards of accuracy and impartiality and to being rigorous in establishing the truth of the story.
According to Ofcom eight in ten older children (12-15s) now have their own smartphone.
A National Literacy Trust report found that one child in five believes that everything they read online is true. It says in order to identify fake news and be able to take full advantage of the unique learning opportunities the internet and digital technologies have to offer, children and young people need strong critical literacy skills.
Aardman is famous for its award-winning animations that engage audiences with compelling stories such as Shaun The Sheep, voted the nation's favourite BBC children's TV character of all time and of course Wallace & Gromit. The studio has had ten Oscar® nominations, and has won four. The studios now also do commercial, branded content and digital work.
Salford University, in collaboration with BBC Newsround, has carried out a year-long study of 9-14 year-olds' awareness of fake news. The majority of their interaction with news and fake news comes online – even though they are aware it's not always reliable. The findings reveal children talk a good game, but they actually struggle to recognise false information when confronted with stories that contain it. Senior Lecturer Beth Hewitt says children as young as 10 should be taught in school how to recognise "fake news". To find out more go to BBC Newsround 
FS
Related BBC Links
Related Web Links
Tagged: