Sir David Attenborough to narrate Attenborough's Adventures for CBeebies Storytime app
I am thrilled that we've brought to life many fond memories of my exploration of the natural world for young children to enjoy and learn

Sir David Attenborough
Date: 10.03.2017
Last updated: 14.03.2017 at 07.54
A new interactive series of animated stories narrated by Sir David Attenborough and inspired by his real-life adventures making natural history documentaries for the BBC launches on the CBeebies Storytime app today.
Attenborough's Adventures follows Sir David at various stages of his life, from his early days filming Zoo Quest in the 1950s right up to his debut in virtual reality for 2016's Attenborough And The Giant Dinosaur.
The first interactive story is David And The Gorilla Quest, which sees a young David Attenborough and his intrepid camera crew exploring the jungle in search of giant apes. The story retells his famous expedition in 1978, when he encountered mountain gorillas at Dian Fossey's research site in Rwanda as part of the classic BBC Natural History series, Life on Earth.
Children read and play along with the story by helping Sir David to pack his adventure kit, moving jungle plants aside for him and by tracking the gorillas' path through the jungle.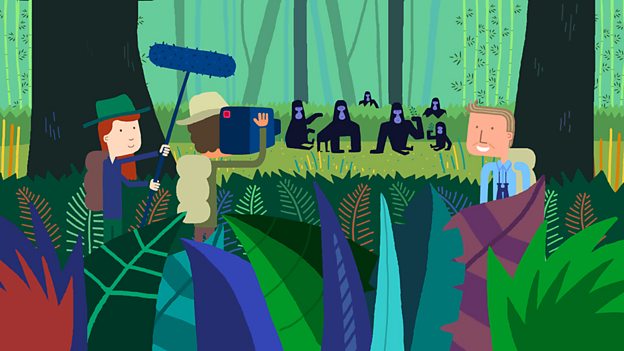 A further four stories will be released with Sir David going in search of dinosaurs, dragons, treasure and even a hidden city in:
Attenborough's Adventures: David and the Giant Dinosaur
Attenborough's Adventures: David and the Hidden City
Attenborough's Adventures: David and the Dragon
Attenborough's Adventures: David the Treasure Hunter
Sir David Attenborough says: "I am thrilled that we've brought to life many fond memories of my exploration of the natural world for young children to enjoy and learn."
Kay Benbow, controller of CBeebies, says: "This wonderful new series is yet another example of CBeebies Storytime helping children and grown-ups enjoy stories together. Each story is brought to life with magical things to touch, swipe and play with, and questions to help develop comprehension skills, so the grown-up and child can enjoy reading, playing and learning together.
"Sir David has led an extraordinary life, and we're over the moon that his enthralling tales are now helping children to learn while being inspired by the natural world."
The CBeebies Storytime app is for 0-6 year-olds, and caters for many different reading abilities. It has been downloaded 2.4 million times, and 176,000 children across the country read stories on it every week. The app is free to download on Apple, Android, Kindle Fire devices, is completely free from any advertisements or in-app purchases and features a parental lock for any external links, keeping little fingers safe to read, explore and play.
The first episode of Attenborough's Adventures sees a young David Attenborough journey into the jungle

Children read along and interact with the story to help Attenborough and his camera crew find the gorillas

The animation retells the famous moment a baby gorilla sat on Attenborough's lap in 1979's Life On Earth

The interactive stories are narrated by David Attenborough and based on his real life adventures
Attenborough's Adventures was commissioned by Kay Benbow, controller of CBeebies, executive produced by Jonny Keeling and produced by Laura Howard of the BBC Natural History Unit, Bristol. The series was illustrated by Will Rose.
Image credit: BBC and Jonny Keeling
RB
Search the site
Can't find what you need? Search here