BBC training and showcase opportunity for disabled actors leads to all participants securing auditions
A really inspiring element of this course is that for once our disability isn't the first thing people notice about us and we can just be here on the basis of our acting ability and our skill, so that's been a real novel feeling.

Jessi Parrott, BBC Class Act participant
Date: 14.12.2017
Last updated: 14.12.2017 at 09.30
The BBC's pioneering new training programme for disabled actors has led to all 32 participants successfully securing BBC auditions.
The development programme, called Class Act: A Nationwide Search And Skill Factory, comes as part of the BBC's ambition to support and raise the profile of disabled actors.
During an intensive three-day workshop the participants, who include experienced actors as well as up and coming talent, were tutored in audition and camera technique, acting and business skills, script and character work, as well as working with directors on their showreels.
The disabled actors also got the opportunity to build their contacts and showcase their talents to professionals across the industry, leading to them all being offered auditions by Julia Crampsie, Casting Executive at BBC Studios.
The BBC has set challenging new diversity targets for disabled people to ensure our content reflects the public we serve, and this training is part of the BBC's commitment to improve disabled representation on screen to 8% by 2020.
On-screen portrayal of disability is increasing with more disabled performers represented across the BBC's output and platforms. Recent examples include BBC Three's A Brief History of Tim, BBC One drama Silent Witness and sitcom Ability on BBC Radio 4.
The actors worked with BBC Directors Paulette Randall, Rebecca Gatward and Rick Platt. Representatives from across BBC Content's Commissioning teams and the BBC Writersroom also provided support.
The guest speakers included:
Ruth Madeley (Actor)
Jake Lushington (Head of Drama at World Productions)
Andrea Gibb (Actor, Writer)
Daniel Edwards (Casting Director)
Dafydd Llewelyn (Producer, Casualty)
Julia Crampsie (Casting Executive, BBC Studios)
Jonny Lewsley (Development Editor, BBC Drama)
Ryan Dixon (Casting Director)
Alex Lamb (Producer)
Martin Dougan (Presenter, Newsround)
PT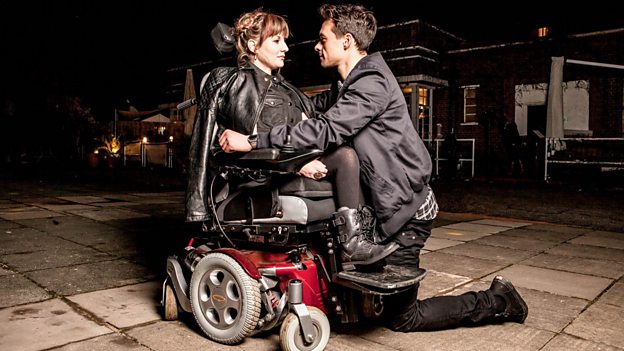 Below are transcripts of interviews with actors who attended BBC Class Act and guest speaker Ruth Madeley, star of the BBC's Bafta award-winning Don't Take My Baby:
Ruth Madeley
Ruth Madeley, a guest speaker at BBC Class Act who has spina bifida, said: "I think worrying about it being a tick-box exercise is something that every disabled actor does fear. Having that fear that I've only been picked for a role because I'm in a wheelchair or I have a disability.
"Another big challenge is you think you'll be typecast as only being able to play the disabled roles. These people here have all proven that's not the case, they're able to play anything and everything - they are actors and that's what they do. I think that's a massive challenge that's hopefully been knocked on the head a bit with things like this.
"The fact that this three-day workshop has been put on is an incredible opportunity for people to be in front of directors and casting people that they never would be able to sit and have a conversation with, and ask questions to, without a situation like this - this is key for them.
"This isn't an easy industry to be in, but when you feel the progress and you get where you're going there's nothing better. The best thing about it is being able to change people's perceptions for me and make that change, make people challenge everything they ever thought about disability, and I'm excited to keep doing that."
Jessi Parrott
Jessi Parrott, a BBC Class Act participant who has cerebral palsy, said: "I realised at an early age that acting made people look at me because they weren't looking at my chair, they were looking at the character that I was playing, so that's how I first got into it. Then I realised that actually my chair could give a different and interesting spin on the character, so acting helped me realise that my chair wasn't something to hide away from.
"A really inspiring element of this course is that for once our disability isn't the first thing people notice about us and we can just be here on the basis of our acting ability and our skill, so that's been a real novel feeling.
"The arts are meant to reflect society as it is and so we need people like us to be on stage and on screen. Because the arts have been so impactful for me in understanding that I'm a valuable human being, I want to hopefully give that back to other people like me.
"When you have a disability people can feel even more isolated. So to know that there is that sense of community and to be in a room where everyone just accepts you as you are, rather than making your difference the most important thing about you, has just been really refreshing and validating."
Mark Beer
Mark Beer, a BBC Class Act participant who has second degree cerebral palsy, said: "Everybody is in the same boat - everybody has some sort of physical or sensory disability and they desperately want to get their stories heard, their abilities seen and to be out there within the media.
"To see so many people with obvious disabilities that are very visible, and some invisible, with loads and loads of talent is terribly exciting. And what's inspiring is that all of us have come on this journey together and there is strength in numbers and strength in finding a voice. And we've all done that now.
"It's been a wonderful experience and I've learnt a lot. The casting directors, the directors, the producers have these tapes and the knowledge that there are talented disabled actors and actresses out there, so it's time for them to use them now."
Bill Blackwood
Bill Blackwood, a BBC Class Act participant who has multiple sclerosis, said: "I wanted to come on Class Act because it's one of those opportunities that come along once in a lifetime and one of those things you've got to grasp with both hands. The workshop itself, I've had Q&A sessions which have been fantastic with some wonderful people. There's also that practical base to it where we've been working on pieces individually, some have had monologues and some have had duologues, to develop those from a script on a piece of paper to something that is potentially broadcastable."
Search the site
Can't find what you need? Search here
Related Media Centre Links