Fake internet content a high concern, but appetite for regulation weakens: BBC World Service Poll
Almost four out of five internet users worry about what is real and fake on the internet (79 percent), with nearly half (45 percent) strongly identifying with this concern, according to a new global poll conducted in 18 countries for the BBC World Service.
Published: 22 September 2017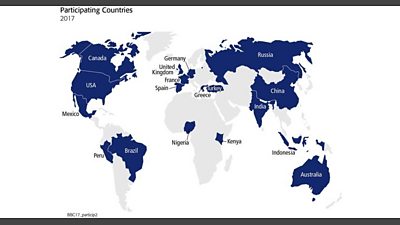 This suggests that the present high concern about 'fake news' may not affect people's online behaviour very much, apart from them doing more fact-checking
The poll of more than 16,000 adults conducted by GlobeScan between January and April 2017 also found that, despite their concern about fake internet content, a growing proportion of internet users are opposed to governmental regulation. On average, in the 15 tracking countries surveyed, the proportion agreeing that the internet should never be regulated by any level of government has increased, from 51 percent in 2010 to 58 percent in 2017.
This push-back against regulation comes in the context of greater advocacy for ensuring universal access to the internet. In the 16 tracking countries surveyed on this question, an average of 82 percent think that access to the internet should be a fundamental right of all people, up from 79 percent in 2010. In the same interval, internet usage has expanded globally, with 75 percent reporting personal use of it in the past six months in 2017, a jump of 16 points compared to seven years ago (59 percent).
The countries with the highest proportions opposed to any sort of government regulation of the Internet include Greece (84 percent), Nigeria (82 percent), Brazil (72 percent), France (71 percent), and Turkey and Kenya (each 70 percent). These countries also tend to be those where opposition to regulation has grown most notably since 2010: the largest increases are 24 points in France, 19 points in Brazil, and 16 points in Turkey.
In a number of Western nations, apart from Greece and France, attitudes towards Internet regulation are rather mixed. Opinion in Canada, Australia, Spain, and Germany is polarised on this topic, with the proportions in favour of government intervention trailing the majorities against it by just a few points. In the UK, a narrow but stable majority (53 percent) continues to favour some sort of regulation. The only other surveyed country to share this view is China, where a growing majority is willing to support Internet regulation by authority (67 percent, up nine points).
As Internet usage has widened, anxiety about what is real and fake online has spread. Brazilians are the most worried about this, with 92 percent reporting some level of concern. Other emerging economies also report high unease, especially in Indonesia (90 percent), Nigeria (88 percent), and Kenya (85 percent). Elsewhere in the world, reported levels of concern about fake Internet content are also quite high, ranging from 75 to 85 percent in most countries, with the exception of Germany - the only surveyed nation with a narrow majority (51 percent) stating that they are not worried about this.
The poll also reveals that internet users are increasingly wary of expressing their opinions online. In the tracking countries, a majority (53 percent) do not feel safe doing this in 2017, compared to 49 percent in 2010. Cautious web users now outnumber those who feel safe to speak their minds online (46 percent). Caution is more pronounced in developed economies, while attitudes in developing economies are more relaxed, with strong majorities reporting feeling safe to express their opinions online in Nigeria (94 percent, up 10 points since 2010), Peru (88 percent), Indonesia (73 percent, up 7 points), Kenya (71 percent, stable), and China (66 percent, a leap of 23 points).
This is in stark contrast with the anxious mood in the Western countries surveyed, where (except in Germany) solid and strongly increasing majorities report unease about expressing their opinions in Europe, North America, and Australia. The French and the Greeks are least likely to see the internet as a safe place to speak freely (82 percent and 75 percent, respectively). German perceptions stand at odds with this trend, with anxiety diminishing to 53 percent in 2017, a large drop from 2010, when a strong majority (72 percent) did not see the internet as a safe place to express opinion. Attitudes in Germany are now closer to those in Russia, Turkey, Mexico and Brazil.
GlobeScan Chairman Doug Miller commented: "The significant poll finding here is the strengthened opposition to any sort of government control over the internet (up seven points since 2010). This is despite the poll findings showing people's comfort in expressing their opinions online has fallen since 2010, likely due to Edward Snowden's 2013 NSA surveillance revelations.
"However, Snowden's impact appears to have been modest on this measure (down only four percentage points). This suggests that the present high concern about 'fake news' may not affect people's online behaviour very much, apart from them doing more fact-checking."
Notes to Editors
The results are drawn from a survey of 16,542 adult citizens across 18 countries, including 11,799 Internet users, conducted for BBC World Service by the international polling firm GlobeScan and its research partners in each country. GlobeScan coordinated fieldwork, involving telephone and in-person interviews, between 13 January and 27 April 2017. In five of the 18 countries, the sample was limited to major urban areas. The margin of error per country ranges from +/- 2.9 to 3.9 percent.
PR
Tagged: