BBC One achieves highest share in a decade and challenges mainstream television with range of new commissions
Speaking at the 2017 Edinburgh Television Festival, Charlotte Moore, Director of BBC Content, said:
Published: 24 August 2017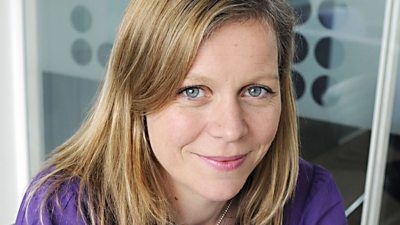 The new commissions I'm announcing today are examples of the range and ambition audiences can expect from the channel going forward as we continue to challenge what mainstream television can do and connect with a diverse modern Britain.
"Over the last year, BBC One has defied industry trends by achieving its highest share in a decade and reaffirming its position as the UK's most popular channel. As audiences become increasingly diverse and their media habits fragment its overwhelming to see BBC One continues to unite us as a nation and dominate viewing with such high quality programmes across every genre. BBC One reaches more people than any other, it's the biggest channel for 16-34s and has grown share year on year. It's a huge privilege to run BBC One and I don't take our success for granted, it's a credit to the incredibly talented programme makers that work for the channel who help maintain our outstanding creative form.
"The new commissions I'm announcing today are examples of the range and ambition audiences can expect from the channel going forward as we continue to challenge what mainstream television can do and connect with a diverse modern Britain.
"In drama, I'm announcing two new home-grown Scottish series from STV Productions and Synchronicity Films; and a compelling factual drama from the makers of the biggest new drama of the year The Moorside. BBC One will take viewers behind the headlines with Grenfell and The Stephen Lawrence Story - both powerful documentaries from award winning directors about two of the most important stories of our time. BBC One will take on obesity in a new season of programmes that will tackle one of the UK's fastest growing epidemics. Innovation with our new Entertainment format The Button and BBC One goes global with Marigold On Tour."
New commissions detailed below.
MO
Please note: All titles are working titles.
Grenfell
This single documentary will bring together the powerful human stories from the Grenfell Tower fire tragedy, drawing on the collective testimonies of the men, women and children who were directly affected by the most devastating tower block fire in British history.
Featuring intimate and moving accounts from the people whose lives were forever intertwined and irrevocably changed by the fire, the documentary will not only remember those who lost their lives, but will also hear from those who survived and those who have been involved in the relief efforts - as well as the emergency services and others who were in positions of responsibility before, during and after the fire.
In the immediate aftermath of the fire, the filmmakers were in the area around Grenfell Tower every day, documenting profound scenes as the community reacted to the situation. As the team continues to film over the coming months, they will go beyond rolling news coverage, spending significant amounts of time with the people who've been most affected, covering both the immediate effects and the longer term challenges faced by many of the survivors.
It will also reflect the part social media played in distributing information about the fire. Hundreds of people recorded powerful footage both during and after the tragic events of 14 June 2017, much of which has been shared on social media. The film will draw on the vast archive of footage to create a rich tapestry of voices from the community, which will combine with the interviews and observational material captured.
Underpinning the stories of the survivors and the victim's families, the film will also explore and confront the political issues that have arisen in the aftermath of the fire.
Grenfell, a 1x90', will be directed by the award winning Ben Anthony, produced by Minnow Films. The Executive Producer is Morgan Matthews and the Commissioning Editor is Clare Sillery, Head of Commissioning, BBC Documentaries.
In a landmark documentary series from Academy Award winning documentary makers James Gay-Rees and Asif Kapadia, BBC One will examine one of the most famous cases of 20th century Britain, the murder of 18 year old black student, Stephen Lawrence by a group of white teenage boys. What followed was one of the longest, most complex and mishandled murder investigations in Metropolitan Police history allowing the suspected killers to evade justice for almost 20 years.
Baroness Lawrence said: "My son Stephen was brutally taken from my family nearly 25 years ago. This documentary will be the definitive narrative of the events of the past quarter of a century - a full, frank and comprehensive drawing together of the story that has shaped the lives of both my family and myself since that fateful April night. But in addition to that, it is my story - that of a parent's loss of a child, a sibling taken in unimaginable circumstances from his brother and sister and our family's fight for justice against the odds and the system that we always believed was there to help and protect us all without the evil of racism. With every story comes an end and this final BBC documentary in conjunction with the On The Corner team will be my final public word on the events. Whilst Stephen will always travel with us, a new journey is ahead for us all…"
What made Stephen's case so different is the extraordinary determination and absolute refusal of Stephen's parents, Doreen and Neville Lawrence, to accept the establishment's decision. On the 25th anniversary of Stephen's murder, with unprecedented access, this eye-opening series will explore the force of their indignation. Still being felt in Westminster to this day, the laws on double jeopardy were partially repealed and the Macpherson Report called it 'one of the most important moments in the modern history of criminal justice in Britain'. The Home Secretary at the time, Jack Straw, called the inquiry "the single most important decision I made as Home Secretary". For the first time BBC One will be looking at every aspect of the case including the subsequent inquiries, pulling it into one complete timeline and asking the same relevant questions of a contemporary Britain.
The Stephen Lawrence Story (w/t), a 3x60', was commissioned by Charlotte Moore, Director, BBC Content and Clare Sillery, Head of Commissioning Documentaries. The Commissioning Editor is Danny Horan. Produced by On the Corner Films, the Executive Producers are James Gay-Rees (2016 Academy Award winner for Best Documentary Feature - Amy and BAFTA winning - Senna) and Asif Kapadia (2016 Academy Award winner for Best Documentary Feature - Amy and BAFTA winning - Senna). Directed by James Rogan (One Night In 2012, Amnesty! When They Are All Free) and Series Produced by Victoria Musguin-Rowe (Conviction: Murder At The Station, Love & Hate Crime).
The Barking Murders (w/t)
From Jeff Pope and Neil McKay, the award-winning team behind The Moorside and Appropriate Adult, a new factual drama which goes beneath the headlines to shed new light on this story by telling it from the point of view of the families of Stephen Port's victims, focusing on their fight to uncover the truth about what had happened to their lost sons and brothers.
Writer, Neil McKay, said: "Four young men with their entire future ahead of them lost their lives in a brutal and tragic way. This is a story not only of the consequences of that loss but also of the extraordinary courage and resilience shown by those who loved them as they sought truth and justice. It is a privilege to be able to tell it."
Jeff Pope, Executive Producer, ITV Studios, said: "I think this is an opportunity to say something about how we don't always have to accept what we are told by those in authority, and how determination, sheer bloody-mindedness and - above all else - love, will always triumph."
Written by Neil McKay, the 3x60' drama will be produced by Ken Horn and executive produced by Jeff Pope for ITV Studios, Head of Factual Drama, Neil McKay, and Lucy Richer for the BBC. The drama has been commissioned by Piers Wenger, Controller of BBC Drama, and Charlotte Moore, Director of BBC Content for BBC One.
The Victim
Written by Rob Williams, The Victim is a gripping, contemporary legal thriller told through the eyes of the plaintiff and the accused. Set in Edinburgh, within Scotland's unique legal system, the show offers a constantly surprising and twisting perspective on who is really 'the victim'.
Carl, a hard working family man from Dundee, is the victim of a random, unprovoked attack, after being identified online as a notorious child murderer living under a new identity. With his life collapsing around him, should Carl keep his head down and pray for the smoke to clear - or try to prove his innocence? Is he simply the tragic victim of mistaken identity; or the dangerous killer he is suspected of being?
Anna is the mother of a teenage boy who was murdered twenty years ago by a then fourteen-year old boy. Having campaigned to be told of the killer's new identity and whereabouts, she is then accused of revealing his identity online and conspiring to have him murdered. Has the anger of a grieving mother turned her into a criminal too? What exactly is she guilty of - and what is she capable of doing in her son's name?
Played out through the lens of one criminal trial, moral dilemmas will be thrown up and sides will be taken in these two very different quests for justice.
The Victim is a 4x60' drama written by Rob Williams. Executive producers are Sarah Brown and Rob Williams for STV Productions, and Elizabeth Kilgarriff and Gaynor Holmes for the BBC. The drama has been commissioned by Piers Wenger, Controller of BBC Drama, and Charlotte Moore, Director of BBC Content, and will start filming in Scotland early next year.
The Cry
Written by Jacquelin Perske, adapted from the novel by Helen FitzGerald, The Cry is a thrilling, psychological drama set in Scotland and Australia that chronicles the collapse of a marriage in the aftermath of a tragedy, and explores the myths and truths of motherhood.
The abduction of a baby from a small coastal town in Australia is the catalyst for a journey into the disintegrating psychology of a young woman - Joanna - as she and her husband, Alistair, deal with an unthinkable tragedy under both the white light of public scrutiny and in their private lives.
The Cry is a 4x60' drama and the first television commission for Scottish based production company Synchronicity Films. Written by Jacquelin Perske, the drama will be produced by Brian Kaczynski and Executive Produced by Claire Mundell for Synchronicity Films and Elizabeth Kilgarriff and Gaynor Holmes for BBC ONE. The Cry will be filmed in Scotland and has been commissioned by Piers Wenger, Controller of BBC Drama, and Charlotte Moore, Director of BBC Content. DRG hold the distribution rights.
The Button
Avalon to produce brand new innovative format The Button for BBC One. The 8x30' minute gameshow, which can arrive in any home around the country, will visit five families or friends each week and place a talking button at the heart of their front room where the teams face spontaneous challenges against the clock to win a cash prize.
The teams must keep a beady eye on the button which turns from green to red when it's time to play. They miss it at their peril as it's a race against the clock to hit the button and start the game. The Button delivers the task they must complete in the quickest time, interacts with them, and also reveals their rival teams on screen and the results.
Kate Phillips, Controller of BBC Entertainment said: "This new show absolutely pushes all the right buttons for us. It's a funny, frantic, competitive romp and a great snapshot of family life across the UK."
Jon Thoday, Executive Producer from Avalon said: "I am excited to be working with the BBC and the team behind Taskmaster on this exciting new project"
The Button is from the makers of Taskmaster, Andy Devonshire (The Great British Bake Off, The Apprentice) and Alex Horne, whilst the other executive producers are Richard Allen Turner and Jon Thoday for Avalon. The series is commissioned by Charlotte Moore, BBC Director of Content, and Kate Phillips, Controller of Entertainment. The commissioning editor is Jo Wallace.
Marigold On Tour
Stars of the hit series' The Real Marigold Hotel will be heading to Cuba, Thailand, China and Iceland in a new BBC One 4x60' series from Twofour.
Miriam Margoyles, Wayne Sleep, Bobby George and Jan Leeming will head to the hot and vibrant city of Havana, Cuba, where life expectancy is high, food is rationed, and the way to travel is in iconic 50s cars. The group will learn what life is like for pensioners in this fascinating and fast changing country.
Paul Nicholas, Dennis Taylor, Sheila Ferguson and Rosemary Shrager will explore Chiang Mai, the cultural capital of Thailand, to find out what the city can offer in retirement. The pensioners will immerse themselves in the food and traditions that have attracted a generation of younger travellers, and is now a desirable place for elderly Thais to live.
Miriam Margoyles, Wayne Sleep, Bobby George and Rosemary Shrager will arrive in China, home to the world's fastest ageing population. The city of Chengdu will be base for the group as they get to grips with everything from high speed transport to a slower pace of life.
Rustie Lee, Sheila Ferguson, Paul Nicholas and Dennis Taylor will look to unlock the secrets of Icelandic longevity as they settle in the idyllic fishing village of Husavik, before heading off to the capital Reykjavik.
The series has been commissioned by Clare Sillery, Head of Commissioning, Documentaries. The series will be executive produced by Andrew Mackenzie, David Clews and Nic Patten. The series forms part of the Rose D'Or, Grierson and Broadcast award winning Real Marigold Hotel brand which is returning to BBC One for a third series.
Season about obesity
The UK is in the midst of an obesity epidemic, with numbers more than trebling in the last 30 years resulting in the highest level of obesity in Western Europe.
BBC One is to explore this increasingly nationwide crisis with a season of dedicated programmes exploring the truth about obesity and the science around the crash diet revolution using the latest research, as well as a ground-breaking social experiment with Hugh Fearnley-Whittingstall where he will challenge the people of Newcastle to lose a staggering 100,000lbs in a year.
Crash Diet Revolution
In a complete scientific u-turn, experts are now discovering in scientific trials that crash diets are one of the most effective answers to the obesity crisis. Could the black sheep of the dieting world turn out to be the biggest breakthrough in the fight against obesity?
To find out, Britain's top nutrition scientists will come together in a bold new experiment that puts the latest research on crash dieting to the test. We'll take four volunteers who've tried everything to slim down, and put them on a brand new extreme ten week weight loss programme under the guidance of our experts, to trial the ultimate crash diet. Each of our dieters will have a specific health issue that weight loss can dramatically improve or even cure. This radical new approach to weight loss has the potential to save the NHS billions of pounds, to save people from drastic and invasive surgery, and to revolutionise the way we all diet.
A&E doctor and presenter, Dr Javid Abdelmoneim who has been suspicious of crash dieting up until now will lead his expert team led by Professor of diet and nutrition at Oxford University, Susan Jebb, and behavioural scientist, Prof Paul Aveyard. They know it has been shown to work in highly controlled research studies but are keen to see whether that translates to the real world.
The real cost of Britain's obesity epidemic is in treating diseases associated with obesity – like diabetes and cardiovascular disease. This crash diet is not just about weight loss, but also the dramatic health benefits that can follow.
Crash Diet Revolution, a 1x60' by BBC Studios was commissioned by Tom McDonald, BBC Head of Commissioning, Specialist Factual and Diene Petterle, Commissioning Editor. The executive producer is Paul Overton, and the producer is Jeff Wilkinson.
The Truth About Obesity (w/t)
Nearly one in four people in the UK qualify as being obese, meaning their weight is significantly affecting the state of their health. Furthermore, nine out of ten obese people don't even realise they're obese.
With a background in fresh produce, presenter Chris Bavin will seek out the latest scientific research to find out the truth about obesity. Within his lifetime obesity rates have tripled, and as a dad of two he's particularly concerned about the high rates of childhood obesity, and the problems we're passing on to future generations. He'll be finding out exactly what obese is, and what happens to our bodies when we are, as well as the most effective and up-to-date solutions available.
The science of obesity is changing faster than ever before, helping us come to a new understanding of what obesity is. With new research in areas as diverse as genetics, gut bacteria, chronobiology and hormone treatment, we're beginning to realise that 'eat less and do more' is too simplistic a health message. Furthermore, big data techniques are enabling scientists to study many people over a number of decades, allowing us to find the real links between lifestyle and getting fat.
The programme will allow the audience to be able to test themselves with a simple piece of string to find out if they've got the most damaging type of fat; as well as learning how and when we eat could be as important as what we eat; and that genes could account for between 40-70% of obesity; and it'll feature an experiment which shows a simple food app which trains us to select healthy food options can have a remarkable effect in changing people's eating habits.
The Truth About Obesity, a 1x60' by BBC Studios was commissioned by Tom McDonald, BBC Head of Commissioning, Specialist Factual and Diene Petterle, Commissioning Editor. The executive producer is Paul Overton, and the producer is Declan Healy.
Hugh Fearnley-Whittingstall is to present a new three part series for BBC One about the obesity crisis in the UK. One in three people in Britain are now overweight or obese, and if current trends continue by 2025, Britain is set to become the fattest country in Europe. Hugh is going to try and find out how this has come about, and what we can all do to help put the brakes on the problem.
Across the series, Hugh is going to investigate some of the UK's biggest food brands and challenge them to make changes in the real world which will help all of us to make healthier choices. He'll be working with GPs and pharmacists to tackle the problem at the frontline of medical care. And he's launched a ground-breaking social experiment where he will challenge the people of Newcastle to lose 100,000lbs over the course of a year. Working in close collaboration with Newcastle city council, Hugh will encourage people to make changes to their diet; get involved in new and exhilarating physical activities; and come together as one city to reach this ambitious target.
Hugh Fearnley-Whittingstall said: "The fact is that as a nation we need to do something about our increasing weight - it's doing too many of us too much harm. I think that galvanising a whole city to take responsibility for their collective health, by coming together to lose weight, could be an amazing way to make progress in the fight against obesity. It's not going to be easy but I am confident that the people of Newcastle are up to my challenge.
Hugh Fearnley-Whittingstall Special (w/t) is co-produced by Keo Films and The Open University, for BBC One. It was commissioned by David Brindley, BBC Head of Popular Factual, Features and Formats, executive produced by Will Anderson and Kari Lia, Keo Films.
Related Media Centre Links