Arena: American Epic
American Epic is a love letter to the United States. It's the story of one of the great moments in American history - when the voices of working people, minorities, and rural people throughout the country were first heard.

Bernard MacMahon, Director
Date: 08.05.2017
Last updated: 08.05.2017 at 14.17
Arena: American Epic is a film series exploring the pivotal recording journeys at the height of the Roaring Twenties, when music scouts, armed with cutting-edge recording technology, captured the breadth of American music and discovered the artists that would shape our world.
American Epic premieres on Arena, BBC Four and on PBS in the USA in May 2017.
Broadcast includes a three-part historical documentary and The American Epic Sessions feature-length film starring Jack White, Taj Mahal, Elton John, Nas, Beck, Rhiannon Giddens, Ana Gabriel, Willie Nelson, Merle Haggard, Steve Martin, Alabama Shakes and more.
The films are the result of a ten-year odyssey undertaken by director Bernard MacMahon and producers Allison McGourty and Duke Erikson, and audio engineer Nicholas Bergh that involved tracking down countless long forgotten musicians, restoring the music that they recorded and reassembling the technology that created it. Along the way they brought some of the most important figures in contemporary culture to help them on their quest. Jack White, T Bone Burnett and Robert Redford have lent their support to what Redford calls "America's greatest untold story".
Produced by Allison McGourty, Duke Erikson and Director Bernard MacMahon and Executive Produced by Robert Redford, T Bone Burnett, Jack White, with Anthony Wall for BBC Arena, Lo-Max Films Ltd., Wildwood Enterprises, and THIRTEEN Productions LLC for WNET, the American Epic historical documentaries take viewers on a journey back in time to the Big Bang of modern popular music.
In the 1920s, as radio took over the pop music business, record companies were forced to leave their studios in major cities in search of new styles and markets. Ranging the mountains, prairies, rural villages, and urban ghettos of America, they discovered a wealth of unexpected talent. The recordings they made of all the ethnic groups of America democratised the nation and gave a voice to everyone. Country singers in the Appalachians, Blues guitarists in the Mississippi Delta, Gospel preachers across the south, Cajun fiddlers in Louisiana, Tejano groups from the Texas Mexico border, and Hawaiian musicians were all recorded. For the first time, a woman picking cotton in Mississippi, a coalminer in Virginia or a tobacco farmer in Tennessee could have their thoughts and feelings heard on records played in living rooms across the country. It was the first time America heard itself.
Virtually no documentation of these extraordinary events survives and nearly ninety percent of the recording masters have been destroyed. A vital part of American cultural history has been lost.
Over three episodes, narrated by Robert Redford, American Epic rescues this history. The remarkable lives of these seminal musicians are revealed through previously unseen film footage and photographs, and exclusive interviews with music pioneers, their families and eyewitnesses to the era.
Starring: The Carter Family, Memphis Jug Band, Elder Burch, The Williamson Bros. & Curry, Dick Justice, Charley Patton, Joseph Kekuku, Lydia Mendoza, the Breaux Family, Mississippi John Hurt, and Blind Willie Johnson.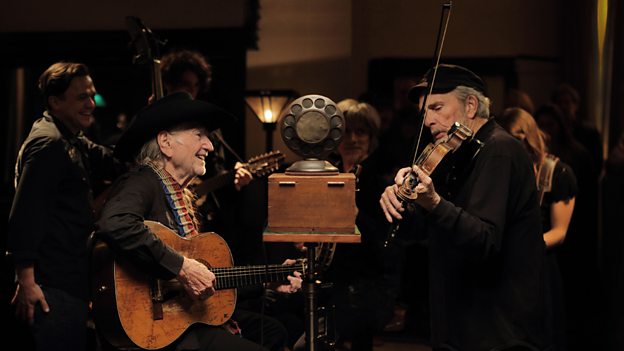 The American Epic Sessions
In The American Epic Sessions, the team has reassembled the very first electrical sound recording system from the 1920s, and invited Jack White and T Bone Burnett to produce an album of recordings by twenty of today's greatest artists in the heart of Hollywood. In a perfect recreation of the conditions of America's first ever recording sessions, these artists are given the chance to pass through the portal that brought the world into the modern era.
Engineer Nicholas Bergh has reassembled this recording system from original parts and it is now the only one left in the world. The system consists of a single microphone, a towering six-foot amplifier rack, and a live record-cutting lathe, powered by a weight-driven pulley system of clockwork gears. The musicians have roughly three minutes to record their song direct to disc before the weight hits the floor. In the 1920s, they called this "catching lightning in a bottle." All the musical performances in this film are live. The audio you hear is taken directly from the discs they were recorded to, with no editing or enhancements.
Starring: Alabama Shakes, The Americans, Ana Gabriel, Ashley Monroe, The Avett Brothers, Beck, Bettye LaVette, Bobby Ingano, Elton John, Frank Fairfield, Jerron "Blind Boy" Paxton, Los Lobos, Lost Bayou Ramblers, Nas, Pokey LaFarge, Raphael Saadiq, Rhiannon Giddens, Steve Martin and Edie Brickell, Taj Mahal, Jack White, and Willie Nelson and Merle Haggard.
Quotes
Bernard MacMahon, Director, says: "American Epic is a love letter to the United States. It's the story of one of the great moments in American history - when the voices of working people, minorities, and rural people throughout the country were first heard. It celebrates all I admire about the country - its rich culture, technological innovation, entrepreneurism and its freedom of speech."
Robert Redford, Executive Producer, says: "It's a project that I just love. This film gets back to the beginnings. It's a wonderful story and it doesn't get any better than this."
Jack White, Executive Producer, says: "In American Epic we can examine how important the fact is that when phonograph records were invented, for the first time ever, women, minorities, poor rural men and even children were given the opportunity to say whatever they wanted in song, for the whole world to hear, shockingly without much censorship. What they were allowed to say on phonograph recordings, they were not allowed to speak in public or in person. That is an astounding thought."
T Bone Burnett, Executive Producer, says: "This is the story of a profound act of democracy - when the poorest people in our country were recorded and their stories, their songs, and their voices broadcast around the world. These early pioneers set a course that led to the extraordinary library of Jazz, Blues, Country, Bluegrass, Rock and Roll, and Hip Hop that is Our Music. This is the story of the United States - a kid leaves home with nothing but a song and conquers the world."
Elton John says: "This isn't just another film, this is history."
Anthony Wall, Executive Producer, BBC Arena says: "When Bernard and Allison took me through their ideas and research I didn't hesitate to say yes. Arena has always been committed to this music but American Epic is the most comprehensive account of how and why it came to be recorded in the first place that I've encountered. The combination of the multi-ethnic context and acutely researched individual stories make it irresistible. The accompanying Sessions film is a delight. It's a joy to see the respect and excitement so many of today's best musicians bring to the discipline of recording in the same way as their heroes of decades ago."
American Epic is a production of BBC Arena, Lo-Max Films Ltd., Wildwood Enterprises, and THIRTEEN Productions LLC for WNET, and PBS. Director: Bernard MacMahon. Producers: Allison McGourty, Bernard MacMahon, Duke Erikson, Adam Block, and Bill Holderman. Executive producers: T Bone Burnett, Robert Redford, Jack White, Anthony Wall for the BBC, and Julie Anderson for WNET. Stephen Segaller is executive in charge for WNET. Bill Gardner, VP of Programming and Development, oversees the project for PBS. The series is written by Bernard MacMahon, Allison McGourty, Duke Erikson and William Morgan.
SH8
Search the site
Can't find what you need? Search here