BBC Young Musician 2016 Jazz Award finalists announced
BBC Young Musician, the UK's leading contest for young musicians, today reveals its 2016 Jazz Award finalists.
Published: 28 January 2016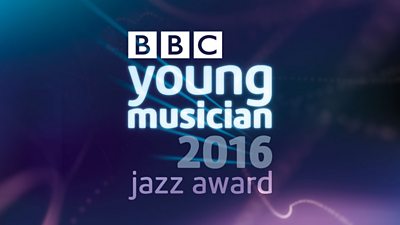 To this year's Finalists, I would say just go for it - be creative, be yourself and enjoy the experience!
Following an extensive audition process, judges have announced the five musicians who will go through to the final, which will take place on Saturday 12 March 2016 in the Dora Stoutzker Hall, Royal Welsh College of Music and Drama, Cardiff.
The 2016 Jazz Finalists are:
Alexandra Ridout - Trumpet (17 years old)
Tom Ridout - Saxophone and Recorder (21 years old)
Tom Smith - Saxophone (20 years old)
Noah Stoneman - Piano (15 years old)
Elliott Sansom - Piano (21 years old)
The 2016 finalists include brother and sister competitors Alexandra and Tom Ridout (on trumpet, and saxophone and recorder, respectively), saxophonist Tom Smith, who appeared in the final of the BBC Young Musician Jazz Award in 2014, and two jazz pianists, Noah Stoneman and Elliot Sansom.
Following its successful launch in 2014, the BBC Young Musician Jazz Award runs alongside the established classical music format and aims to showcase another group of exceptional young musicians to audiences across the UK. The Jazz award consists of two audition stages and the final, which will be broadcast on BBC Four.
In the final the five finalists will once again be accompanied by the Gwilym Simcock Trio, who will also be working with and mentoring the finalists as they rehearse.
The winner of the first ever BBC Young Musician Jazz Award was saxophonist Alexander Bone, who will be performing at the 2016 final. Since winning the award, Alexander has continued to pursue jazz and electronic music, playing, producing and arranging with a range of artists, including Nile Rodgers and Rudimental. Other highlights include performing at the Last Night of the Proms in Swansea in 2015 with the BBC National Orchestra of Wales. Alexander is currently studying jazz at the Royal Academy of Music.
Now in its 38th year, BBC Young Musician is a part of the BBC's ongoing commitment to supporting and providing a platform for new and emerging talent. Since its first outing in 1978 the competition has established an enviable reputation for finding outstanding new talent.
Gwilym Simcock said: "I'm really looking forward to working with the exciting young musicians who've made it to the final. Last time around it was an absolute pleasure to develop the music with the finalists - and every single one of them not only worked really hard during the mentoring process, but also played wonderfully on the night. I know this time around will be just as great and I can't wait to hear them all play!"
Alexander Bone, Winner of BBC Young Musician Jazz Award 2014, said: "The whole BBC Young Musician experience was incredibly inspiring and exciting. Winning was a big unexpected bonus, but getting through to the final was huge in itself for me. Since the competition, I've continued pursuing my jazz studies and career and have thankfully had some opportunities I'm very grateful for. These include performing as a soloist on the BBC Proms in the Park, performing in jazz festivals and venues across the UK, and working with a wide range of artists including Nile Rodgers, Liane Carrol, Rudimental and Kylie Minogue. To this year's Finalists, I would say just go for it - be creative, be yourself and enjoy the experience!"
The 2016 BBC Young Musician category finalists in the classical award were announced earlier this week. Full information can be found here. The BBC Young Musician classical final will take place at the Barbican, London, on Sunday 15 May 2016.
BBC Young Musician is managed and produced by BBC Cymru Wales.
Twitter: @bbcyoungmus
Facebook: facebook.com/BBCYoungMusician
Notes to Editors
Gwilym Simcock Trio
Known for his ability to move effortlessly between jazz and classical music, Gwilym is renowned for his outstanding work both as pianist and composer in a variety of contexts, and has won numerous awards including the Perrier Award, BBC Jazz Award and British Jazz Award. Gwilym was also the first BBC Radio 3 New Generation jazz Artist from 2006-2008. His solo album, Good Days At Schloss Elmau (ACT), was a Barclaycard Mercury Prize album of the year in 2011. The Gwilym Simcock Trio are Gwilym Simcock, bassist Yuri Goloubev and drummer James Maddren.
KD
Related Media Centre Links
Related BBC Links
Tagged: