New BBC digital interactive campaign ShakespeareMe takes Shakespeare to the smartphone generation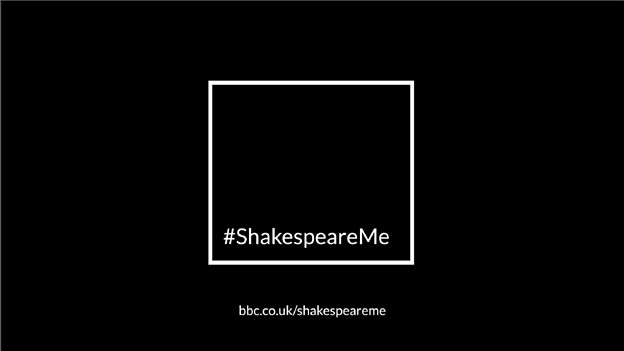 This is a really playful route in to exploring the emotions expressed in Shakespeare's work and we hope audiences will enjoy using Shakespeare's language in their own digital conversations, bringing his work to life in new ways.

Sinead Rocks, Head of BBC Learning
Date: 11.04.2016
Last updated: 11.04.2016 at 09.52
An innovative digital interactive campaign to inspire the smartphone generation to tap into Shakespeare's best-loved lines launches today as part of the BBC's Shakespeare Festival.
ShakespeareMe, an initiative from BBC Learning, will take Shakespeare into the digital world by delivering exact quotes from the works of the Bard direct to smartphones, enabling his language to be enjoyed in a new way.
The 'quote generator with a twist' will present lines of Shakespeare to match the emotions of users, which they will express by choosing from a series of specially designed emojis reflecting how they are feeling. The quote created will depend on the combination of emojis selected and can be enhanced using eye-catching and emotive images to add further context and meaning. The quote will be unique to the user and can be shared at the touch of a button, integrating Shakespeare's language into digital conversations by using the hashtag #ShakespeareMe.
Triggering quotes through an expression of the person's own emotions will make Shakespeare feel more accessible and relatable, enabling younger audiences to see that the themes running through Shakespeare's work are as relevant in the world today as they always were.
ShakespeareMe – which can be found at bbc.co.uk/shakespeareme - will also tell users more about their quote's origin and meaning, as well as helping them to explore other Shakespeare content across the BBC.
BBC Radio 1's Greg James, BBC Breakfast's Dan Walker, EastEnders' Harry Reid (Ben Mitchell) and Lorna Fitzgerald (Abi Branning) are among those who have played with ShakespeareMe and chosen their favourite quotes. For Greg it was 'A lad of life, an imp of fame' (Henry V, Act 4 Scene 1), he said Shakespeare's works display "some of the finest use of language ever, just incredible storytelling." Of ShakespeareMe he said, "This is what he wanted; genuinely I think he would have actually quite liked an emoji."
Other ambassadors include singer Jake Quickenden, musician and actor Ashley Thomas (Bashy), former Union J singer George Shelley, BBC Three's Stacey Dooley and performance poet and author Laura Dockrill.
Sinead Rocks, Head of BBC Learning, says: "This is a really playful route in to exploring the emotions expressed in Shakespeare's work and we hope audiences will enjoy using Shakespeare's language in their own digital conversations, bringing his work to life in new ways."
The quotes have been selected with the help of Lecturer in Shakespeare Studies at the Shakespeare Birthplace Trust, Dr Anjna Chouhan.
Dr Chouhan says: "The Shakespeare Birthplace Trust is thrilled to have been part of such an exciting project to help inspire an audience that might otherwise steer clear of Shakespeare, and to engage with his language on their own terms. ShakespeareMe will allow young people to speak of their joy, grief, fears and ambitions in a way they might never have thought possible."
ShakespeareMe includes quotes from 36 Shakespeare plays and two sonnets ranging from Romeo And Juliet and Macbeth to Coriolanus and Cymbeline. A total of 269 quotes are available to be discovered, based on the combination of emojis used. There are 21 emojis, from happy faces to love hearts, covering a range of themes present throughout Shakespeare's works, from boredom to bravery, disgust to desire. The images correlating to the quotes also make the content distinctive and more shareable.
ShakespeareMe has been built and designed by Manchester-based design studio MagneticNorth.
ShakespeareMe can be found at bbc.co.uk/shakespeareme or on social media with #ShakespeareMe.
ShakespeareMe is part of the BBC's plans to mark the 400th anniversary of Shakespeare's death with its most far-reaching celebration of Shakespeare's work ever broadcast, The BBC Shakespeare Festival 2016. Partnering with some of the country's leading arts organisations, this unique festival will bring to life the genius of William Shakespeare for millions of households in the UK and around the world, across all platforms - national, regional and global. The festival aims to make Shakespeare's work irresistible to everyone.
JP2
Search the site
Can't find what you need? Search here
Related Media Centre Links