BBC North and BBC Comedy announce line-up for Salford Sitcom Showcase 2016
BBC North and BBC Comedy Commissioning are pleased to announce the 2016 Salford Sitcom Showcase on 5 and 6 July.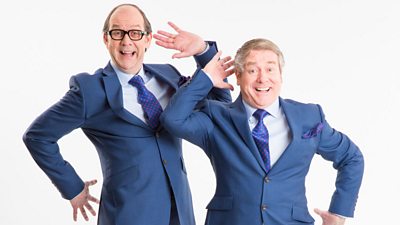 The showcases have already cultivated several success stories over the years (Citizen Khan, Hebburn, Boy Meets Girl), building upon the rich comedy heritage of the North. We have a few treats again this year… and there's nothing quite like instant feedback from a live audience!
Now in its fifth year, the Showcase provides an opportunity to see some of the best comedy scripts and comedy talent currently in development. The event has established itself as a key part of the commissioning landscape for comedy in the North with previous success stories including Citizen Khan, Boy Meets Girl and Hebburn.
Held in MediaCityUK, Salford, and running over two nights from 6.30pm until 8.00pm, studio audiences will be treated to live theatrical performances of three exciting new projects, as well as an exclusive screening of a comedy pilot.
Additionally, a series of panels and masterclasses for aspiring writers and comedians are being organised by BBC Writersroom, in collaboration with Salford University, MediaCityUK. Running on both dates, these will include insights into development, pitching, writing, and commissioning processes from a variety of industry talent. A full programme of events and tickets (allocated on a first-come-first-served basis) can be accessed via the BBC Writersroom website.
The two shows that audiences will see on Tuesday 5 July are:
The Late Late Morecambe And Wise Show
Imagine having The Morecambe And Wise Show back for an evening. Olivier-nominated Ian Ashpitel and Jonty Stephens star as the unforgettable double act, together with their special guests, performing brand new material.
The Russ Abbot Sketch Show
Russ is back with a 2016 reinvention of the sketch show and a brand new band of exciting live performers. The show is full of big memorable characters, some old friends and a roistering sense of energy and fun that only Mr Abbot can deliver.
On Wednesday 6 July, audiences will watch two different shows:
Home From Home
Home From Home sees Johnny Vegas playing family man Neil Hackett, who is overjoyed to finally buy his very own lodge in the picturesque Lake District. What should be the perfect 'home from home' rapidly dissolves into the stuff of nightmares… when he discovers he is living next door to the effortlessly superior Dillons, played by Emilia Fox and Adam James.
Lodger
A live theatrical performance of a new sitcom. Eddie needs space to iron his socks. Sally needs space to line up her vodka shots. Can these two really live under the same roof together? Written by Kim Tserkezie and Miles Jupp with Andy Milligan.
The ballot for audience tickets is now open, with free tickets available from http://www.sroaudiences.com/
Gary Matsell, Producer, says: "Salford Sitcom Showcase is now in its fifth year and I'm excited to be a part of it. The showcases have already cultivated several success stories over the years (Citizen Khan, Hebburn, Boy Meets Girl), building upon the rich comedy heritage of the North. We have a few treats again this year… and there's nothing quite like instant feedback from a live audience!"
Shane Allen, Controller of BBC Comedy, says: "There is such a legacy of northern comedy from the BBC including the likes of The Royle Family, Victoria Wood's Dinnerladies and now Peter Kay's Car Share. The Salford Sitcom Showcase is a great chance to once again mine the source of that rich comedy land."
Alice Webb, Director of BBC North, says: "The Salford Sitcom Showcase is a key event in BBC North's summer calendar, and is what we are all about – discovering new talent from outside of the capital to share with our audiences. We hope it will result in some new commissions and continue to offer northern talent a platform."
KW/TG
Related BBC Links
Related Web Links