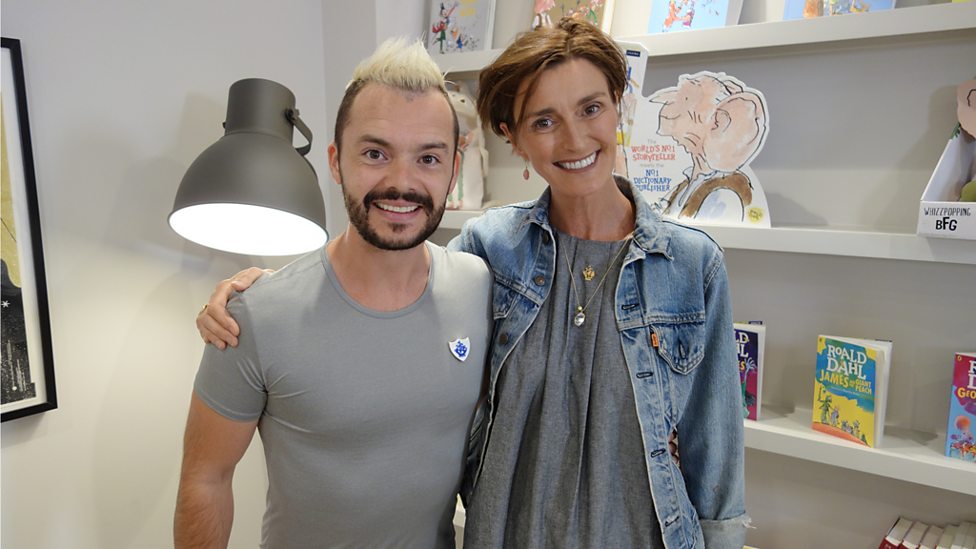 Roald Dahl to be posthumously honoured with a Gold Blue Peter badge
Roald Dahl's literary magic continues to enchant generations of children and will do for years to come.

Ewan Vinnicombe, Editor, Blue Peter
Date: 13.09.2016
Last updated: 13.09.2016 at 18.31
Roald Dahl is to be the first person in the show's history to be posthumously honoured with a Gold Blue Peter badge.
In a special episode, to be screened on CBBC at 5pm on Thursday 15 September, the award will be one of a number of items celebrating the work of Roald Dahl; Scientist Greg Foot will be appearing on the show to recreate the BFG's favourite drink, Frobscottle; he will also be demonstrating how to make a peach fly and will treat Blue Peter presenters, Barney, Lindsey and Radzi to a three course meal of Bubblegum in honour of Roald Dahl's Charlie and the Chocolate Factory.
The cast of the hit musical Charlie and the Chocolate Factory will close the show with a TV exclusive performance of the song 'Queen of Pop'.
Viewers will see Lucy Dahl, daughter of the great writer receive the CBBC show's highest accolade on behalf of her father. On receiving the badge, Lucy was completely overwhelmed, exclaiming "oh my gosh, this is extraordinary…this is amazing, truly amazing."
Lucy went on to say: "When you read a book you create your own version of the story, and you create your own pictures in your own mind. Dad felt that reading books was one of the most important things a child could do because he felt that imagination was so important."
Each year a handful of gold badges are awarded in recognition of outstanding achievements, bravery, inspiration and citizenship. Roald Dahl joins an illustrious list that includes recent recipient Steven Spielberg, who received his whilst he was in the UK promoting his film, Road Dahl's BFG.
Ewan Vinnicombe, Editor, Blue Peter says: "Roald Dahl's literary magic continues to enchant generations of children and will do for years to come. Blue Peter is honoured to be able to celebrate his remarkable imagination in this special show."
Viewers can watch the Roald Dahl special featuring Lucy Dahl on CBBC, Thursday 15 September at 5pm.
BC2
Search the site
Can't find what you need? Search here
Related Media Centre Links