CBeebies Playtime Island app to gift a game a day
Christmas is coming to the CBeebies Playtime Island app from Saturday 26 November. Winter will spread across the island and mark the arrival of a very special advent calendar, releasing a new mini-game every day in the build up to Christmas.
Published: 25 November 2016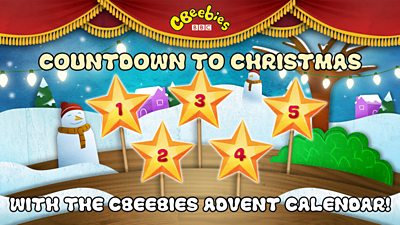 Our advent calendar will give little users a gift every day in the build up to the Christmas, spreading some Christmas cheer with their favourite CBeebies friends.
Fans can expect a daily surprise from Thursday 1 December with new mini-games including CBeebies favourites such as Topsy and Tim, Justin's House, Go Jetters, My Pet and Me and CBeebies Nutcracker.
Each game will be available throughout the Christmas period and more CBeebies friends taking part include Mr Tumble, Peter Rabbit, Footy Pups, Teletubbies and the Furchester Hotel gang.
The app which launched in September was co-designed by the BBC Children's app team in Salford and CBeebies audiences who influenced all of the characters and scenes found in the app, including Andy's treehouse, a fruit helicopter and a skateboarding crocodile. Earlier this month fans were invited to design the latest update to the app and entries are open until 5 December.
The app is available on Android, iOS and Amazon Fire devices.
Kay Benbow, Controller of CBeebies, says: "Christmas is on its way to the CBeebies Playtime Island app with the arrival of a new winter theme. Our advent calendar will give little users a gift every day in the build up to the Christmas, spreading some Christmas cheer with their favourite CBeebies friends."
SB
Related Media Centre Links