BBC One and Gary Barlow unite for new Saturday night series Let It Shine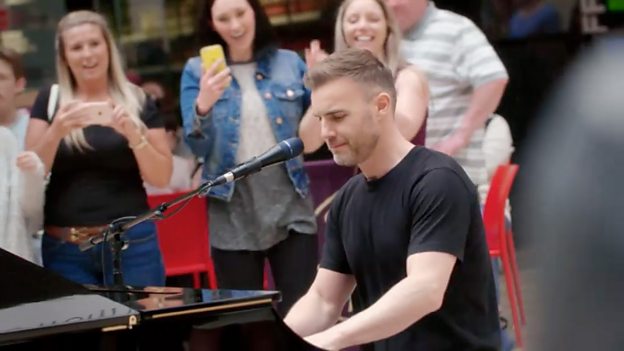 The secret to Take That's success was that each of us brought something different to the group and that the five of us had real chemistry. Now with Let It Shine we're looking for people from all walks of life to form another unique group who can recreate that magic. If you think you've got what it takes, we want to see it!

Gary Barlow
Date: 17.06.2016
Last updated: 04.07.2016 at 14.03
BBC One today confirms its brand new Saturday night entertainment show Let It Shine in conjunction with Gary Barlow and presented by Graham Norton and Mel Giedroyc.
Let It Shine will be seeking out talent to create a band who will join the cast of a brand new stage show featuring the music of Take That, created in association with Gary Barlow, Mark Owen and Howard Donald.
Over eight weeks of competition, BBC One and Gary Barlow will be looking for talented individuals to form a new group that exudes the charisma, showmanship and stage presence that the hit group has become so famous for.
Gary will be joined by three mentors each week on Let It Shine to find the very best talent the country has to offer. The winning group will perform the hits of the band in a nationwide musical stage show called The Band.
Gary Barlow says: "Back in 1989, we were just a group of normal guys from Manchester who came together to become Take That. The secret to our success was that each of us brought something different to the group and that the five of us had real chemistry. Now with Let It Shine we're looking for people from all walks of life to form another unique group who can recreate that magic. If you think you've got what it takes, we want to see it!"
Casting is now open. For more information on taking part go to bbc.co.uk/takepart
The ambitious format will place the spectacle of the group's live concert experience at its heart and feature all-singing and all-dancing performances, unearthing performers from every corner of the United Kingdom. Graham Norton and Mel Giedroyc will co-host the talent search.
Graham Norton says: "The combination of the BBC, everyone's favourite band and Saturday nights made this an offer I simply couldn't refuse. If I wasn't a part of Let It Shine, I know I would be watching it at home - this way I just get the best seat in the house."
Mel Giedroyc: "This show brings together so many of the things I love – singing, dancing, Gary Barlow and Graham Norton. What's not to love? I can't wait to meet the singers and see the performances, which I know will be utterly spectacular. If you know someone who's got the moves, whether they already sing in the shower or on the stage, we want to see them."
The series is commissioned by Charlotte Moore, BBC Controller of TV Channels and iPlayer, alongside Alan Tyler, Acting Controller of BBC Entertainment Commissioning, and Rachel Ashdown, Commissioning Editor for BBC Entertainment.
Charlotte Moore says: "BBC One's new Saturday night show will bring families together to celebrate Britain's love of musical theatre, combining singing, performance and dance in a hotly contested search to find a new group. Masterminded by Gary Barlow, our sensational hosts Graham and Mel will guide viewers through eight weeks of unmissable competition, all to win a dream place in a new stage show."
Alan Tyler says: "Bringing together the crown jewels of entertainment talent, in a show that is original, fun and distinctive, all to a soundtrack that a large part of Britain grew up with, promises to deliver a real treat for audiences on a Saturday night."
Let It Shine is a BBC Studios Entertainment Production, overseen by Guy Freeman, Editor of Formats and Special Events (Diamond Jubilee Concert, Children In Need Rocks, Adele At The BBC) and Executive Producer Andrew Cartmell (Sport Relief: Clash Of The Titans, Strictly Come Dancing: It Takes Two).
EH/SE
Search the site
Can't find what you need? Search here