Jolyon Rubinstein and Heydon Prowse are Revolting
Revolting is a brand new 5x30 minute hybrid satirical sketch and prank series from the Bafta-winning team behind the headline-grabbing The Revolution Will Be Televised (BBC Three) and Brexageddon?! (BBC Two).
Published: 8 November 2016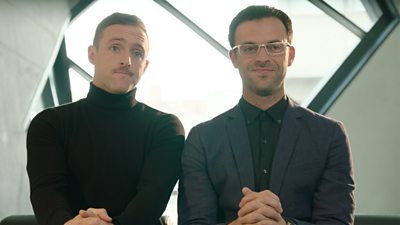 Heydon Prowse and Jolyon Rubinstein fearlessly target hypocrisy, the corrupt, the scandalous and the absurdity of modernity with their inimitable brand of ballsy humour, characters and stunts in the real world. In addition to the 'hits', they ramp up their unique form of social comment with additional scripted sketches filmed with a supporting cast of up-and-coming talent.
Everyone is a target in this no-holds-barred, break-neck hybrid sketch/prank show, including hippies, bankers, hipsters, fat cat developers, CEOs, extreme right-wingers - and of course politicians.
New characters include: Labour activists Penny and Robin - a Corbynite and Blairite - who are at odds with each other over every Labour policy they espouse; Duckface, an online slacktivist trying to save the world by using his #s to campaign against everything from landmines to leprosy (# loling for leprosy) and Denis Pound of UKIP canvassing for new policy ideas post Brexit.
Rebooted from The Revolution Will Be Televised, right-wing news journalist Dale Mailey returns with some shocking exposés while Conservative MP James Twottington-Burbage is reinstated as 'one to watch' in Theresa May's new Cabinet.
Hilarious as well as thought provoking, other areas explored with sheer chutzpah include:
The housing crisis/development boom
Philip Green's sale of BHS and its subsequent closure (Heydon and Jolyon visit a BHS store in its final days to solicit some financial support for poor Philip)
The NHS budget deficit (via a spoof observational doc entitled 124 Hours In A&E)
Drone air strikes (with the sketch Top Gun 2; Drone School)
The outdated abortion laws in Ireland
The VW emission scandal
The ongoing issue of multinational tax evasion
Train commuter misery
A revealing interview with the far-right group Britain First
Mass animal farming
The consumer unfriendly EE
The heavy handed G4S
And just who is Tim Farron?
Produced by Hat Trick Productions, best known for award-winning comedy series such as Have I Got News For You and Outnumbered, Revolting is executive produced by Mark Talbot (The Revolution Will Be Televised).
The series producer is Joshua Buckingham, the directors are Errol Ettienne and Ollie Parsons and the show is co-created with Joe Wade. The commissioning editor for BBC Entertainment is Ruby Kuraishe.
Pictured: Heydon Prowse and Jolyon Rubinstein
SE