Go for gold with Dan Snow's Gold Rush Game Maker
The BBC today challenges teenagers to get creative online with the Gold Rush Game Maker, inspired by the upcoming three part series Operation Gold Rush with Dan Snow, starting Sunday 30 October, 9pm, BBC Two.
Published: 26 October 2016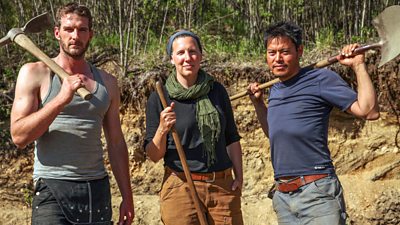 The idea that the wonderful history of the gold rush can inspire a generation of gamers and coders is thrilling.
The Gold Rush Game Maker enables users to create their own gold rush adventure games, based on the intrepid pioneers of the 19th century and featuring the real-life adventurers from the series. It builds on the success of the award winning Doctor Who Game Maker, and allows audiences to create and publish games and share them with the world.
The game maker is easy–to-use and requires no technical skills, allowing users to create games from scratch or by using prepared templates. Game makers can then drag and drop characters and game elements until their game is complete. Once finished games can then be published on the BBC's new creativity platform Mixital.
The BBC Two series will see Dan Snow and his team recreate the journeys of the 19th century gold seekers, who travelled from the coast of Alaska to the gold fields of the Klondike 600 miles north. He's joined on his adventure by polar explorer Felicity Aston and remote environment medic Dr Kevin Fong. Together they follow in the footsteps of the last great gold rush, a global event filled with epic adventure, danger and heroic tales; perfect inspiration for creating games.
Chris Granlund, Executive Producer, BBC Studios, said: "We're always looking for new ways to introduce the next generation to the amazing stories of the past. We know our younger audiences are enthusiastic game players. This seemed a great opportunity to introduce them to a fascinating period of 19th century history through their passion for games."
Dan Snow, broadcaster and historian, says: "It has been so exciting to play a part in the Gold Rush Game Maker. This is the most innovative project I've been involved in at the BBC. The idea that the wonderful history of the gold rush can inspire a generation of gamers and coders is thrilling. It's projects like this that are critical to ensuring that young people get the skills they need to flourish in tomorrow's world and transform Britain into a leading digital economy."
Notes to Editors
Gold Rush Game Maker will join other big BBC brands on Mixital like EastEnders, Strictly Come Dancing and BBC Three. It offers users the chance to create games, stories and visualisations using characters and other familiar assets from popular BBC shows.
The Gold Rush Game Maker complements the BBC's mission to inspire a nation to get creative with digital. Mixital is designed to be a safe, fun space to experiment, build confidence and showcase work publicly.
SB
Related BBC Links
Related Programme Information