Inaugural winner of 5 live Young Commentator of the Year announced
He edged it for a number of reasons. He kept it simple, started with the score and off he went. He demonstrated his understanding of the sport, his description was very good, the geography as well.

John Murray, BBC Senior Football Correspondent
Date: 03.06.2016
Last updated: 03.06.2016 at 10.24
Thomas Wilkins from London has won BBC Radio 5 live's Young Commentator the Year competition, it was announced today.
His commentary on a Six Nations Rugby match was singled out by the judges as the winning entry, who praised it for its enthusiasm, knowledge, picture painting and delivery.
Thomas is the first person to be named Young Commentator of the Year after BBC Radio 5 live launched the contest to encourage new talent and to help find new commentators of the future.

The judges included senior football correspondent John Murray, sports commentator Jacqui Oatley, athletics broadcaster Darren Campbell and sports broadcaster Sonja McLaughlan.

Explaining why Thomas scooped the top spot, John Murray says: "He edged it for a number of reasons. He kept it simple, started with the score and off he went. He demonstrated his understanding of the sport, his description was very good, the geography as well.

"He saw, he described what he was seeing so the basics were very good. The analysis was excellent as well, with some lovely phrases in there, and very importantly a really powerful voice. So, all in all, a really strong and impressive entry."

His winning entry can be heard here: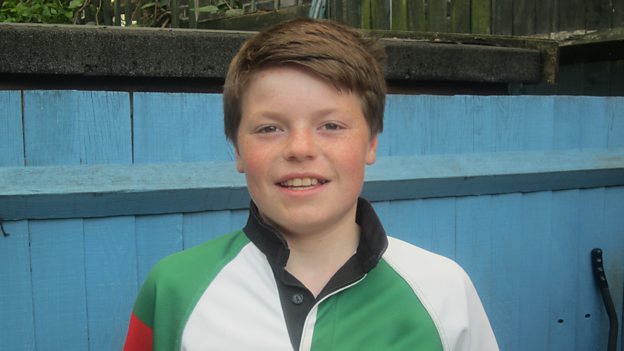 Thomas's prize will include spending a day with 5 live at a major sporting event, where he will have another go at commentating in a real life situation. He will also get a behind-the-scenes tour of 5 live and BBC Sport at MediaCityUK in Salford along with a Young Commentator of the Year trophy.
The inaugural competition drew entries from all over the UK, with a shortlist of 18 from places including Birmingham, London, Lincolnshire, Carmarthenshire, Perthshire, Derbyshire, Staffordshire, Bedfordshire, Cheshire, Berkshire and North Yorkshire.
The youngsters were all aged 11-15 and demonstrated their skills by watching a sports video clip and recording themselves in action.
Praising the strength of the overall field, John Murray says: "The standard of entries was outstanding, and it was a tough job whittling it down to this final 18. We were hugely impressed by the knowledge, energy and enthusiasm that came through, and we are sure we have found some voices which we'll be hearing a lot more of in years to come."
GJ3
Search the site
Can't find what you need? Search here
Related Media Centre Links