Idris Elba to star alongside an array of exciting young talent in BBC Three drama Five by Five
BBC Three's Five by Five is a series of short films from new writers featuring new on-screen talent working alongside established on-screen talent. Set in London, the five standalone films feature chance encounters people face which question identity and change perception.
Published: 11 November 2016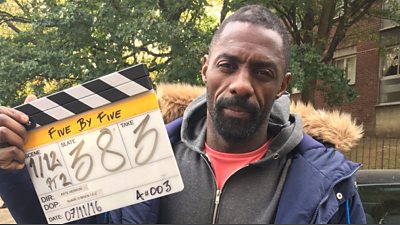 A series of short films co-produced by BBC Studios and Green Door Pictures.
Cat Jones confirmed as lead writer alongside new writers Lee Coan, Namsi Khan, Selina Lim and Nathaniel Price.
Idris Elba will star alongside leading cast Georgina Campbell (Murdered by My Boyfriend), Michael Ajao (Cuffs), Ben Tavassoli (New Blood), Ruth Madeley (Don't Take My Baby), and Sope Dirisu (Humans). Further cast include Jasmine Jobson (Flea), Taurean Steele (Knife Edge), Nina Yndis (Peaky Blinders), and Andrei Zayats (The Night Manager).
The 5x5-min films are written by Cat Jones (Flea, Harlots), and new writers Lee Coan, Namsi Khan, Selina Lim and Nathaniel Price. They will be directed by Screen International Star of Tomorrow Kate Herron (Fan Girl).
Idris Elba of Green Door Pictures, says: "I have spent time with these five talented writers and observed their storylining process. The scripts are uplifting and incredible, and with this group of young actors now attached to star, BBC Three viewers are in for an absolute blast. I couldn't be prouder of what they have achieved."
Damien Kavanagh, Controller of BBC Three, adds: "This BBC Three collaboration with Idris and Green Door gives opportunities to some of the best and brightest new talent to work with some of the biggest and most established talent around. It's a win win for everyone involved and I'm delighted BBC Three can be part of something like this."
Five by Five will be produced by Dean Byfield, executive produced by Idris Elba for Green Door Pictures, and Richard Stokes and Hilary Salmon for BBC Studios. Cat Jones is lead writer and co-executive producer. Filming has commenced in London for one-week.
RM2
BBC Three
Related Web Links