Ken MacQuarrie appointed as new BBC Director of Nations and Regions
Ken MacQuarrie, Director of BBC Scotland, has been appointed as the BBC's new Director of Nations and Regions.
Published: 22 September 2016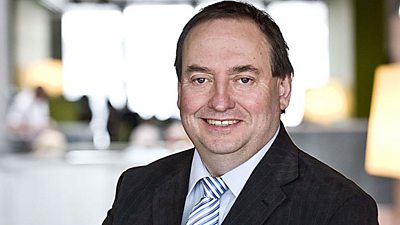 Reflecting the nations and serving them well is vital for the BBC and a key part of the new Charter. There is no one better than Kenny to get this right.
The role will have responsibility for bringing together and enhancing the BBC's offer to the nations and regions of the UK and will sit on the BBC's new Executive Committee.
The role was announced by the Director-General, Tony Hall in July 2016 and will ensure that the BBC represents the changing UK more effectively. Ken MacQuarrie will take up the post with immediate effect and will be responsible for representing the voice of audiences outside London as well as taking on editorial responsibility for all of the content produced by the BBC's Nations and Regions teams. With all areas of the BBC facing financial pressures, he will also be responsible for identifying savings in the Nations and Regions so that more money can be released for content.
The Nations Directors and the Directors of the regional hubs in the North, Midlands and South West will work to this role and work will now begin on the process of replacing Ken MacQuarrie in Scotland.
Tony Hall says: "I am delighted to appoint Kenny to this important post. Reflecting the nations and serving them well is vital for the BBC and a key part of the new Charter. There is no one better than Kenny to get this right. He is a supremely able leader and manager and is hugely respected, not just within the BBC, but outside as well. I know he's the right person to give the Nations and Regions a strong voice across the BBC."
Ken MacQuarrie says: "I'm looking forward to beginning this new role. I know how much audiences value the BBC reflecting their own communities. From the Isles of Scilly to Shetland there are some great stories to be told. We want to represent and report all corners of the UK and everybody should feel that the BBC offers something for them. I'll enjoy championing our excellent nations and regions teams at the top table."
Ken will be based outside of London and will travel extensively across the UK as part of the role. 
BBC Press Office
Ken MacQuarrie biography
Ken MacQuarrie became Director, BBC Scotland in April 2009.
He had been Controller since April 2004 and Head of Programmes from 2000, when he had responsibility for production and commissioning of all BBC output broadcast in Scotland on television, radio and online.
A native of Mull and a Gaelic speaker, he was educated at Oban, Edinburgh University and Moray House College of Education before joining BBC Scotland as a researcher in 1975.
He went on to work as a radio producer for BBC Highland before transferring to television in 1979, where he worked as a producer in Glasgow.
During this period Ken introduced daily Gaelic children's programmes on television, developed the investigative current affairs programme Prosbaig and launched the award-winning series Eorpa and De a-Nis?
In 1992 he became both Head of Gaelic and Features and of Children's, complementing the output in Gaelic with English language factual programmes and also setting up a children's production base for the UK networks.
Four years later he was appointed Head of Broadcast and in 2000 became Head of Programmes.
Among the major projects he oversaw in that role are In Search Of Scotland, Chewin' The Fat, Still Game, Gruth Is Uachdar (Crowdie And Cream) and Scotland's Empire on television and, on Radio Scotland, Gracenotes and Off The Ball.
He was instrumental in securing the funding and approvals for the BBC's £188m investment in the new BBC Scotland digital broadcast production Headquarters at Pacific Quay in Glasgow, which were formally opened by the Prime Minister in 2007. Since that time he has overseen a business which has grown in size each year and which now has an annual spend of around £200m. He has also been responsible for delivering BBC ALBA, the Gaelic television service which, in a unique partnership with MG Alba, now reaches a weekly audience of over 650,000 viewers.
In 2014, he was Chair of the BBC's Commonwealth Games Steering Group, which brought together BBC Sport and BBC Scotland to deliver one of the UK's most ambitious and successful broadcast sporting events of recent years. At the same time, as Chair of the BBC's Independence Referendum Steering Group, he led the collaborations, across the BBC, that delivered coverage of each step of the journey to the vote, on September 18, on the constitutional future of Scotland and of the United Kingdom.
Ken is a member of the Executive Team and previously was a member of the BBC Business Direction Group. He is also a Trustee of the BBC Pension Fund.
A former board member of the Scottish Film Council and the Celtic Film and Television Association, he has also been Chair of the Skillset Scottish National Board. He is currently a Board member of the International Press Institute (IPI), an Executive Board member of the European Broadcasting Union (EBU) and a Vice-President of the Royal Television Society (RTS).
He is married with three children and among his many interests are sailing, reading and walking.
Related Media Centre Links