Debut Writer, KJ Orr, wins the BBC National Short Story Award
Debut author, K J Orr, a short story writer whose first collection was only published this year, has beaten a host of writers including two-time Booker Prize winner Hilary Mantel to win the coveted BBC National Short Story Award with BookTrust for 2016 with her story Disappearances.
Published: 5 October 2016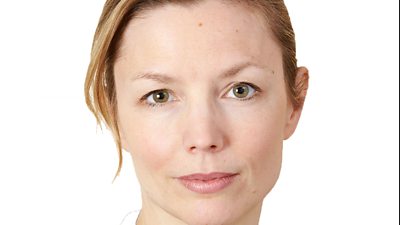 K J Orr's precision and clarity, her ability to expose a life in a line and to induce sympathy and disdain, linger long after reading the final paragraph.
Described by author and judge, Kei Miller, as "a near perfect example of how the short story works - a small world that's perfectly observed", Disappearances is a richly layered story of guilt and identity set in Buenos Aires.
K J Orr was presented with the prize of £15,000 last night (Tuesday 4 October) by the 2016 Chair of Judges Dame Jenni Murray at a ceremony held in the BBC's Radio Theatre in London. The news was announced live on BBC Radio 4's Front Row, during a special programme celebrating the short story.
Claire-Louise Bennett, also a debut writer with her first collection recently published, was selected as the runner-up and received £3,000 for her story Morning, Noon & Night. The three other shortlisted authors, Lavinia Greenlaw, Hilary Mantel and Tahmima Anam, received £500.
Di Speirs, Books Editor at BBC Radio 4 and longstanding judge of the Award says: "In a year when the shortlist was supremely well balanced and the judges initially quite divided about a winner, our meeting was full of insight, debate, discussion and courtesy; by its conclusion we were all of a mind. I'm delighted, as are we all, to be honouring as winner, and as runner-up, both the debut writers on the list, both writers who have dedicated themselves to the short story, honing their craft, experimenting with form and finding their unique voices. K J Orr's precision and clarity, her ability to expose a life in a line and to induce sympathy and disdain, linger long after reading the final paragraph."
Born in London, K J Orr's debut collection of short stories, Light Box was published by Daunt Books Publishing in February 2016. A writer dedicated to the short story form, she has seen her stories appear in the Sunday Times Magazine, The Irish Times and The Dublin Review amongst others and she was shortlisted for the BBC National Short Story Award with BookTrust for the first time in 2011. Orr studied at St. Andrews, UEA and Chichester and has published essays and reviews in Poetry Review, the TLS and the Guardian.
Disappearances was inspired by Orr watching a solitary man in a café in Argentina whilst travelling. Surfaces and what lies beneath were a starting point for this story of a retired plastic surgeon who develops a relationship with a local waitress and is compelled to visit the same café every day. Surprised by his own desire to create a new identity, his plans are thwarted when two women from his past disrupt his new world. Caught off guard, the tension between the life he led and this desire to create a new identity is a pivotal moment.
Talking about the short story form's humanity and ability to create a "furious, challenging and exhilarating experience", on BBC Radio 4's Front Row last week, K J Orr said "a single story can transform a day and lead to a shift in perception". It "magnifies" and "celebrates" and "encourages empathetic connection". She will appear alongside fellow short-listees Tahmima Anam and Lavinia Greenlaw and judges Di Speirs and Kei Miller on a panel discussing The Future of the Short Story at the London Literature Festival at 7.45pm on 5 October at the Southbank Centre.
This year's runner-up is Claire-Louise Bennett, a fellow debut writer, whose collection, Pond, was published by Fitzcaraldo Editions last year. Born in Wiltshire but now living in Galway, Claire-Louise's story, Morning, Noon & Night is the subtly witty and evocative story of a failed academic told through the rhythm of one day. A slow-burning, sensual story filled with loneliness and humour, it was applauded for its "bravery" and "experimental" intensity.
Ted Hodgkinson, Senior Programmer for Literature at the Southbank Centre and judge of this year's Award says: "Morning, Noon and Night is a short story driven by the lucidity of the voice which captures moments of revelation in the rituals of the everyday. For an award that has often been prescient in acknowledging emerging talents, seeing two distinctive sensibilities who have recently published debuts triumph is no small cause for celebration."
Gwyneth Williams, Controller of BBC Radio 4, says "Radio 4 is proud to be the home of the broadcast short story and I am delighted that our partnership with the BookTrust has produced, once again, such an extraordinary, varied and compelling shortlist of stories."
This year's judging panel included the Booker Prize winner Pat Barker, poet and author Kei Miller, Ted Hodgkinson, Senior Programmer for Literature and the Spoken Word at the Southbank Centre and Books Editor at BBC Radio Di Speirs. The panel was chaired by the author and BBC Radio 4 Woman's Hour presenter, Dame Jenni Murray.
2016 marks the eleventh year of the BBC National Short Story Award and the second year of the BBC Young Writers' Award which was created as a way to inspire and encourage the next generation of short story writers. A cross-network collaboration between BBC Radio 4 and Radio 1, this year's award, open to all 14 to 18 year olds, was won by 14-year-old, Lizzie Freestone, from Cambridgeshire for her story Ode to a Boy Musician. It can be read online at www.bbc.co.uk/radio1.
Readers can listen to the BBC Radio 4 broadcasts of the shortlisted stories read at www.bbc.co.uk/podcasts/series/nssa for up to 30 days after their first airing.
The five shortlisted stories are published in an anthology, BBC National Short Story Award 2016. They are introduced by Dame Jenni Murray and published by Comma Press.
Selected stories from the BBC Radio 4's archive are also available to listen to again on the Books at the BBC page on the BBC Arts website at www.bbc.co.uk/arts/sections/books-at-the-bbc
About the Winner
K J Orr was born, and lives, in London. Light Box, her first collection of short stories, was published in February 2016. Her stories have appeared in publications including Best British Short Stories 2015, the Irish Times, the Dublin Review, the White Review and the Sunday Times Magazine, and have been recognised by numerous awards including the BBC National Short Story Award and the Bridport Prize. She studied at St Andrews, UEA, and Chichester, and has published essays and reviews in Poetry Review, the TLS and the Guardian, among others. K J Orr was previously shortlisted for the BBC National Short Story Award with BookTrust in 2011.
About the Runner-Up
Claire-Louise Bennett was born in Wiltshire but now lives in Galway. She studied post-dramatic theatre and unstageable plays prior to completing her first book, Pond which is published in the UK by Fitzcarraldo. It has been translated into Spanish, Dutch and Norwegian, and is published in the US by Riverhead Books. It was recently shortlisted for the Dylan Thomas Prize. Claire-Louise's stories and essays have appeared in The White Review, Guernica, The Irish Times, gorse, and Paper Visual Art Journal, among others. This year she has produced art writing for Temple Bar Gallery & Studios, Nottingham Contemporary, the Tate, and 126 Artist-Led Gallery.
About the Shortlisted Authors

Tahmima Anam was born in Dhaka, Bangladesh, educated at Mount Holyoke College and Harvard University and now lives in Hackney, London. An anthropologist and novelist, her debut novel, A Golden Age, was winner of the 2008 Commonwealth Writers Prize for Best First Book and serialised on Radio 4's Book at Bedtime. In 2013, she was named one of Granta's Best Young British Novelists. She is a Contributing Opinion Writer for The New York Times and a judge for the 2016 Man Booker International Prize.
Lavinia Greenlaw was born, and still lives, in London. She studied seventeenth-century art and her interest in perception, optical technologies, landscape and questions of travel led to her being the first artist in residence at the Science Museum. She has published five collections of poetry, most recently A Double Sorrow: Troilus and Criseyde (Faber 2014). Her other works include two novels and the memoir, The Importance of Music to Girls (Faber 2007). Audio Obscura, her immersive soundwork for Artangel/Manchester International Festival won the 2011 Ted Hughes Award. Her first short film, The Sea is an Edge and an Ending, a study of the impact of dementia on our sense of time and place, drawing on Shakespeare's Tempest, premiered at the Estuary festival in September 2016. She also writes about music, perception and art. Her commissions have included pieces on Joy Division for the London Review of Books, a total solar eclipse for The New Yorker, and a poem to mark the centenary of the Theory of Relativity for the Science Museum. Her work for radio includes documentaries about vision and light with subjects ranging from Arctic midsummer and midwinter to a year-long study of the solstices and equinoxes in Britain. She has also written and directed several radio dramas. Formerly Professor of Poetry at the University of East Anglia, she has been a Visiting Professor at King's College London and will be the Samuel Fischer Guest Professor at the Freie Universität Berlin in Spring 2017. Lavinia Greenlaw was previously shortlisted for the BBC National Short Story Award with BookTrust in 2013.
Hilary Mantel was born in Derbyshire, educated at a Cheshire convent and now lives in Devon. She graduated in law in 1973 and was briefly a hospital social worker, and later a teacher in Africa and the Middle East. She has been a full-time writer since the mid-1980s, reviewing books and films and producing contemporary and historical fiction. She has won two Man Booker prizes, the Costa Book of the Year Award and the Walter Scott Prize (among others). In 2015 she received a joint Tony nomination for the Broadway version of Wolf Hall and Bring Up the Bodies. Hilary Mantel was previously shortlisted for the BBC National Short Story Award with BookTrust in 2015.
About the Award and Partners
The BBC National Short Story Award with BookTrust aims to expand opportunities for British writers, readers and publishers of the short story and honour the UK's finest exponents of the form. James Lasdun secured the inaugural Award in 2006 for 'An Anxious Man'. In 2012 when the Award expanded internationally for one year, Miroslav Penkov was victorious for his story, 'East of the West'. Last year, the Award was won by Jonathan Buckley for his story 'Briar Road'. Sarah Hall, Julian Gough, Clare Wigfall, Kate Clanchy and David Constantine have also carried off the Award with authors shortlisted in previous years including Zadie Smith, Jon McGregor, Jackie Kay, William Trevor, Rose Tremain, and Naomi Alderman.
The BBC National Short Story Award 2016 with BookTrust is open to authors with a previous record of publication who are UK nationals or residents, aged 18 years or over. The story entered must either have been unpublished, or be first published or scheduled for publication after 1 January 2015. The story should have a maximum of 8000 words and must have been written in English. Each story is read blind by sifters and judges until the final stages of the judging process. For full details, including the Entry Terms & Conditions and Entry Form, please visit www.booktrust.org.uk/bbcnssa
Follow the BBC National Short Story Award 2016 with BookTrust on Twitter @Booktrust and #BBCNSSA #shortstories
BBC Radio 4 is the world's biggest single commissioner of short stories, which attract more than a million listeners. Contemporary stories are broadcast every week, the majority of which are specially commissioned throughout the year.
BookTrust is the largest children's reading charity in Britain. We work to inspire a love of reading in children because we know that reading can transform lives. We give out over 5 million carefully chosen books to children throughout the UK; every parent receives a BookTrust book in the baby's first six months. Our books, guidance and resources are delivered via health, library, schools and early years practitioners, and are supported with advice and resources to encourage the reading habit. Reading for pleasure has a dramatic impact on educational outcomes, well-being and social mobility, and is also a huge pleasure in itself. We are committed to starting children on their reading journey and supporting them throughout.
IP
Related BBC Links
Related Web Links
Tagged: