BBC Young Musician announces 2016 Category Finalists
BBC Young Musician, the UK's leading contest for young classical musicians, today reveals its 2016 category finalists. After an extensive audition process, judges have announced five finalists for each of its categories – Keyboard, Woodwind, Percussion, Brass and Strings.
Published: 25 January 2016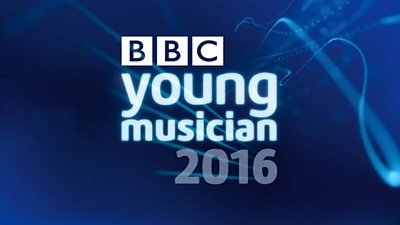 BBC Young Musician has been the most exhilarating and inspirational musical experience of my life!
The category finals will take place on 6-10 March 2016 at the Royal Welsh College of Music & Drama, followed by the semi-final on 13 March 2016.
The BBC Young Musician final will take place at the Barbican, London, on 15 May 2016, the first time the final has taken place in the capital for 14 years. The three finalists will be accompanied by the BBC Symphony Orchestra conducted by Mark Wigglesworth.
Mark Wigglesworth is renowned as a world-class conductor who has forged relationships with orchestras across the world. He was Associate Conductor of the BBC Symphony Orchestra from 1991-1993 and became Music Director of English National Opera in 2015. At the heart of British music for over 80 years, the BBC Symphony Orchestra performs a distinctive and wide-ranging season of concerts at the Barbican in its role as Associate Orchestra.
BBC Young Musician will be broadcast extensively on BBC Four with complementary programming on BBC Radio 3.
The 2016 category finalists are:
Keyboard
Jackie Campbell (15) – piano
Tomoka Kan (17) – piano
Harvey Lin (13) – piano
Julian Trevelyan (17) – piano
Yuanfan Yang (19) – piano
Woodwind
Polly Bartlett (17) – recorder
Lucy Driver (17) – flute
Jess Gillam (17) – saxophone
Joanne Lee (15) – flute
Marie Sato (15) – flute
Percussion
Matthew Brett (14)
Hristiyan Hristov (17)
Joe Parks (16)
Tom Pritchard (18)
Andrew Woolcock (16)
Brass
Sam Dye (16) – trombone
Zak Eastop (18) – trumpet
Ben Goldscheider (18) – french horn
Zoe Perkins (17) – trumpet
Gemma Riley (17) – trombone
Strings
Stephanie Childress (16) – violin
Sheku Kanneh-Mason (16) – cello
Charlie Lovell-Jones (16) – violin
Joe Pritchard (16) – cello
Louisa Staples (15) - violin
Now in its 38th year, BBC Young Musician is a part of the BBC's ongoing commitment to supporting and providing a platform for new and emerging talent. Since its first outing in 1978, the competition has established an enviable reputation for finding outstanding new talent. Seventeen-year-old pianist Martin James Bartlett was awarded the title BBC Young Musician 2014 and has since given acclaimed solo recitals in concert venues across the UK, made his debut at the BBC Proms (2015) and appeared as part of the BBC's 2014 charity single God Only Knows.
Martin James Bartlett, 2014 BBC Young Musician, commented: "BBC Young Musician has been the most exhilarating and inspirational musical experience of my life! Winning the title has launched my solo performing career and for that I am immensely grateful. I would like to wish every category finalist the best of luck for their upcoming performances!"
Martin takes his place alongside a star-studded list of former BBC Young Musician winners and finalists that includes Thomas Adès, Alison Balsom, Nicola Benedetti, Benjamin Grosvenor, Stephen Hough, Jennifer Pike and Paul Watkins.
Following its successful launch in 2014, the BBC Young Musician Jazz Award will return in 2016, running alongside the established classical music format and comprising two audition stages followed by a final on 12 March to be held at the Royal Welsh College of Music & Drama. The Jazz Award finalists will be announced at the end of January 2016.
Mark Wigglesworth said: "I am delighted to be part of the BBC's celebration of this country's exceptional young musical talent. It is a privilege to be able to try and help a young musician enjoy the thrilling experience of playing with a wonderful professional orchestra for the first time."
Jan Younghusband, Head of Music TV Commissioning, said: "We're proud to showcase a wealth of musical talent on BBC Television and I'm looking forward to bringing BBC Young Musician to our audiences at home again in 2016. We always see breathtaking performances from our young musicians and I can't wait to see what this year has in store."
Paul Bullock, Editor, BBC Young Musician 2016, said: "BBC Young Musician provides a platform like no other and it's always exciting to see the breadth and level of talent of the young musicians who enter. This year is no exception and we're hugely looking forward to supporting all our finalists over the coming months and watching their progress through the contest."
BBC Young Musician is managed and produced by BBC Cymru Wales.
Twitter: @bbcyoungmus
Facebook: facebook.com/BBCYoungMusician
MC4
Related Media Centre Links
Related BBC Links