Sound Frontiers: BBC Radio 3 and Southbank Centre celebrate seven decades of pioneering music and culture
This autumn, BBC Radio 3 and Southbank Centre come together for Sound Frontiers, two weeks of live radio broadcasts and special events to mark the 70th anniversary on 29 September of the Third Programme, the predecessor to BBC Radio 3.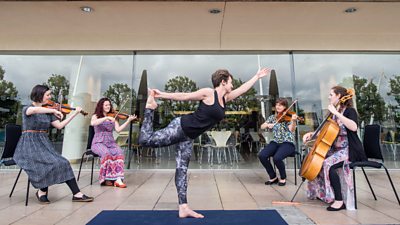 BBC Radio 3, and before it the Third Programme, has been a cultural patron for seven decades, being brave with its programming and forging new paths.
The two organisations join together to celebrate seven decades of pioneering music and culture, for a fortnight of immersive live broadcasts, performances and interactive events.
From 23 September to 7 October the public will be able to see BBC Radio 3 presenters and producers broadcasting all day, every day, from a pop-up glass studio in Southbank Centre's Terrace Café and the Royal Festival Hall public spaces, from early morning classics in Breakfast to thrilling live performances every afternoon on In Tune and eclectic music mixes in late night programmes. Audiences will also be able to hear radio broadcasts including five Essays by five writers including Michael Rosen and Marina Lewycka who, like the Third Programme, were born in 1946.
Sound Frontiers - BBC Radio 3 Live At Southbank Centre also complements the station's broadcast partnership with Philharmonia Orchestra's Stravinsky series Myths And Rituals, which will see Radio 3 broadcast all five Philharmonia Stravinsky concerts in the In Concert slot from May to September 2016. Radio 3 will also feature the orchestra's digital installation in Royal Festival Hall, The Virtual Orchestra, presented by Southbank Centre during the same fortnight.
There will also be special live evening broadcasts from the London Philharmonic Orchestra's new season, plus cultural debate from the London Literature Festival Living In Future Times in Radio 3's Free Thinking ideas show. And across the fortnight, Radio 3's Embedded Composer in 3, Matthew Kaner, will be pushing the boundaries of sound and breaking down how contemporary classical music really works by composing new pieces for broadcast on the Breakfast show.
As well as the live broadcasts, Sound Frontiers features a series of special live events, including classical performances across the site, poetry performance and retro Tea Dances with a swing band reminiscent of the 1940s, when the Third Programme launched. Embracing the location, a series of 'Classical Yoga' classes will take place on Southbank Centre's iconic Festival Terrace overlooking the river Thames with live classical accompaniment.
To celebrate the 70th anniversary of the Third Programme, BBC Radio 3 hosts hands-on workshops on radio presenting, music mixing and editing across the fortnight, alongside panel discussions, speed mentoring and chances to hear from radio experts and prominent figures from the world of radio about making it in the industry.
Radio 3 will also highlight its strong commitment to poetry with live actor editions of Words And Music, during which two actors will perform a curated selection of poems in the pop-up studio, set aside a varied selection of similarly-themed music. Ian McMillan will also bring three editions of his 'cabaret of the word', The Verb - with spoken word artists, performance poets and writers all joining him; and on National Poetry Day (6 October) there will be a special show in the Clore Ballroom.
Edward Blakeman, Head of Music Programming and Policy, BBC Radio 3, says: "BBC Radio 3, and before it the Third Programme, has been a cultural patron for seven decades, being brave with its programming and forging new paths. Our partnership with Southbank Centre, which was also created in the spirit of post-war optimism, is a perfect fit and we can't wait both to immerse our audiences in our past and in our future and to, as always, exercise flexibility both in our schedule and in our yoga poses!"
Gillian Moore MBE, Director of Music, Southbank Centre says: "It's with great excitement that we announce the first programme details of Radio 3 Live at Southbank Centre. We can't wait for the glass studio, technicians, presenters, producers, artists, yogis and swing dancers to move into Royal Festival Hall for a fortnight! The belief that arts and culture must be available to all is central to the work of both our organisations. What better way to inspire audiences and visitors than this visible reminder of what exceptional music-making is available to them all day, every day - and of which they can be a part.
MC4
Schedule highlights
BBC Radio 3's In Tune
Friday 23 September - Friday 7 October, daily at 5pm
Radio 3's award-winning drivetime show, In Tune, broadcast live in front of a live audience from the station's pop-up studio in the Royal Festival Hall foyer. An eclectic mix of live performance and interviews with some of the biggest names and exciting new talent in classical music, jazz and world music, including Nicola Benedetti, BBC Young Musician 2016 Sheku Kanneh-Mason, Angela Hewitt, Max Richter, Carlos Acosta and Steve Reich, celebrating his 80th birthday. In Tune is presented by Sean Rafferty and Suzy Klein.
London Philharmonic Orchestra: Jurowski and Benedetti
Friday 23 September, 7.30pm
The London Philharmonic Orchestra's new season comes to life in a concert of Debussy, Szymanowski and Bartók. At the dawn of the 20th century Debussy's Prélude à l'après-midi d'un faune released a flood-tide of musical colour, and Vladimir Jurowski has chosen an opening night that's positively drenched in it. Nicola Benedetti dazzles in Szymanowski's two Violin Concertos, playing this sensuous music with radiance and panache. Then the full orchestra goes for broke as it enters the neon-lit fantasy-world of Bartók's The Miraculous Mandarin: music that's brutal, brilliant and utterly breathtaking. Broadcast live on BBC Radio 3.
Radio 3's The Verb
Friday 23 September, 10pm
Ian McMillan in the Radio 3 pop-up studio is joined by guests Patience Agbabi , who's written a new commission about St Paul's Cathedral; Iain Pears and Glyn Maxwell, on his Drinks with Dead poets.
BBC Radio 3's Early Music Show
Saturday 24 September, 12.30pm
An edition of the Early Music Show, featuring mezzo-soprano Anna Starushkevych, tenor Charles Daniels and lutenist Elizabeth Kenny in music by John Dowland, Thomas Morley and Robert Johnson, alongside brand new lute-songs written by the two age-category winners of this year's National Centre for Early Music Young Composers' Award: Alex Dakin (18 & under) and Kristina Arakelyan (19-25). Recorded for broadcast on BBC Radio 3. Later, on Sunday 2 October, live at 2pm, the English Cornett & Sackbut Ensemble performs music from their 'Echoes of Venice' programme: from Petrucci's groundbreaking 'Odhecaton' publication, through Willaert, to the defining sound of the Gabrielis.
Swinging Tea Dances
Saturday 24 – Sunday 25 September, 2-5pm
Dive back into the summer of 1946 with our vintage tea dances. Sip afternoon tea and get in the swing of things with live musical entertainment on Southbank Centre's Riverside Terrace. Dress up in 1940s finery to look the part.
The Choir
Sunday 25 September, 4pm
Sara Mohr-Pietsch welcomes former BBC Radio 3 and Proms Controller Sir Nicholas Kenyon and music historian Dr Kate Guthrie to the studio to explore the choral world in 1946, the year the Third Programme was born. Music includes a host of works first heard in the UK that year, from Kodaly's "Missa Brevis" and Walton's "Where Does The Uttered Music Go?" to Monteverdi's Vespers of 1610, which received a belated British premiere under the baton of Michael Tippett. Sara's Choral Classic is Giles Swayne's innovative and brilliant 1980 masterpiece CRY, whilst in Meet My Choir we catch up with the Ealing Junior Music School Adult Chorale
Words and Music
Sunday 25 September, 5.30pm
Actors Fiona Shaw and Robert Glenister are live in the Radio 3 pop-up studio. They'll be reading poetry and prose to accompany music reflecting the renewal experienced in post war periods and the spirit of rebirth which accompanied the founding of the Third Programme and the building of the Festival Hall.
Philharmonia Orchestra: Stravinsky Series: Myths and Rituals
Sunday 25 September, 7.30pm
Esa-Pekka Salonen conducts an all-Stravinsky concert, with narration by legendary French actress Carole Bouquet. This concert explores Stravinsky's fascination with classical mythology. Music of great subtlety and exquisite beauty, Apollon musagète and Orpheus sit alongside Stravinsky's alluring melodrama based on the Homeric hymn to the goddess Persephone, retold in collaboration with the French novelist and poet André Gide. Recorded for broadcast on BBC Radio 3 on Monday 26 September at 7:30pm.
BBC Radio 3's Essential Classics
Monday 26 - Friday 30 Sept 2016, 9am
Sarah Walker presents live all week from the Radio 3 pop-up glass studio at Southbank. Joining her live at 10am on Friday will be her guest, writer and comedian John Finnemore. He's even rounded up some friends to perform a specially-written musical sketch show. John is best known for writing and starring in the multi-award winning Radio 4 sitcom Cabin Pressure, and for his radio sketch show, John Finnemore's Souvenir Programme. He has written for other comedy shows including That Mitchell and Webb Look, Dead Ringers, The Now Show and The Unbelievable Truth, and has also appeared as a panellist on shows including Just a Minute and The News Quiz.
BBC Radio 3's Composer Of The Week
Mon 26 Sept 2016 - Fri 30 Sept 2016, 12pm
Donald Macleod is live at Southbank Centre every day for a special edition of Radio 3's Composer of the Week programme. Come along and listen to the broadcast during the week, featuring as a guest the renowned British composer and conductor Oliver Knussen, discussing his life and music.
BBC Radio 3's Free Thinking
Tuesday 27 Sept, 10pm
Philip Dodd is live in Radio 3's pop-up studio at London's Southbank Centre for a special edition of Free Thinking. Featuring guests John Bew, Kwasi Kwarteng and Alison Light, the programme looks at people power, changing cultural and political tastes, and Brecht's satirical idea that we might need to elect a new people.
BBC Radio 3's Drama on 3: The Present Experiment
Thursday 29 September, 6pm
70 years to the moment when the Third Programme was launched, Radio 3 broadcasts a newly written drama about the first hours of the pioneering station in 1946, with the opening scene performed live by actors in front of an audience at the South Bank Centre alongside Radio 3's pop-up studio. This new play by Robin Brooks examines the spirit of the new Third Programme as its first night's broadcasts begin, from adventures with Guy Burgess in the production corridors, to a verse quest haunted by Dylan Thomas and Louis MacNeice, and weird interruptions ostensibly from Soviet jamming, into an alternative universe.
Philharmonia Orchestra: Stravinsky Series: Myths and Rituals
Thursday 29 September, 7.30pm
Stravinsky's Oedipus rex and Symphony of Psalms are conducted by Esa-Pekka Salonen, in a performance featuring Sir Willard White. To a text by Cocteau derived from Sophocles and translated back into Latin, Stravinsky's Oedipus rex is a chilling retelling of the tragic myth. A work that abandons sentiment, it confronts the spectator with the true horror of the 'infernal machine' of fate. The Latin Psalms, too, seemingly so ancient, so distant, speak here of the tragedy of exile through a music of electrifying austerity and intensity. Broadcast live on BBC Radio 3.
Classical Yoga
Thursday 29 September, Saturday 1 October and Thursday 6 October, 7.30-8.30am
Take part in free outdoor yoga, set to live classical performance presented by BBC Radio 3, with top young musicians. This peaceful yet invigorating yoga session, set on Southbank Centre's Riverside Terrace, will feature inspiring classical music to help you connect mind and body before the busy day begins. There will be three special one hour classes taking place across two weeks. Changing facilities and mats are not provided, so please come dressed for yoga with your own mat. In the event of bad weather, sessions will be moved inside.
Radio 3's The Verb
Friday 30 September, 10pm
Ian McMillan's live guests in the pop-up studio are Deborah Levy with her Booker prize shortlisted book Hot Milk, Jess Robinson, actor, singer, impressionist and voiceover artist, and the author Xiaolu Guo.
BBC Radio 3's World On 3
Friday 30 September, 11pm
Live from the foyer at Southbank, Lopa Kothari introduces live sessions with Debashish Bhattacharya, Indian master of the lap slide guitar and winner of a Songlines Music Award this year, plus new talent discovered through BBC Introducing - the Cameroonian singer-songwriter Coco Mbassi and her group.
Jazz Line Up
Saturday 1 October, 5pm
As part of Radio 3 live at Southbank Centre, Kevin Le Gendre presents performances from guitarist Jim Mullen and his trio featuring Mike Gorman (organ) and Tristan Mailliot (drums), plus music from New Focus Quartet co-led by pianist Euan Stevenson and saxophonist Konrad Wiszniewski.
BBC Radio 3's Hear And Now
Saturday 1 October, 10pm
Tom Service introduces a live edition of BBC Radio 3's flagship contemporary music programme Hear and Now. The London-based Riot Ensemble present a work commissioned especially for tonight's programme, a recent composition by Nina Young and some late-20th century classics for small ensemble. Also tonight, Andrew Kurowski, Radio 3's former New Music editor, who oversaw the commissioning of new works from 1991 to 2013, selects some highlights from the archive including Radio 3 commissions from composers including Jonathan Harvey, James Dillon, Simon Holt and Rebecca Saunders.
Making It: Radio
Sunday 2 October, 11.30am-5pm
Always wanted to work in radio? Glean insights from radio experts at this daylong event. Join us for a day of panel discussions, workshops and speed mentoring with prominent figures from the world of radio, who share their thoughts on making it in this challenging and exciting industry.
The Choir
Sunday 2 October, 4pm
Guest presenter, Josie D'Arby hosts a special edition of The Choir, exploring choral music from the present and into the future. There'll be live performances of Brazilian Sambas by the vocal group Nossa Voz, and a look at the recent Utopia project with the composer Boff Whalley, where singers from across the UK came together to form a choir demographically representing urban Britain. Director of Music at Clare College, Cambridge Graham Ross, and Southbank Participation Producer Holly Hunter join Josie to make some predictions for the choral world of the future.
Words and Music
Sunday 2 October, 5.30pm
John Sessions and Juliet Stevenson are live in Radio 3's pop-up studio to perform forward-looking prose and poetry on the theme of Turning Points to tie in with the theme of this year's London Literature Festival. The music selection to accompany them includes Debussy, Chopin, Mozart, Bob Dylan, Dylan Thomas, Dorothy Parker, Charlie Parker, Charles Ives and PG Wodehouse.
BBC Radio 3's Essential Classics
Monday 3 - Friday 7 October, 9am-12pm
Rob Cowan is live at Southbank Centre with actor Lucian Msamati as his guest, currently starring as Salieri in the National Theatre production of Amadeus. All week, Lucian has been discussing his life, career and favourite music with Rob in a series of interviews broadcast on the programme. On Thursday 6 October from 10am – 10.30am Msamati appears live in the foyer near the Radio 3 pop-up glass studio, for a special Sound Frontiers edition of Essential Classics. Best known for his role as Salladhor Saan in Game of Thrones, in 2015 he became the first black actor ever to play Iago in a Royal Shakespeare Company production of Othello, alongside Hugh Quarshie as Othello. In the same year he made his directorial debut with Boi Boi Is Dead. His stage work includes Clybourne Park and the London riots play Little Revolution, while recent TV credits include The No. 1 Ladies' Detective Agency, Ashes to Ashes and Doctor Who.
BBC Radio 3's Composer Of The Week
Monday 3 - Friday 7 October
Donald Macleod is live at Southbank Centre all week for a special edition of Radio 3's Composer of the Week programme. Five diverse young composers, including Anoushka Shankar and Anna Meredith, discuss their inspirations and music throughout the week.
BBC Radio 3's Jazz Now
Monday 3 October, 11pm
Soweto Kinch hosts Jazz Now live from the foyer of the Royal Festival Hall, with music from Ralph Wyld's Mosaic and Jason Rebello. Vibraphone specialist Ralph Wyld won the 2015 Kenny Wheeler Award and the 2014 John Dankworth Award for composition. His new band Mosaic plays his original music, shortly to be released for the first time on CD on the album "Subterranea", inspired by themes as varied as artist Paul Klee and Aldershot Football Club. Currently touring the UK with Tim Garland, Jason Rebello is one of Britain's finest keyboard players, and tonight he plays music from his new solo project "Held".
BBC Radio 3's The Essay
Monday 3 October - Friday 7 October, daily at 10.45pm
As Southbank Centre's London Literature Festival prepares to look at 'Living in Future Times', hear the BBC New Generation Thinkers deliver essays on a range of subjects, including the history of hairdressing, Freud, the telephone and the unconscious, August Strindberg's blasphemy trial, what food tells us about the Reformation, memories of Partition, the Spanish Inquisition and Scottish witchcraft trials. These young academics are the winner of a nationwide scheme run by BBC Radio 3 and the Arts and Humanities Research Council to find scholars who can turn their ground-breaking research into compelling radio. The New Generation Thinkers are Christopher Kissane (LSE), Sarah Jackson (Nottingham Trent University), Seán Williams (University of Sheffield), Leah Broad (University of Oxford) and Anindya Raychaudhuri (University of St Andrews). The Essays will be broadcast at 10.45pm on BBC Radio 3 from Monday 3 to Friday 7 October and available as downloads. Hosted by Rana Mitter.
A week earlier (26-30 September), Radio 3 will present five Essays from writers who, like the Third Programme, were born in 1946. Writers including Michael Rosen, Edwina Currie and Marina Lewycka will share their feelings on a birthday outing to a place they've always wanted to visit.
BBC Radio 3's Free Thinking
Wednesday 5, Thursday 6 and Wednesday 12 October, 6.30pm
Marking 150 years since the birth of HG Wells BBC Radio 3's arts and ideas programme Free Thinking links up with Southbank Centre's London Literature Festival to explore the relationship Wells had with women, to look at his writing about time, space and the fourth dimension, and his radicalism. Matthew Sweet is joined by guests including Louisa Treger, Mark Blacklock, Christopher Priest and more for a free event at the Clore Ballroom in London's Southbank which will be broadcast on BBC Radio 3 at 10pm.
Free Thinking is collaborating with Southbank Centre, picking up on further themes being explored in the London Literature Festival - on Thursday 6 Radio 3 will broadcast a conversation between the writers Margaret Atwood and Naomi Alderman looking at Shakespeare, the role of women and what the future holds, and on Weds 12 at 10pm on Radio 3 Nigerian-American author Teju Cole delivers a talk and is interviewed by Philip Dodd (this event in the London Literature Festival is being recorded with an audience in the St Paul's Pavilion on Saturday October 8).
BBC Radio 3's Late Junction
Thursday 6 October, 11pm
Hosted by Nick Luscombe, featuring live music and additional guests live from the Royal Festival Hall. Midnight musical adventures are provided by Sarathy Korwar whose debut album has caused a stir for its elegant combination of jazz and electronics with the folk music of India's Sidi community; and Yorkshire duo Ashtray Navigations freak out with psychedelic swoops, oscillating bleeps and noise guitar. Plus, broadcaster, DJ and ethnomusicologist Nabihah Iqbal shares new additions to her record collection.
The Verb
Friday 7 October, 10pm
The Verb celebrates National Poetry Day, recorded in front of an audience at the Clore Ballroom. Ian McMillan's guests are the poets Inua Ellams, Hannah Silva, Sabrina Mahfouz and Luke Kennard. Hannah Silva presents a special poem marking the transfer of the Arts Council's poetry collection to the Poetry Library at Southbank. The programme also features a new commission from Inua Ellams, the first in a new set of poems as part of the 'Three Score and Ten' series celebrating 70 years of poets on Radio 3.
Related Web Links