Make the BBC your own with the new BBC+ app
From today, the brand new BBC+ app is available to download, putting the things you care about from across the BBC at your fingertips.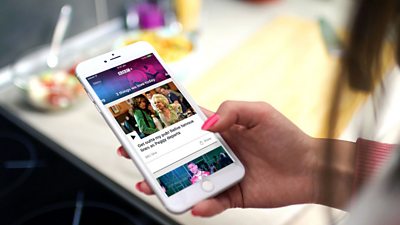 BBC+ is a key part of the journey towards achieving a much more personal BBC, and truly brings topical information from across the whole organisation to your pocket, ready for you to access at your convenience.
Whether it is the big moments of the day, talking points on a wide range of topics or bringing you customisable content collections that matter to you, the easy-to-use app is available to download for free on both iOS and Android mobiles in the UK.
BBC+ is designed to put you in control of the information you receive. After signing in, you can get up-to-the-minute information about what's happening in the world, discover new things from across the BBC that we know you love, never miss those 'water-cooler' moments with talked about TV, and explore content you didn't expect to find on topics such as Books and Authors, Mind and Body and Money Matters.
How does BBC+ work?
Download - Available for free for iOS and Android. All you need to do is download the app to your smartphone. 
Sign in - By signing in to BBC+, you receive a better, more personal service, with relevant information and recommendations. 
Customise - BBC+ keeps you connected to content that you want, whether it is news and politics or food and technology, the latest sporting updates or what's new from the likes of BBC Three. 
Use spare moments well – BBC+ means that whether you are travelling to work, in the queue at a shop or waiting to collect the kids from school, you can get updates on the topics that interest you in one place from across the BBC. 
BBC+ forms part of the BBC's strategy for delivering a more personal BBC to viewers and listeners. To date, more than 7 million people have signed in to the BBC to benefit from more personalised experiences, giving them better access to the things they like that fit their tastes and interests, and discover things they might not otherwise have found. 
Clare Hudson, Executive Editor of Homepage and BBC+, says: "By making BBC+ customisable, we are able to give users more relevant things to read, watch and listen to from across the BBC. This means you can use your spare moments well because once you've caught up on the day's main events, you can browse articles from across the BBC on topics you've chosen yourself. It's also an easy way to discover things you weren't expecting to find, as everything is brought together in one simple app."
Paul Owen, Head of Product, Homepage and BBC+, says: "As 7 million people have signed up to myBBC, we are increasingly able to provide them with more of what they love based on what they've told us. BBC+ is a key part of the journey towards achieving a much more personal BBC, and truly brings topical information from across the whole organisation to your pocket, ready for you to access at your convenience. This is just the start for us, and over time the app will evolve and add new features based on user feedback."
myBBC facts and stats:
7.2 million people have signed in to the BBC to date – with over a third coming back each month.
Signed-in users consumed 44 per cent more BBC content than those not signed in (Oct-Dec 2015).
1.6 billion programmes have been recommended to viewers and listeners.
Download the BBC+ app from Google Play (Android) and iTunes (iOS) 
TL
Related BBC Links
Download BBC+