BBC launches new app for music fans
From today, the brand-new BBC Music app will be available for mobile and tablets (iOS and Android) for free, bringing the best of music from across BBC TV, Radio and Online straight to the palm of your hand.
Published: 24 February 2016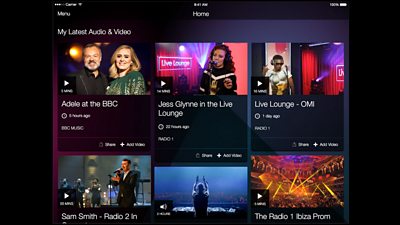 The BBC Music app lets you get straight to the music you love, from In Concert and Live Lounge sessions to Jools Holland, with the tap of a button.
The app is packed with exclusive live music performances, interviews and playlists and will be tailored to your musical taste.
BBC Music is full of amazing and exclusive music content, from Live Lounge sessions and intimate interviews with your favourite artists to epic sets on the Pyramid Stage. Just tell the BBC Music app what kind of music you're into and it'll serve up your own unique stream of live sessions, interviews and playlists from your favourite presenters, programmes and events.
The BBC Music app lets you:
Get personal: Set your personal preferences and enjoy your favourite music content, whenever and wherever you are. Based on this, the app will also recommend more audio and video clips and playlists that you might be interested in
Listen and watch: It is your personalised feed of the latest audio and video live performances and interviews from across the BBC
Discover: Follow and find new music via BBC curated playlists from your favourite shows, presenters and events
Find a track: Quickly find any track played on BBC Radio from the last seven days
Export and listen: Add music tracks to your own personal music list and export it to our existing partners Spotify, Deezer and YouTube to listen to them in full. Simply add a song to 'My Tracks' and select a streaming partner by tapping their logo
This app builds on BBC Playlister, which has now evolved with its core functions integrated into BBC Music across all platforms. Over time, the app will evolve and add new features based around user feedback – keeping music fans at the heart of what the app offers.
Bob Shennan, Director of BBC Music, says: "The BBC Music app lets you get straight to the music you love, from In Concert and Live Lounge sessions to Jools Holland, with the tap of a button. This is just the start for us, and we want to hear from users over time to make the BBC Music app the best that it can be, so they can enjoy music from across the BBC – whenever and wherever they are."
Note to Editors
The BBC continues to look at new ways to support and influence UK music in a changing landscape. Today's app launch demonstrates the range, quality and distinctiveness of our existing content.
The launch of the BBC Music app is a continuation of the BBC's innovation in the digital space – we have already launched a new BBC Music online site, BBC Music in iPlayer and the launch of the native app is a continuation of this journey. The proposal outlined in September 2015 for a 30-day music discovery product with playable playlists is still in development, and we continue to work with our partners in the music industry on this.
The refreshed Music space in iPlayer has included a raft of exciting and exclusive BBC Music commissions including Amy Winehouse In Her Own Words, Elton Live At Eden, Festival Pass with Rudimental and Duran Duran and Music Box With Guy Garvey.
The Mercury Prize returned to the BBC in November 2015 with extensive coverage including live programming on 6 Music and BBC Four. Adele At The BBC, a world exclusive BBC Music commission for BBC One, was broadcast in November and included a sketch featuring Adele impersonators which has now gained over 42m views over the BBC YouTube channel. Festivals come alive on our digital platforms, with world-leading coverage of Glastonbury, Radio 1's Big Weekend and a whole host of unique events.
MA